Introducing Flux's newest Creative Partners: Emily and Lori!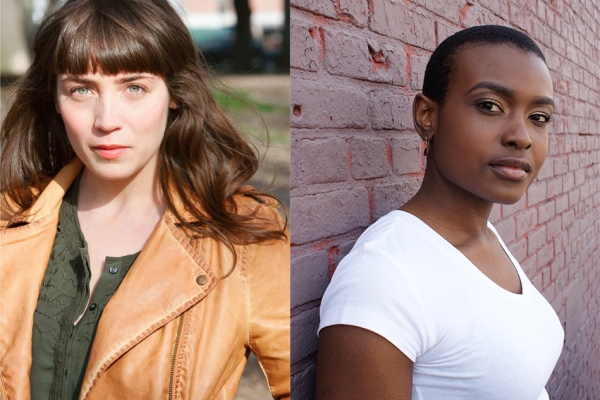 Flux is thrilled to welcome our newest Creative Partners, Emily Hartford and Lori Elizabeth Parquet! They join the 11 other CPs that make up Flux's core operating team.
Flux audiences know Emily and Lori most recently from their work as director and actor (respectively) in this past spring's production of Rizing. But their involvement with Flux goes way back, and they've felt like key members of the Flux family for a while now. We all knew it was high time we made it official. Keep reading to learn more about these two amazing artist/producers, and hear their thoughts on becoming members of Flux.
—-
Emily Hartford is an actor, director, and puppet designer. With Flux, she directed the 2016 production of Rizing, short pieces in #SpeakUp: The Street Harassment Plays and Breathe Free, as well as assistant directing Salvage and Jane the Plain.
Emily is a founding member of the New York Innovative Theatre Award-winning company Rabbit Hole Ensemble. As an actor and designer, her work has appeared off-Broadway, regionally, and in New York indie theatre, with companies including Adaptive Theatre Company, American Bard Theatre Company, Drama of Works, Messenger Theatre Company, Mirror Repertory Company, MTWorks, Nosedive Productions, Piehole, Rabbit Hole Ensemble, Radiotheatre, Urban Stages, and Wellfleet Harbor Actors Theatre. For more information and news: emilyhartford.com
Emily holds a BFA in Theatre Arts Performance from Hofstra University. She lives in Brooklyn with Ned (a guy) and Miette (a cat).
She writes: "I could not be more thrilled to officially make a creative home at Flux Theatre Ensemble, and to join this marvelous team of artists."
—–
Lori Elizabeth Parquet is an actor, playwright and teaching artist from New Orleans, Louisiana.  She received her B.A. in Theatre Arts from Cornell University. Her New York City credits include Macbeth, Dispatches From (A)mended America(Off-Broadway: Epic Theatre Ensemble), Dog Act, Ajax in Iraq, Honey Fist, Rizing (Flux Theatre Ensemble), and Republic, Baal, Murder In the Cathedral (Hoi Polloi). She made her international debut performing in Pillars of Society at Teater Ibsen in Skien, Norway. As a playwright, Lori was selected as one of six featured playwrights for season five of the Fire This Time Festival in January 2014. Her most recent play, In Communion, is published with Indie Theater Now and her play, Sir, was staged in 2013 as a part of Flux Theatre Ensemble's Understand Our Ground—a night of theatre dedicated to the challenging issues surrounding the murder of Trayvon Martin.  As a teaching artist, Lori has taught many aspects of theatre, including acting, playwriting, and directing to various populations across New York City.  She has taught with such esteemed organizations as The Public Theater, Stella Adler School of Acting, Epic Theatre Ensemble, and CUNY Creative Arts Team.
Lori writes: "To be given the space to grow as an actor and theater-maker, to try on the hat of a producer, to deepen my understanding of the meaning of collaboration with a group of people I love and respect, is an invaluable opportunity, and a gift that will keep on giving."