#Flux10: Re-Membering Ensemble in a Divided Country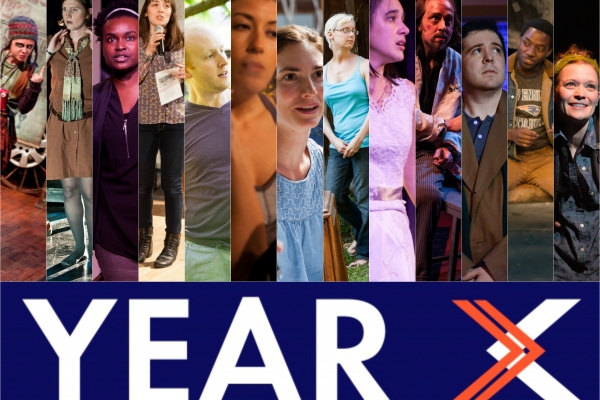 We thought that this was going to be an annual appeal about our 10th anniversary. After all, we have a lot of history to remember, from our first college residency to our 22nd full production, from our first entrepreneurship award to our 20th IT Award nomination. And we wanted to celebrate the future, with two new Creative Partners and first productions of FluxForward plays.
Yet after the most divisive election in our memories, we've found ourselves asking, what now? It can't be business as usual, not when so many in our communities feel more unsafe than ever. What can our little ensemble do in the face of such violence and uncertainty?
But then, maybe some answers do lie in our 10 years together. When our community felt shaken by Trayvon Martin's murder, we came together to create Understand Our Ground. When our community asked for support in protecting undocumented immigrants, we created Breathe Free. In the face of economic inequality, we created the Living Ticket. And when a beloved member of our community was harassed and attacked, we created #SpeakUp.
In this divided time, our call to remember the past 10 years takes on new meaning. Can our own act of remembering help to re-member a divided country into a more perfect union? Can you support this work to honor our 10 years together and strengthen our creative community for the years to come?
Here's how you can help:
Make a tax-deductible contribution online at fluxtheatre.org/give.
Create a short video of yourself (a smartphone video works well) sharing a memory from your experience with Flux. It could be a favorite artistic moment from a show you saw or participated in, or it could be when a Flux event connected you with a new friend or collaborator. At the end of your video, tag someone else to participate next by saying, "I nominate XX to go next." Then send your video to gus@fluxtheatre.org, and we'll share it as part of our #Flux10 campaign!
For 10 years, we've been building a creative home together, and it's bigger than just the hundreds of new plays we've developed or the thousands of electric moments at productions like Hearts Like Fists, Jane the Plain, and Sans Merci. Flux has launched multiple marriages and new friendships, with ties that endure across distance and time–and that's why 2017 will see a play staged by Creative Partners and Friends of Flux (FoFs) who live now in Los Angeles.
Help us celebrate this growing creative home. Help us re-member a community of artists and theatre-lovers dedicated to collaborative creation. Help us model a more perfect union in a time of division and discord. Help us support a 2017 that includes:
Re-membering gender: Adam Szymkowicz' Marian, Or The True Tale of Robin Hood upends the traditional Robin Hood story by making the main character Maid Marian, but in the guise of Robin Hood. The play—full of signature Szymkowicz wit and levity—explores deeper questions about gender identity, power structures, and the risks of love. Directed by Kelly O'Donnell, our production will feature a racially diverse and gender-nonconforming cast. Having produced two of Adam's plays previously (Pretty Theft in 2009 and Hearts Like Fists in 2012), we are especially excited that Marian will be the first of two FluxForward-commissioned plays produced this season.Oh and there's lots of fighting!
Runs Jan. 28 – Feb. 11, 2017 @ New Ohio Theatre
Re-membering identity: In the spring and summer of 2017, Flux will complement the New York premiere of Johnna Adams' World Builders with its Los Angeles debut as well. The play follows the journey of Whitney and Max, two mentally ill patients faced with killing the very delusions that make them who they are. As Flux continues to expand, we find ourselves with growing communities in farther-flung locations, and we're thrilled to bring this beautiful play by one of our favorite playwrights to an even-wider audience.
Coming Spring/Summer 2017
Re-membering race: Kevin R. Free's AM I DEAD? The Untrue Narrative of Anatomical Lewis, The Slave uses the form of dark comedy to explore deeply complex questions about race, identity, faith, and our responsibility to change both the historical and future narrative for black men in this country. White and black are deconstructed and re-constructed in both figurative and literal ways as the play follows the journey of four characters stuck in a purgatory who are tasked with rebuilding the bodies of the black men they've wronged. AM I DEAD? Will be the second FluxForward commission produced in 2017.
Coming Fall 2017
There is so much to make us stronger in 2017 – the courage to make our voices heard, the compassion to lift others' stories even when they are different from our own, and the creativity to forge new pathways forward, no matter how uncertain the times. For our 10th Anniversary Season, please help Flux re-member the world into something braver and more beautiful than ever before.
Flux Theatre Ensemble is a registered 501(c)(3) corporation (EIN: 46-5362560) and all donations are tax-deductible to the extent permitted by law.
Thank You for 10 years,
Flux Theatre Ensemble