More Than Halfway There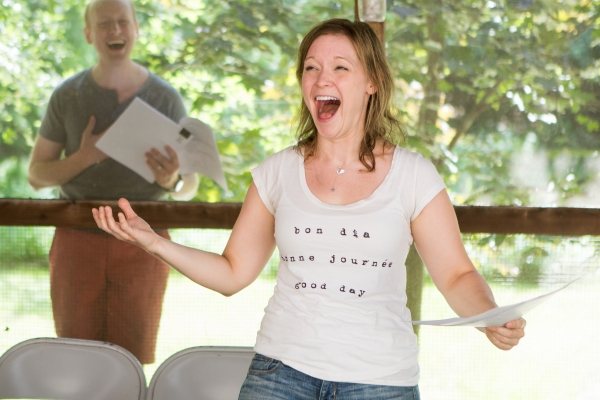 There's no doubt we live in days that call for creative daring and collective care. As we catch our breath, now more than halfway through our 10th anniversary season, we're proud of all we've accomplished together, but much work remains…and we need your help.
This was always an ambitious season: four shows, two coasts, and new programs dedicated to communal resistance and resilience. Looking over our first eight months, we have so much to celebrate, yet as we near the end of our fiscal year, we need your help to ensure our financial resources keep pace with the urgency of our work. Can you make a gift to support our creative home today?
Just look what we've accomplished so far this year!
"Perhaps my favorite thing in Marian is that Robin Hood turns out not to be a individual but, rather, a role that is passed from person to person. In these days of rallies and petitions and phone calls and a truly frightening president, we all need to embrace our inner Robin Hoods."
-Wendy Caster, Show Showdown
Our first FluxForward production gains three IT award nominations: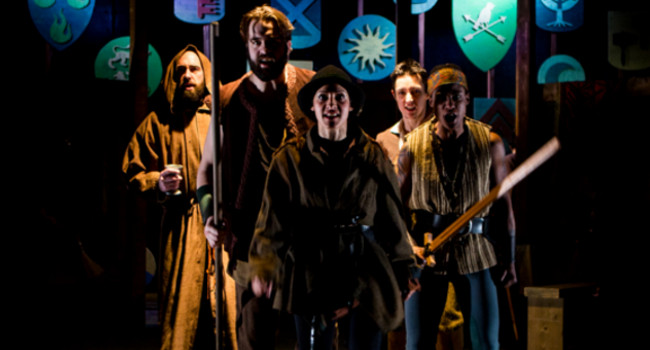 (Photo by Isaiah Tanenbaum. Pictured: Mike Mihm, Jack Gilbert, Jessica Angleskahn, C Bain, and T Thompson)
Our production of Adam Szymkowicz's Marian; or The True Tale of Robin Hood was a highlight for many reasons. Its artistry helped propel it to a nearly sold-out run, three IT Award nominations, and publication by Samuel French. It launched our first fully produced FluxForward play, strengthening our commitment to disrupting the development hell playwrights face by providing a true creative home–and also featured two of our other FluxForward playwrights in the cast! Finally, it challenged our culture's patriarchal, cis-sexist notions of who has the right to be a hero, to be loved, to belong, and it did so through joy and laughter, not to mention some rollicking good fight scenes.
"There's something really special when you see multiple productions from a single company, and you start to get a sense of their essential values. With Flux Theatre Ensemble, the overwhelming quality that seems to shine through in all of their productions, regardless of genre or style, is a sense of generosity."
-Lisa Huberman, New York Theatre Review
Flux's first-ever bicoastal premiere: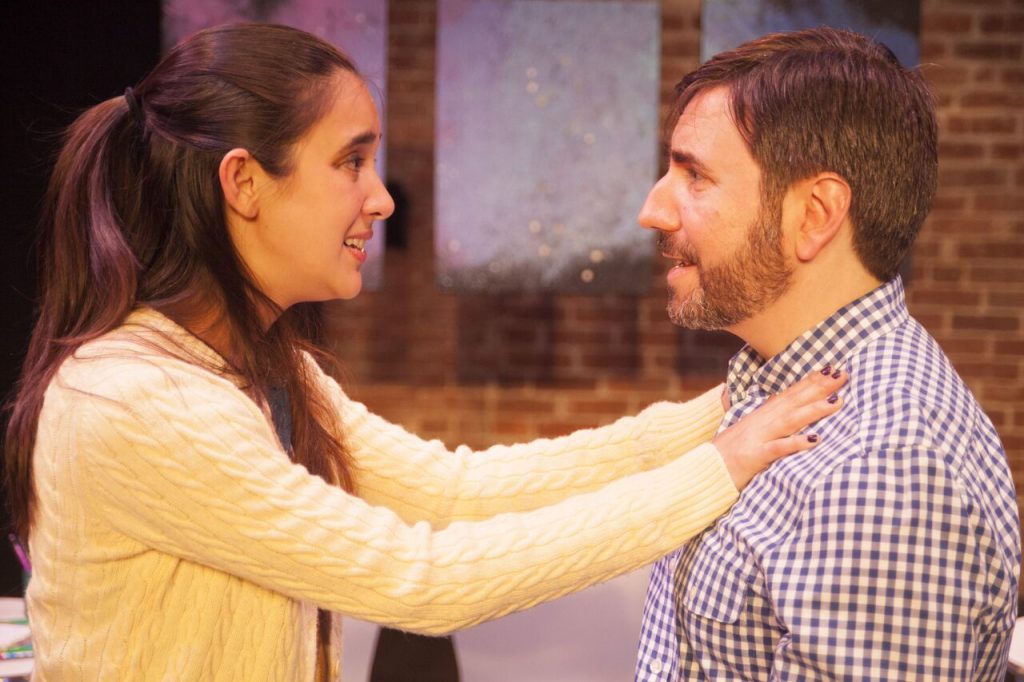 (Photo by Ned Thome. Pictured: Rachael Hip-Flores, Brian Pracht.)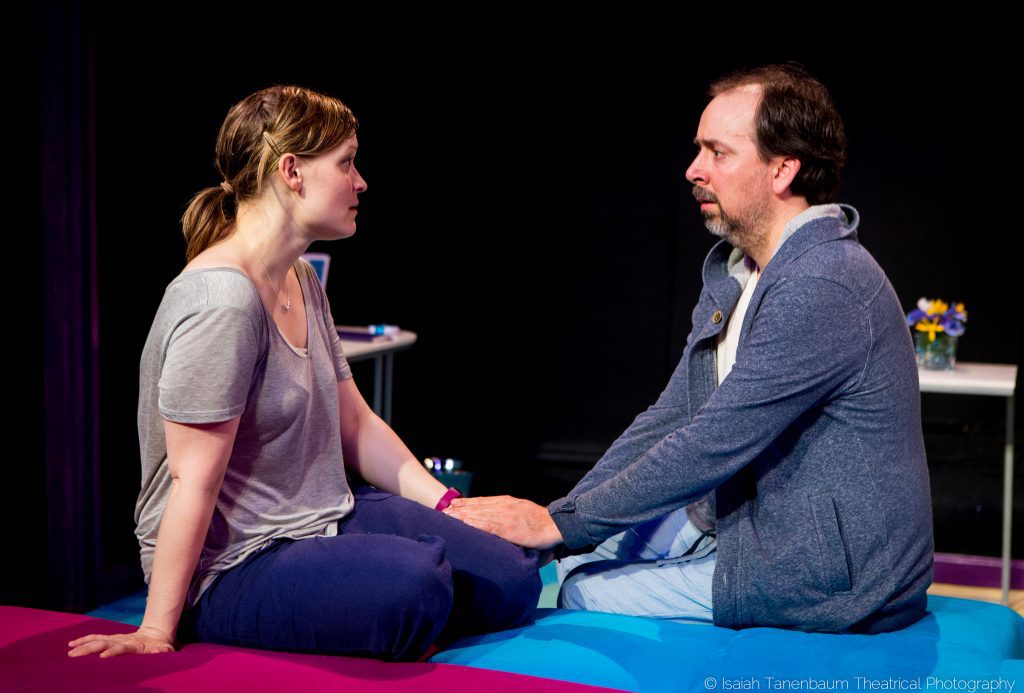 (Photo by Isaiah Tanenbaum. Pictured: Alisha Spielmann, August Schulenburg.)
Home is where the art is…and wherever our beloved Creative Partners go, that's where we'll make our art. With Rachael Hip-Flores moving out to Los Angeles, it was time for Flux to go bicoastal. We knew that it would be challenging to not only produce in a new city, but two different versions of the same play within two months. But what better play to take the dare than Johnna Adams' World Builders? We doubled down on this beautiful play from a playwright whose work has transformed us: first, through the epic scope of her Angel Eaters Trilogy; then with the raw brilliance of Sans Merci. But nothing quite prepared us for seeing all of Los Angeles-based friends coming out to support us, and asking: "When is Flux coming back to do this again?" Our mission is to build a Creative Home, and that has turned out to be much bigger than we've expected.
"The more we organize now–meaning meeting in person as well as connecting virtually–the more we'll be prepared to meet the challenges coming down the pike."
-Liz Duffy Adams, playwright and founder of WAM
Resistance Loves Company

When Flux has been at our best, it's been through responding to the needs of our community. Whether it was Understand Our Ground or #SpeakUp, when someone in our community has asked for our creative resources, we've said yes…because those resources belong to our community. To create together, heal together, have difficult and transformative conversations together, we say yes. So, when playwright Liz Duffy Adams had an idea for Weekly Action Meetings (WAM) to build community and take direct action against an oppressive political climate…well, there was really only one thing we could say. Hundreds of calls later, we're still meeting almost every week to take action together–want to join us?
"My first memory upon arriving here? Soledad. Solitude because you leave your family behind. That's the thing you remember the most."
-From interviews conducted by Annabel Guevara and Emily Hartford
The Return of Breathe Free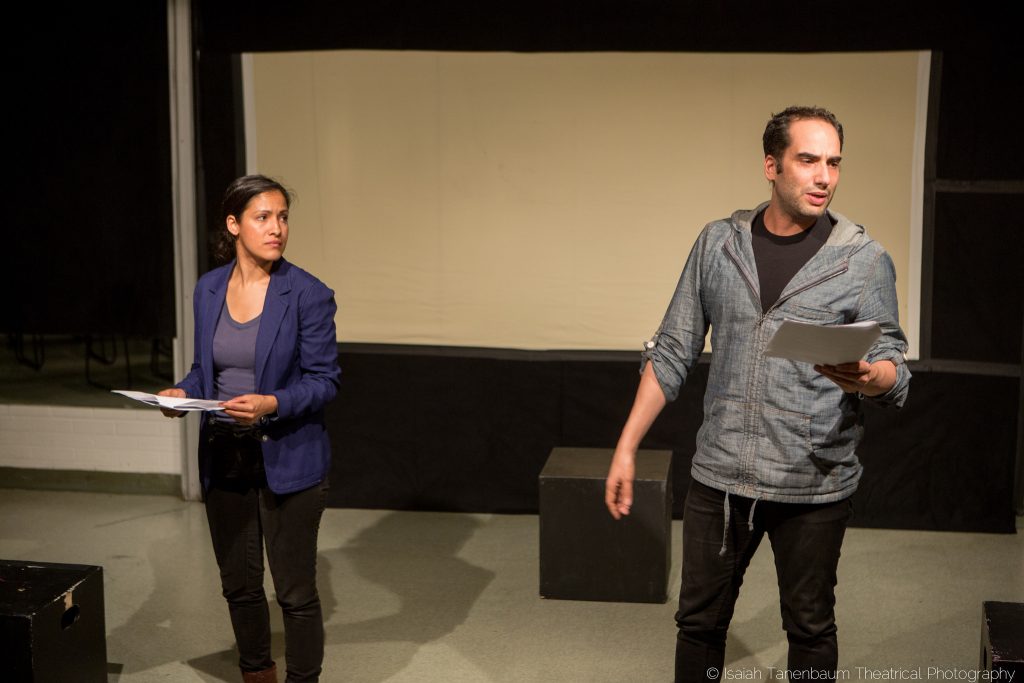 (Photo by Isaiah Tanenbaum. Pictured: Jessica Angleskahn, Antonio Miniño.)
Maybe we can't call it the 'return' of Breathe Free, because members of our community have continued to show up for our New Sanctuary Coalition partners: at protests, as witnesses and letters writers, as humanizing advocates for immigrants (please join that important work). But thanks to Emily Hartford, Annabel Guevara, and those willing to share their stories, our creative selves also returned to the Breathe Free work with a special event at the 14th Street Y.
"Now you work as you wish, for your own benefit. Then, you would work for the benefit of the masters of this technology, you would wake and sleep by their artificial time, you would be trapped in place, you would go hungry if they did not pay you. You do not know what I protect you from. I have smashed the clocks, to give you eternity!"
-The Hermit in Liz Duffy Adams' Off the Clock, workshopped at the Retreat
Retreat to Move Forward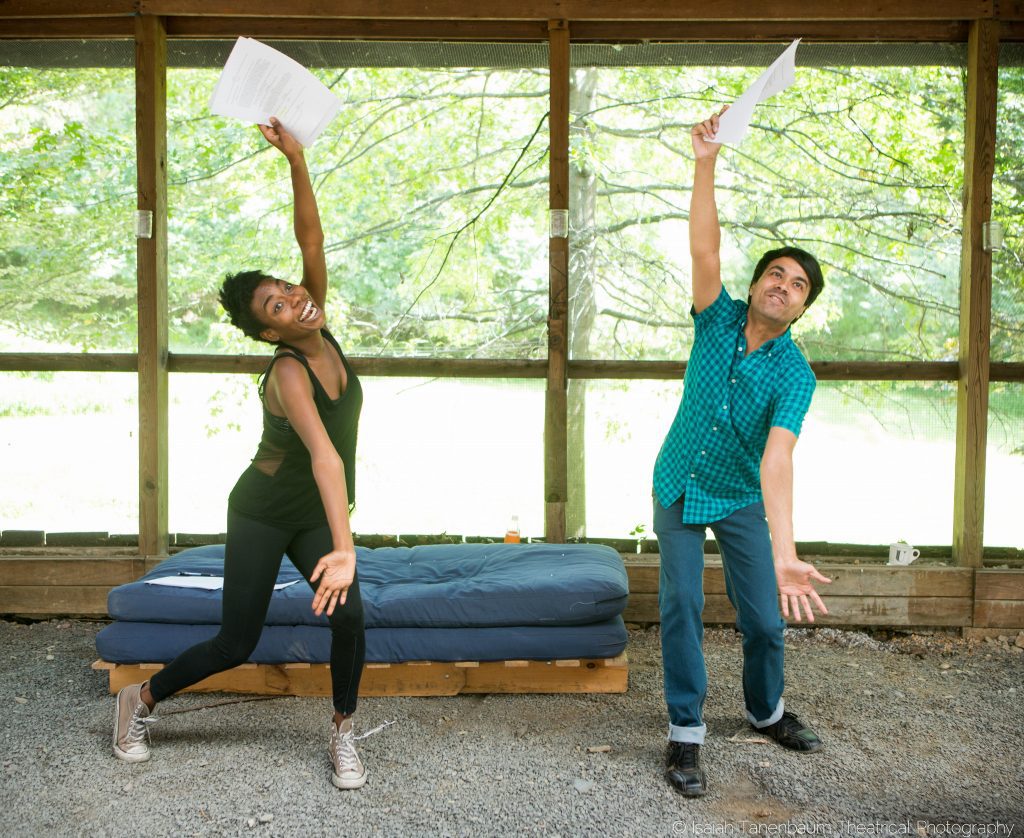 (Photo by Isaiah Tanenbaum. Pictured Rocio Mendez, Debargo Sanyal.)
Well, we didn't exactly smash the clocks, but at times it did feel like we stepped into another world for our 12th Annual Retreat in Little Pond. Nothing quite captures the spirit of our creative home like the Retreat: we cook for each other, take turns cleaning up, sleep in the same big barn, make theatre by day and play games by night. The Retreat has made us who we are, and we've returned with so many exciting ideas and new plays to share with you, including a recommitment to the Open Source Theatre vision that brought us the Living Ticket.
So, yeah, it's been a busy year, and your support would put the wind back in our sails, both financially and spiritually as we ready for the next steps.
And there's no next step we're more excited by than our next production!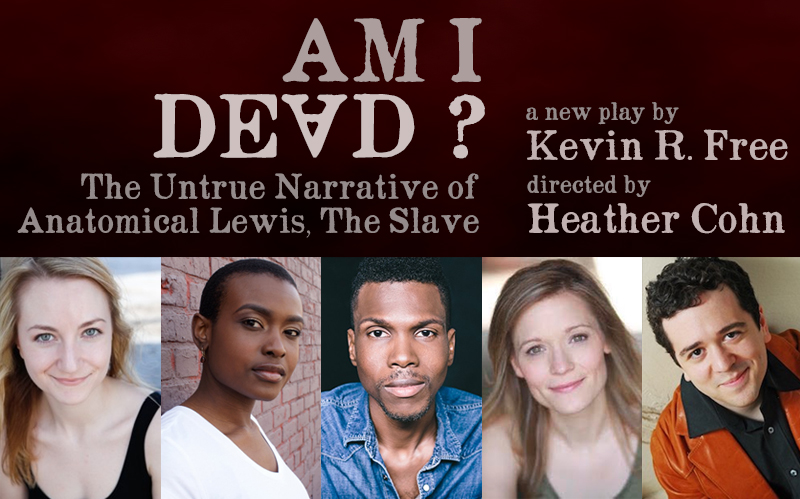 At the Retreat, we went even deeper into the creative challenges and opportunities of AM I DEAD?, the beautiful, urgent FluxForward play by Kevin R. Free that we'll be producing this October 7-21 at the Theater at the 14th Street Y.  This play is going to ask the best of us: as artists, as advocates for racial justice, and as a community committed to building a truly equitable, vibrant creative home for us all.
After our most ambitious eight months in recent memory, we need your help to close our fiscal year on a strong note. Can you help us by making a gift today? While our fiscal year closes August 31st, we'll count any donations received by September 3rd toward our goal.
2017 has been a difficult year in many ways, but it has also brought our creative community together in unexpected ways, stretching across the country and growing stronger every day. From all of us in Flux, thank you, and we look forward to the work to come.