Casting for The Sea Concerto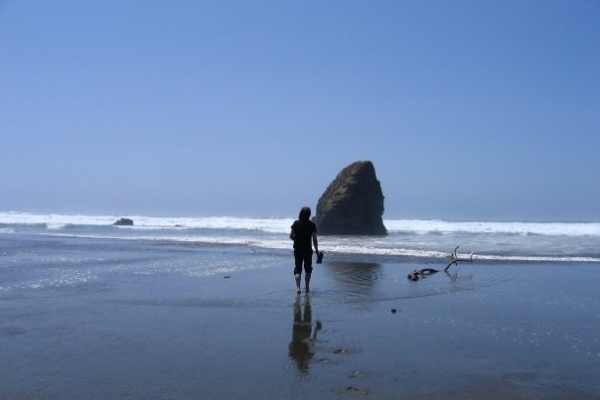 This is a story about my father.

Like any story about the past, it is a conjuring act, and when you conjure spirits, you don't know for sure one which ones will answer.

I intend to conjure my father, but who will answer?

My father as he is now, a man who wears his skin like a suit that's too big for him?

Or my Daddy as he was, a man who stole the sea's heart away from the moon, made her tides move to the rhythm of his, 1, 2, ah 1, 2, 3, 4…
Lynnie is a poet; or at least she was before the same silence that took her father's music comes to claim her own voice. Now, a mysterious letter from her Aunt Janet asks her to return to her old seaside home to take back something of her father's. Will it help explain the mystery of why he gave up music? Will that answer help her write again? And can she ever forgive the betrayal that tore her family apart? In the spirit of classic memory plays like The Glass Menagerie and Side Man, The Sea Concerto explores the legacies of pain and resilience that we inherit, pass on, and sometimes let go.
CASTING
LYNNIE, 25-40, mixed race (black father, white mother). Actor plays both the child and adult version of herself. A poet who returns home to understand why her father ERIC stopped playing music. Seeking an actor who has experience creating gestural vocabulary and feels comfortable in a ritualistic space. Lynnie is the narrator and needs to have a comfort level with direct address.
ERIC, 30-45, black. A jazz musician who gives it up to work for his wife PENNY's wealthy father. Searching for a way to make it work as the world tightens around him.
CHAPPY, 55-75, white. LYNNIE's grandfather, father of PENNY and JANET, charismatic patriarch of the family business. Larger than life, a reckless pilot and "native of the air." His age is catching up with him and he doesn't like it.
JIMBO, 30-45, white. ERIC's brother-in-law and ambitious employee of Chappy's. A shark who makes you laugh as he devours you whole.
Flux Creative Partners Emily Hartford and Alisha Spielmann will play the roles of PENNY and JANET. The roles listed above may be cast from actors within the ensemble and Friends of Flux community.
AUDITION INFORMATION
The Sea Concerto
by August Schulenburg
co-directed by Heather Cohn and Kelly O'Donnell
Auditions will be Friday, February 9th between 7-10pm and Saturday, February 10 between 1-5pm.
Here are the details:
Rehearsals: beginning April 2nd
Tech: Week of April 30 – May 6
Performances: May 5 – May 19
Location: The new ART/New York Theatres (the Gural, the smaller space)
AEA: This will be under the new and improved Showcase Code. $400 stipend.
If you are interested in auditioning, please reply with your availability Friday Feb 9th and Saturday Feb 10th along with your headshot and resume to fluxcasting@gmail.com.