Playwright's Note: Flux and Transitions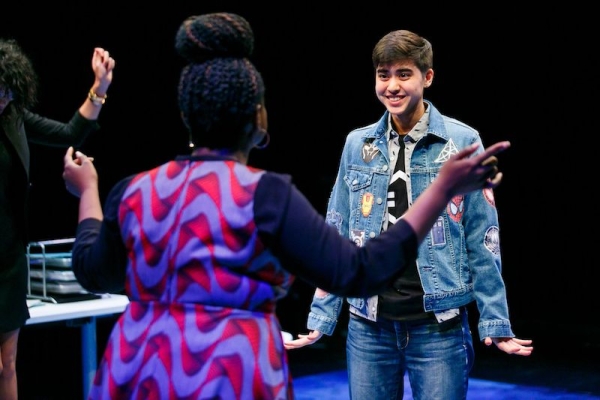 Photo of Neo Cihi (facing us) and Lori Parquet by Justin Hoch.
The following note was included in the program of Operating Systems and was written by Gus Schulenburg.
Flux has always loved transitions. We lavish as much attention on what happens between scenes as we do the scenes themselves. We'll use a transition to manifest the time that has passed from one scene to the next. Or we'll hint at deep patterns in the story that may be revealed later. This love for the liminal is part of what makes the work we do "Fluxy."
So I wasn't surprised when my creative home was so supportive during my own transition. Operating Systems is the first play I wrote after coming out to myself as a transgender woman. It's my first production since coming out to the world. Belonging to a creative home has made my journey through the liminal feel more liberating than terrifying.
The characters of Operating Systems are each trying to find or protect that sense of home. That's hard to do in a country founded on slavery, genocide, and the oppression of women. It's harder still when, as Audre Lorde noted, we swallow that tyranny and try to make it our own. For our collective liberation, we must move together into a liminal country, a transition into scenes yet unwritten of healing and justice. In service of that transition, we give you this play.