DEINDE Marketing Meeting #1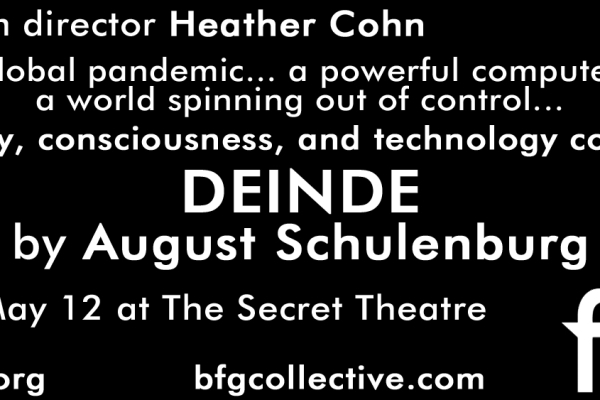 Above is a note about DEINDE designed by Isaiah Tanenbaum that will run in the program of The Stranger To Kindness, the play opening today directed by our own Heather Cohn (go see it!)
It also represented the very first volley of marketing for our next production, and last night, Isaiah, Kelly O'Donnell and myself met to discuss both DEINDE and Season 5 marketing (fortified with some smart thoughts from Matt Archambault and Heather Cohn, who couldn't be there). In our renewed effort to share our process with you, I offer up these little tidbits from our meeting, and encourage you to respond in the comments below.
Season 5: Our 5th Season features my own plays DEINDE and Honey Fist, as well as Adam Szymkowicz's Hearts Like Fists and Johnna Adams' Sans Merci. These plays are all very different, yet they share one similar and fascinating theme: what happens when the human mind and body are preserved or improved through technology? In DEINDE, we look at what happens when the mind gains direct access to a powerful computer. In Hearts Like Fists, it is the human heart that is being upgraded to a version impervious to the pangs of love. In both Sans Merci and Honey Fist, technology captures the memory of someone who has died, and their loved ones must figure out what to do with those memories.
Our 4th season was called Don't Look Away, a title connected to that season's themes of walls and guardians, and the cost to a society always remaining vigilant. We liked that the 4th season had what we called "an album title" – it was more evocative than descriptive, and we wanted to find something that had a similar charge.
Last night, we ended up all liking Season 5: Event Horizons. (Or some variation of the above). The term event horizon was created to describe the 'point of no return' at the edge of a black hole, but has since expanded to take on a more flexible, metaphorical quality.  It has the strong charge of science, which fits with DEINDE and Hearts Like Fists, and the word event connects with the theatrical act. The other side of an event horizon is something which cannot be imagined until you cross, and once crossed, you cannot return. This captures the big choices in each of the plays – to loop in to DEINDE, to install the new heart, to hear the truth about Justin's death, to press play on the tape recorder and hear what maybe should go unheard. Finally, each of the plays deals in very different ways with death and reclaiming life from death, and there is no more daunting event horizon than the undiscovered country.
This also led to some fun ideas for play images that combine into a cohesive season whole, as Kristy Caldwell created so memorably for our 4th season.
What do you think? Does Season 5: Event Horizons work as an evocative "album title" that makes you want to learn more about the plays?
Transmedia: We're also very interested in word-building around DEINDE – creating a QuamBi website (the lab where our scientists work), "QuamTalks" where the characters give in-world science talks, and rolling out character-specific blogs and other transmedia storytelling concepts. This is something I've been wanting to do for awhile, and so was thrilled when Matt suggested it and Isaiah and kelly ran with it; the question know is whether we have time and resources to pull it off successfully. The gold standard here is terraNOVA's production of Feeder: A Love Story, with its alternate online reality based on the lives of the characters.
Do you have any thoughts/experiences with transmedia to share?
Augmented reality: We also discussed the crazy idea of making the set feature augmented reality, so that the audience before the show and at intermission could use their phones to view the depth of world-building we might be doing leaping to life from the scenic design. While this would fit beautifully with the themes of DEINDE, we have no idea if we can pull something like this off. But hey, we're still at the dreaming stage!
Anyone out there happen to be a pro in augmented reality wanting to collaborate with a theatre company?
QuamBi Business Cards: On a hopefully more achievable note, we discussed Heather's idea of giving each character a business card, either with a quote from the play or something more transmedia-ish world building. This would be our first time moving away from the postcard image, something we've discussed doing often but never felt fully comfortable pulling the trigger on.
What's your experience been with show-specific business cards versus postcards?
ForePlay for DEINDE: We also briefly brainstormed titles for our ForePlay series for DEINDE, landing on a working title of iSapiens. We wanted something that captured the evolutionary spirit of DEINDE, something that implied the next version of humanity, human 2.0 (as Kelly called it), and there was something about iSapiens that we found powerful. Linking the endless apps and upgrades of Apple products to our own species implies all sorts of interesting, exciting and uncomfortable things. Given that the plays will explore the next steps in human sense (literal as smell and metaphorical as justice), iSapiens seems to work very well.
What do you think – would you see a play-reading series called iSapiens?
So that's the distance we covered last night, and like any true Flux meeting, we wound up with twice as much work as before. We'll see how many of these big ideas actually move into fruition. Leave your thoughts on the above in the comments below!