Human 2.0 Artist – Nat Cassidy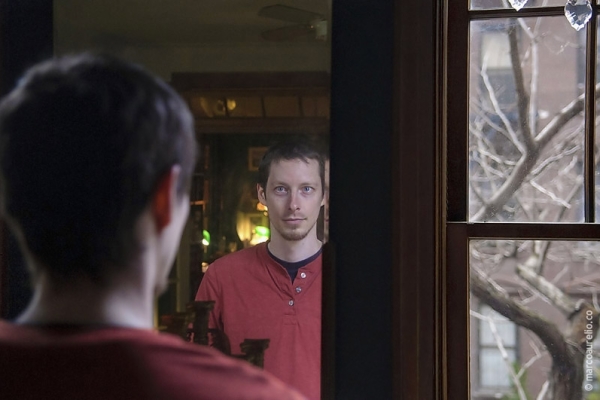 This interview series will focus on the artists of DEINDE and ForePlay Human 2.0, asking them to riff on the themes and question of the plays.
Nat Cassidy wrote a short play on how PARENTING will evolve, and boy, is it creepysadawesome! Check it out this coming Monday, 4/2, at our next installment of  ForePlay: Human 2.0.
What crazy invention are you most looking forward to in the future?
Jetpacks. Because once the flames render us all legless, how could we not then see each other as equals?
In 2051, theatre will be ________.
All we have left, after the great EMP disaster of 2047. (Though, of course, commercial theatre will be 2 characters max, with a run time of no longer than 12 minutes.)
If you could evolve one of your own senses, which would it be, and why?
My sense of style. 'Cuz every girl's crazy about a sharp-dressed man.
For the human race to evolve, it will need to_____.
Subscribe to my 2-year plan, complete with DVDs, books, and informative lectures, for just a low, three-time payment of $435.99!!!!
A time-travelling-you from the future suddenly appears with something important to tell present-you. What do they have to say?
"The crabmeat is bad. THE CRABMEAT IS BAD."
Will the future be more like Star Trek, Star Wars, Battlestar Galactica, or the Jetsons?
I gotta say none of the above. I think we're headed more towards the grimy, blue-collar, corporate-overlorded world of the ALIEN franchise. Which means, as the gypsies prophesied, Paul Reiser will be the death of us all.
If you had the opportunity to think and feel directly into a computer, would you take it?
Oh, yeah! I mean, if only so I can finally give Wikipedia the many thank-you bangs I know I owe it.
What do you have coming up in the near future that you want our readers to know about it?
In 2012, I'll be appearing in the Off-Broadway remount of Retro Productions' THE RUNNER STUMBLES. In 2014, my one-man adaptation of Super Mario Brothers 2 will run Off-Broadway for several years. In 2017, I'll be arrested for squatting in an abandoned Off-Broadway theatre for several years. In 2026, I'll be appearing in a number of depressing, straight-to-internet adult videos, mainly in the role of Hype Man. In 2029, I will have gotten my shit together, released an album produced by the ghost of Daniel Lanois, and will win 11 Grammy's. In 2031, I will be arrested for smearing mayonnaise on the bones of Katy Perry, claiming, "This will bring her back, I swear!" And then in 2035, I will make a glorious comeback, starring in the thirty-second reboot of the Spiderman franchise as Uncle Ben's smart-ass sidekick Kurt, win the Oscar for Best Sidekick (White), die onstage while accepting the award, and my corpse will go on to enjoy 10 seasons of the FRASIER spin-off, EDDIE'S KIDS.
---
Nat Cassidy is an multi-award-winning playwright/director whose works include ANY DAY NOW ("Genius … a great play for a myriad of reasons," The Fab Marquee), THE RECKONING OF KIT & LITTLE BOOTS (Winner, NY Innovative Theatre Award for Full-Length Script), THE ETERNAL HUSBAND ("Amazing, unforgettable, absolutely electrifying. Generates heat that is pure brilliance," Joe Franklin, Bloomberg Radio), and I AM PROVIDENCE ("The most delightful thing we have ever seen anyone pull off on a stage, anywhere, ever!" Tor). Nat was named one of NYTHEATRE's 2011 People of the Year and Oscar-nominated writer Joan Tewkesbury (Robert Altman's NASHVILLE) said of Nat's work, "Nat Cassidy can scare you to death, hurt your heart, but keep you laughing. A fresh new voice who has arrived right one time."