Flux Sunday, 2/10/13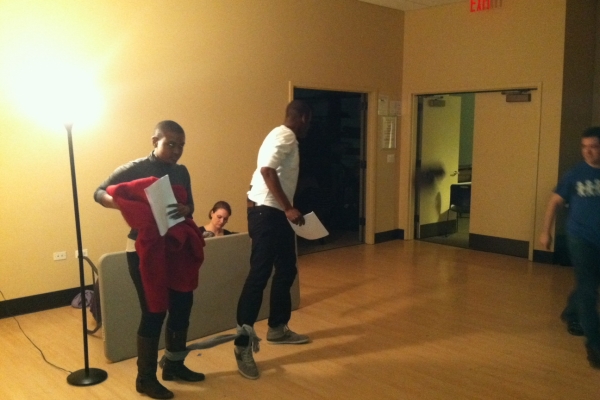 Post and photo by August Schulenburg. Lighting design by Isaiah Tanenbaum.
Change happens slowly, then all at once: water running through the veins of an iceberg for years, then crack!, and the whole thing calves into something new. Though you might not have noticed it, such a change began at this last Flux Sunday. Heather Cohn led our first devised scene work for the BARP, and it was a fascinating and welcome addition to the day.
The whole day had a truly exploratory air, with Isaiah's staging of Acirfa using some clever lighting and costuming choices, and my Dark Matter staging in the round almost (but not quite) solving the most complex section of that play.
Playwrights: Johnna Adams (Goblins Go), Aja Houston (Acirfa), August Schulenburg (Dark Matter)
Directors: Pete Boisvert, Heather Cohn, Isaiah Tanenbaum
Actors: Heather Lee Rogers, Lori E. Parquet, Sarah Amandes, Aaron Zook, Nathalie Frederick, Stephanie Willing, Carissa Cordes, Ken glickfeld, Matthew Trumbull, David Levin, Ridley Parson, Gill Charleston, Chester Poon, Katie Lawson, Leah  Marie Carrell, Harrison Greene, Chinaza Uche
Highlights included:
-God darn it, but Matt Trumbull and Ridley Parson were funny in Johnna's Goblins Go. God darn it!
-I loved the scarves as water and wings in Acirfa, and the switch in lighting from dark to light as we moved from the grim present to the brighter past.
-Our brave devisers, boldly taking the first step on a new aesthetic moon for us–fun to watch, and fascinating to discuss.
-I learned a lot from trying to make the most complex scene in Dark Matter work. The in-the-round staging really paid off in the final moment of vision, but overall, I thought it made the already baroque section too visually layered to follow, and a more proscenium staging might actually work better. This is why we do Flux Sundays on their feet whenever possible!
If you were there, what are you taking with you as you board the Sarah Amandes Airlines to the next adventure?