Food:Soul–Understand Our Ground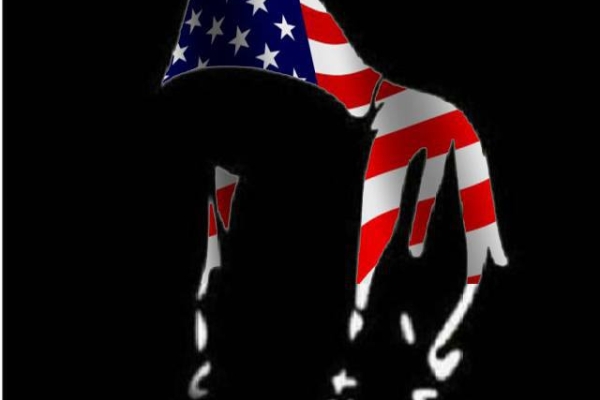 (If you know to whom the image above should be attributed, please email the information to Gus.)
Food:Soul is Flux's potluck play reading series, where we combine the community-building of sharing a meal with an extreme-staged reading of a play we're passionate about.
On Wednesday, November 6, Food:Soul–Understand Our Ground, will be held at Judson Memorial Church in conjunction with their Bailout Theatre event. Food will be served at 7:15pm and scenes will begin at 7:45pm with the scenes and conversation coming to a close around 9:30pm.
This Food:Soul will be a little different: rather than working with a single script, we'll be collaborating with playwrights, choreographers, poets and other artists to develop artistic responses to the Trayvon Martin murder, trial and the diverse cultural reactions that followed. Through this specific lens, the work created will engage with questions of race, gun violence, masculinity, our justice system and more. After each artistic response, there will be an opportunity for small-group conversation. We will be encouraging a diversity of responses and differences of opinion, with the goal of creating a safe space for people to engage with each other through curiosity and compassion instead of judgement.
Contributors: Keith Josef Adkins, Aziza Barnes, Becky Byers, Heather Cohn, Sol Crespo, David DelGrosso, Shaun B. F., Aizzah Fatima, Kevin R. Free, Emily Hartford, Rachael Hip-Flores, Aja Houston, Kayhan Irani, Bianca LaVerne Jones, S. Brian Jones, Alex Johnson, Kelly O'Donnell, Rocio Mendez, Mike Mihm, Vernice Miller, Joseph Merlo III, Stephen Conrad Moore, Lori E. Parquet, Chester Poon, Anna Rahn, August Schulenburg, Tarantino Smith, Alisha Spielmann, Matthew Trumbull, Jennifer Tsay, Chinaza Uche, Alex Ustach, Lauren Williams, Anthony Wills Jr., Jodi Witherell, Kristen Vaughan
Order of Events:
What will they say about us in 100 years?
by Joseph Merlo III
performed by Chinaza Uche
What we talk about when we talk about Trayvon…
curated by Heather Cohn
inspired by responses from the online questionnaire 
What My Boys Do
by Alex Johnson
directed by Chinaza Uche
featuring Shaun B. F., Mike Mihm and Alisha Spielmann
The Spooks
by Aja Houston
directed by Heather Cohn
featuring: S. Brian Jones,  Vernice Miller,  Tarantino Smith, Isaiah Tanenbaum, Matthew Trumbull, Kristen Vaughan
My nephew's favorite color is Batman
written and performed by Lauren Williams
*Facilitated Conversation Break*
Sir
by Lori E. Parquet
directed by Shaun B.F.
featuring: David DelGrosso, Bianca LaVerne  Jones
"this property is not for sale"
by Aziza Barnes
performed by Lori E. Parquet
Stand Your Ground
directed by August Schulenburg
featuring and created by: Aizzah Fatima, Rachael Hip-Flores, Kayhan Irani, Kelly O'Donnell, Rocio Mendez, Mike Mihm, Stephen Conrad Moore, Anna Rahn, Jennifer Tsay, Anthony Wills Jr.
soroku
by Aziza Barnes
performed by Lori E. Parquet
*Facilitated Conversation Break*
A poem from Alex Ustach
written and performed by Alex Ustach
Hope, Struggle, Progress
choreographed & directed by Becky Byers
featuring:  Sol Crespo, Emily Hartford,  Aja Houston, Chester Poon, August Schulenburg
The fireflies wink at me through their cloak of darkness.
written and performed by Joseph Merlo III