New Sanctuary, Accompaniment Program & Flux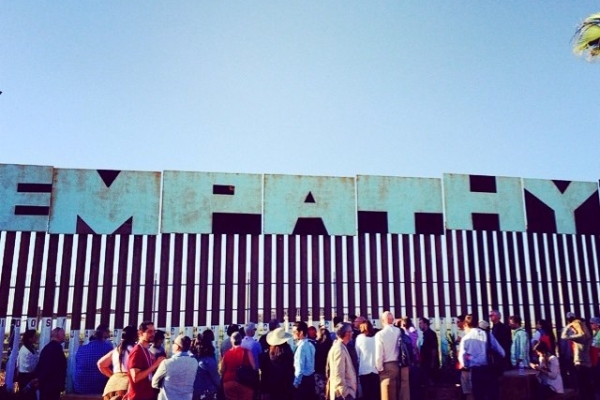 (Photo by Ty Defoe from the 2014 TCG National Conference. Post by August Schulenburg.)
I doubt anyone ever forgets the first time they see the border between the U.S and Mexico. I visited the wall from the Tijuana side as part of TCG's Pre-Conference, which means I saw the wall from the privileged perspective of a U.S. tourist. And it would have been easy enough for me to consign the wall to that sentimental shelf of memory one haphazardly keeps for tourist travel if it were not for the difference between the U.S and Tijuana sides, and what that difference means to me.
On the Tijuana side, there is a flowering of art and human activity, gardens and graffiti and poetry adorning the wall as if it might be made permeable through creativity. We witnessed a play on the beach where the wall disappears into the water, watching the ocean and the gulls pass over and beyond as they willed.
And on the U.S. side, across the strip of land that separates the two walls, was nothing at all. No people, no plays, no gardens. It becomes clear, looking at the two walls and what they mean to the two countries, that the U.S. might prefer a wall that was invisible, if it could be just as effective.
Because that is largely what our deportation process is for most of us who live away from border towns, secure in our citizenship: invisible. The over 2 million people deported (the number is different depending on how you define deportation) during the Obama administration live simultaneously in two countries: the one citizens like me know, and a hidden world of bureaucracy and uncertainty, detention and expulsion.
Part of what the New Sanctuary Coalition does is to make that other country visible, so that we cannot ignore what is being done in our name, and with our tax dollars. Judson Memorial Church, Flux's longtime partner in hosting Flux Sundays and Food:Souls, is a key participant in the New Sanctuary movement, most famously for their work in preventing the detention of Jean Montrevil.
After several conversations and a training with Judson's New Sanctuary point person, the inspiring Ravi Ragbir, Flux has committed to participating in the Accompaniment Program, which pairs citizen witnesses with immigrants dealing with ICE (Immigration and Customs Enforcement).
Last week, my fellow Creative Partner Isaiah Tanenbaum and I journeyed on our first accompaniment. While we can't share the details of the case, I can say that the experience redoubled my commitment to this work, and increased my excitement (and yes, fear) of creating some kind of theatrical response. How can we possibly create work equal to enormity, complexity and urgency of the U.S. deportation crisis?
Oh, and about that theatrical response: On March 4, in partnership with Judson Memorial Church's Bailout Theatre, Flux will be presenting our next Food:Soul on this subject. We don't know yet what shape the evening will take, though we expect it will build upon what we learned at the Understand Our Ground Food:Soul. If you're interested in getting involved in that process, and/or participating in the Accompaniment Program, please email Creative Partner Sol Crespo.
We'll be sharing more on that process as we get closer to the date, but for now, we're wrestling with these words, home and sanctuary and immigrant and citizen…