2015 Retreat Day One
(Photo and post by August Schulenburg.)
Well, the first day of the 2015 Flux Retreat did not lack for substantive, inspiring and exhausting debate. I'm proud of how we got to the root of things and had some hard but necessary conversations, and though the day was not without it's mistakes, we ended on a strong note.
Here was our schedule:
9:30 – 11:00: I'm All Ears (facilitated by Sol Crepso)
Break: brunch
11:45 – 2:30: Priorities Part 1: The Why (facilitated by August Schulenburg)
Break: snack
3:15 – 5:15: Priorities, Part 2: The What (facilitated by August Schulenburg)
Break: dinner
7:30 – 9:30: The How: Friends of Flux and Distributed Leadership (facilitated by Becky Byers and Will Lowry)
It was an intense day, and not all of our challenging conversations were successfully resolved.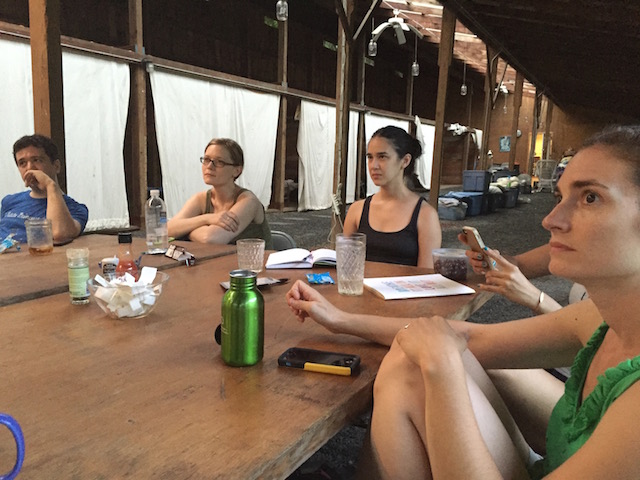 (It's the end of the day and we're fatigued, but still in it!)
Here were some of the exciting discoveries and complex questions:
While Flux feels like a Creative Home to all, there is still room for growth, particularly for actors who feel that they may be pigeon-holed into certain kinds and sizes of roles;
How does that affect our ability to bring on new Creative Partners, especially women, when we have so many strong female actors?
How do we balance the personal and professional with Mercena such a big part of our lives?
Is there a difference between CPs feeling a sense of leadership within Flux versus a sense of ownership?
Why does a Creative Home matter to those who don't live within its walls?
What if we thought about our Creative Home as having many rooms, some of which are shared spaces (aka, the living room) and some of which are personal rooms that still belong to the same structure (projects that some CPs are passionate about, but not others)?
How do we describe the impact of the kind of plays we produce on the world? How do we manifest that impact to grow the company?
Does our new community-building work, which feels overly political for some CPs, need to become a central part of our mission? Or do we need to stop doing it because of capacity? Or somewhere in between?
What happens if our structure gave even more agency to CPs to pursue passion projects, and what united us was not a specific aesthetic, but a commitment to each other and our shared ensemble practice?
How do our Friends of Flux factor into these questions of structure, mission and growth? Should we adopt a distributed leadership model that empowers FoFs with greater agency?
Yup, it was a full day! Though Mercena didn't always make things easy, she did provide welcome love and perspective, and slept through the night (hooray). Here's a baby shot to end such an intense post on a note of baby breakfast happiness…