Flux Retreat Day Four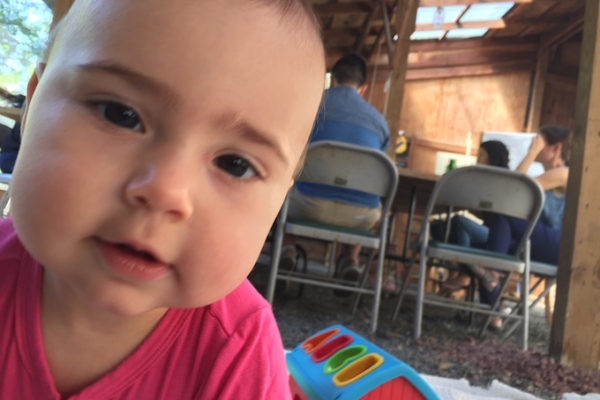 (Post and photo by August Schulenburg.)
I shared this photo first because it best expresses my perspective on much of the Flux Retreat proceedings…balancing parenthood and theatre is fun (and really hard) ((but worth it)).
But enough about my inquisitive daughter, because day four was our first full day of play development programming! After some serious strategic planning fatigue, we were eager to dive into some cool creative waters. We had a great line-up—plays from Montserrat "Mozz" Mendez and Jason Tseng—and a dynamite line-up of newly arrived Friends of Flux to help renew our spirits.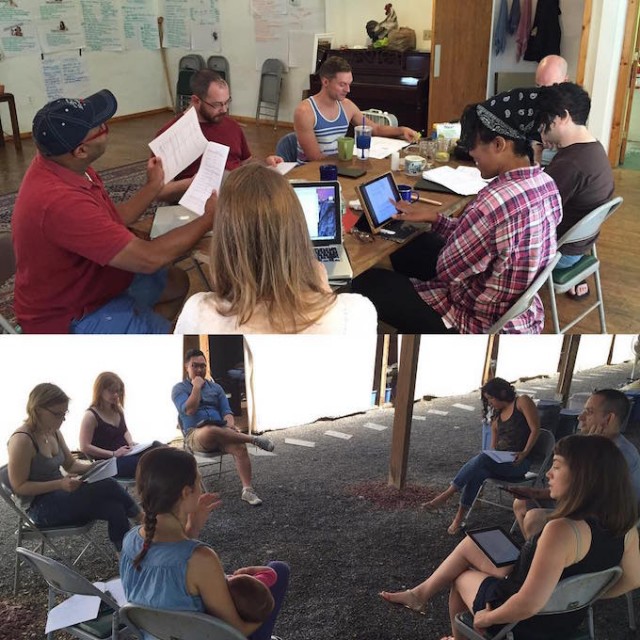 We began by breaking into two groups, one working on Mozz's play Marq as Unread, and the other working on Jason's Outbreak:
Marq as Unead: director Christine Zagrobelny; actors Pete Boisvert (Madison), Shaun Fauntleroy (Charlie), Kevin R. Free (Marq), Will Lowry (Rosemunde), Julian Stetkyvich (Victor), Isaiah Tanenbaum (Cy), and Chris Wight (Emilio, Adam).
Outbreak: directors Heather Cohn, Montserrat Mendez and Jason Tseng; actors Becky Byers (Tulle), Sol Crespo (Alto), Emily Hartford (Kestrel), Montserrat Mendez (Hex), Anna Rahn (Brynne), and Alisha Spielmann (Micah).
After staging the plays in the morning and early afternoon, we then shared the first act of Outbreak in the late afternoon. Set in a dystopian future, the characters affected by the zombie virus are kept in ghettos and assigned menial labor in exchange for medicine that temporarily gives their humanity the upper hand over the undead within. The play reinvigorates the zombie genre through the interrogating lenses of class, access to health care, and religious fundamentalism; all the while reaching toward more mystical questions of paradise and loss.
Highlights included:
The delightful "oh shit" moment when the zombies evolve past the reach of a particularly brutal guard's weapons and have themselves some dinner;
The eerie peace and troubling beauty of the first few scenes of The House with Many Rooms (which may or may not be zombie heaven);
The thrill of an unsettling discover that ends act one, deftly played by Emily and Anna (not to mention some classic Retreat-style set design that included an old timey balance as "science," alongside Minority Report-style fourth wall touch computers);
The desperation in Becky's attempts as Tulle to win the aid of the privileged Doctor Brynne;
An amazing Retreat-style slow motion moment when Alisha's Micah swept away the contents of the table to make love to Brynne—a sweep that was accomplished through the slo-mo magic of three actors (and a clever director); and
The script itself—an exciting blend of classic genre world-building, tight plotting and political and compelling characters, all struggling for connection.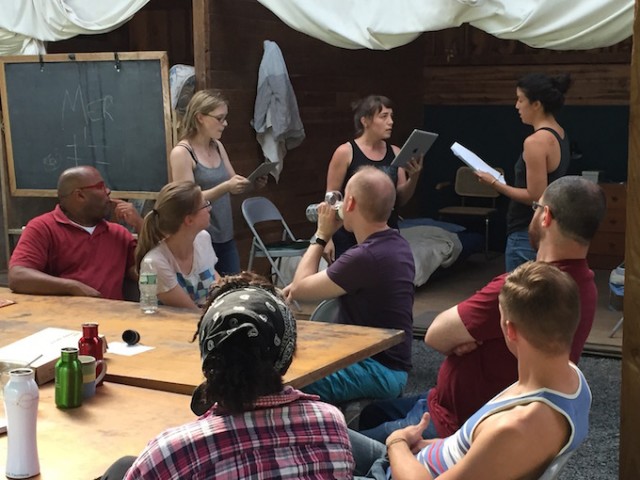 (A powerful moment of confrontation in Jason Tseng's Outbreak.)
In the evening, we saw the first 38 pages of Marq as Unread,  Mozz's all-male reimagining of the Les Liaisons Dangereuses. The seductive cruelty of the original finds powerful resonance in a world where LGBTQ financial power and political victories of marriage equality have not entirely tamed the dangers of HIV or coming out. While the surface of the play can feel like a delightfully frothy seduction thriller, the play is shadowed by the deep ambivalences of an urban gay community living within the halls of power without being truly accepted, and uncertain as to whether acceptance is worth it, if the price means conforming to straight expectations. Mozz also brilliantly mines intergenerational differences, all the while making you think you're there for the brilliant bon mots and sex appeal (of which there are plenty of both).
Highlights included:
The opening dance number brilliantly staged by Christine, and featuring some choice (I mean choice) dance moves from the cast;
Mozz's fricking gorgeous writing in Rosemunde's monologue, brought to vivid, nuanced life by Will;
Julian's irresistibly bad news Victor;
Shaun bringing some heat to her rejected lover scene with Kevin; and
The kiss (and really the whole scene) between Kevin and Isaiah. Sigh. And Cy.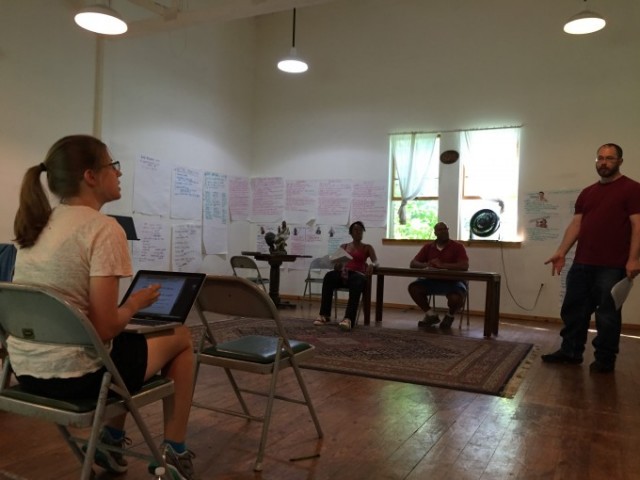 (Christine directs Marq as Unread.)