Flux Retreat Day Three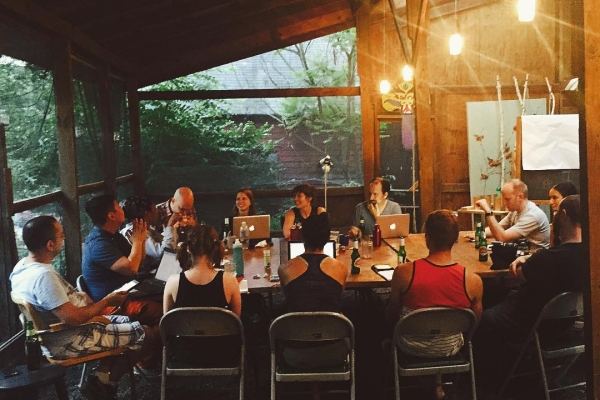 (Photo by Alisha Spielmann. Post by August Schulenburg.)
Day Three of the Flux Retreat ended in celebratory fashion with a riotously funny reading of Becky Byers new web series, Whispers of Light.  A comic romp with an undercurrent of loss set in the worlds (plural intended) of Dungeons and Dragons, Whispers of Light began the second phase of our Retreat on a truly joyous note.
It also provided a healing close to the still unresolved conflicts of the prior two and half days. We were unable to resolve any of our questions about mission, new programming, new Creative Partners and the coming season, but Becky's brilliance knit us back together with laughter.
We needed the healing; or at the very least, I did. I felt that over the past few days I had warped the natural course of our work by pushing for a shift in Flux's core identity that ultimately was not reflective of where the majority of Flux's Creative Partners live. As one of three co-founders, and the unofficial resident playwright, I know that in spite of our commitment to equitable decision-making, my voice carries more weight than it should. More than that, we love each other and are loathe to oppose each others' passions.
Yet the biggest theme of this Retreat's first few days was Creative Partner burnout. We've grown tremendously over the past year, and the cost of that growth was paid in sweat and sacrifice from our core team. While we strategize ways to grow capacity through both an increase in income and more effective community organizing, we must also find places to cut our programming to strengthen what's essential to our mission…which at the moment, is a bit of a moving target.
The day was spent discussing new fundraising strategies, Creative Partner communications strategies and burnout, and one last session that tried and failed to resolve our key questions. Then a bunch of Friends of Flux arrived, bringing a renewed energy and spirit of fun.
I don't know how these questions will be resolved, but as Becky's words set us on a communal roll, I was reminded that everything is possible when you have the right people. It may take longer than you thought, and you may have to let go of some precious things along the way, but if the people are right the process is the destination.
We'll get there, because where it counts the most, we're already there.