Flux Retreat Day Six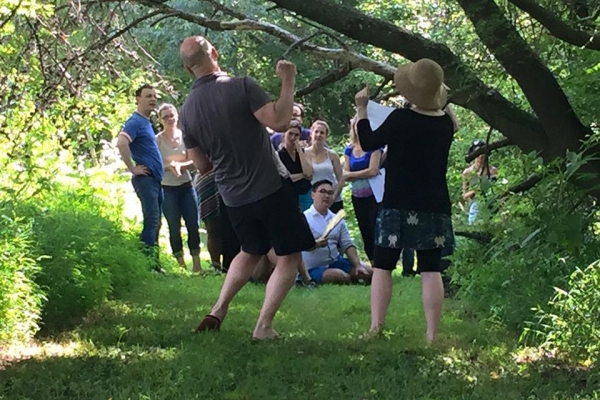 (Photo by Isaiah Tanenbaum. Pictured: cast and audience of Marian Smoldering.)
Our sixth day saw our highest attendance of the Retreat–24 beautiful people gathered together to make theatre in the barn and through the woods!
In the morning, we read Safe Haven by Nandita Shenoy, and then staged scenes from her as yet untitled FluxForward play. We also staged the first three and a half scenes from my play Taina and Marvin, a bevy of scenes from Adam Szymkowicz's Robin Hood FluxForward play, Marian Smoldering, and somehow still found the energy at night to read a short play from Brian Silliman.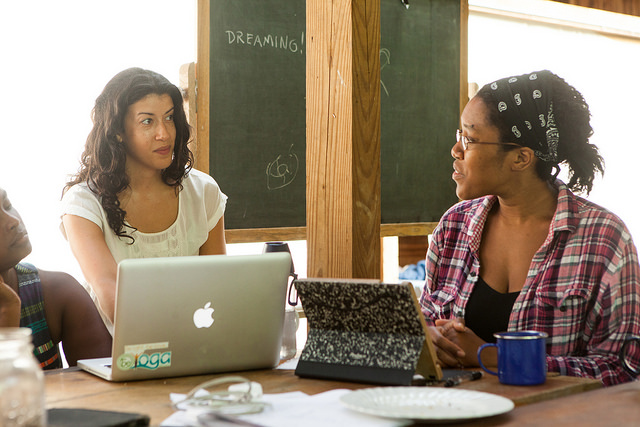 (Photo by Isaiah Tanenbaum. Pictured: Lori Parquet, Sol Crespo, and Shaun B. Fauntleroy reading Nandita's Safe Haven.)
Because I was knee-deep in parenting, I must turn the mic over to my fellow Creative Partners:
WILL LOWRY: Safe Haven is an autobiographical plays about Nandita's parents (her mother, mostly) right after they moved to the U.S. I definitely might have probably maybe cried during it. I especially loved the crackling scene between the head sister and the head of the hospital!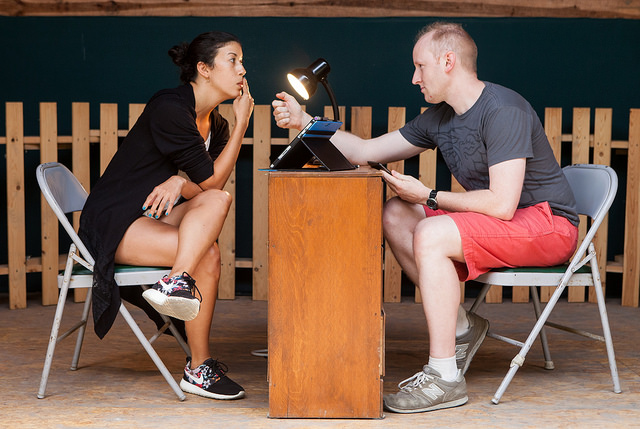 (Photo by Isaiah Tanenbaum. Pictured: Lori Parquet, Sol Crespo, and Shaun B Fauntleroy reading Nandita's FluxForward play.)
I made it back from parent-land to indulge in the wonderful early scenes Nandita has written for her FluxForward play. Set in a women's prison, a bumbling detective (written for Chinaza, of course) interviews various prisoners (Alisha, Becky, Rachael, Sol) about a major art heist.
Highlights included:
Alisha transforming into an entirely new person thanks into a hysterical accent and the power of acting;
Will and Lori somehow combining to form Chinaza (who was absent) ((not to mention Lori also channeling some serious Rachael #talkabouttransformationalacting));
Getting to watch Will square off against both Sol AND Becky; and…
You know, the pictures really are worth a whole bunch of words.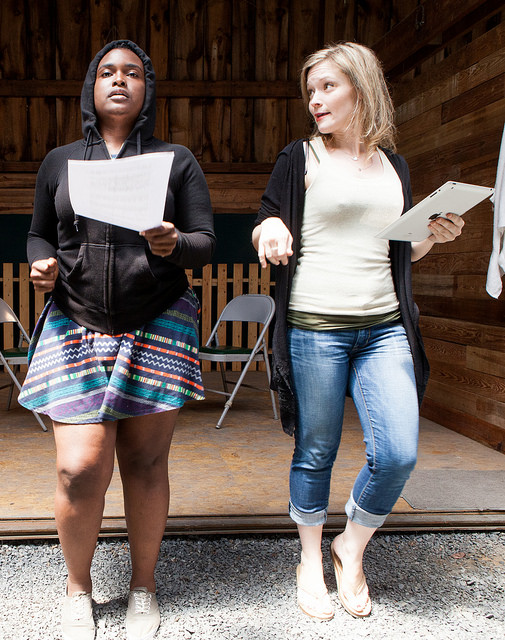 (Photo by Isaiah Tanenbaum. Pictured: Lori Parquet and Alisha Spielmann.)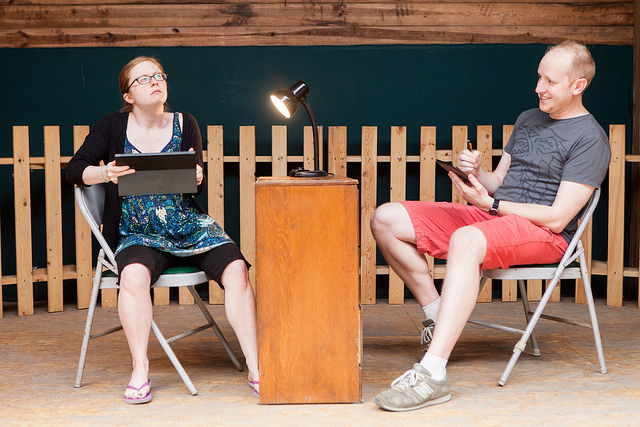 (Photo: Isaiah Tanenbaum. Pictured: Becky Byers and Will Lowry.)
We can't wait for more scenes from Nandita's play!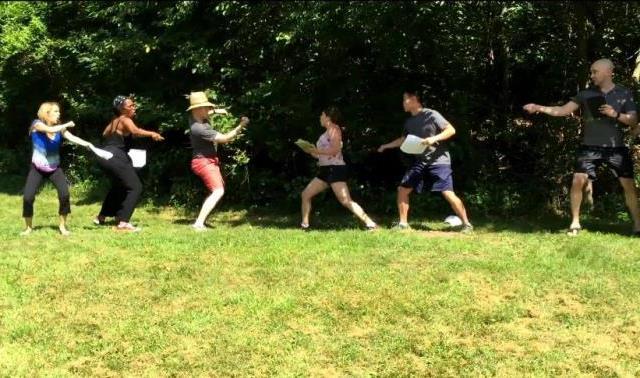 (Photo from screenshot of video recorded by Alisha Spielmann.)
We then took to the woods for Adam's FluxForward play, Marian Smouldering; Or, The True Tale of Robin Hood. Once again, I was busy parenting, so I turn the mic over for some key highlights from this joy-drunk play:
ISAIAH: The "Sword! Sword!" sound effect during the sword fights (and quarterstaff fights);
WILL: Shaun and Anna running off together was an absolutely delightful bit of physical comedy; and
Also, I rolled through poison ivy on one of my redshirt deaths, but there was barely any effect.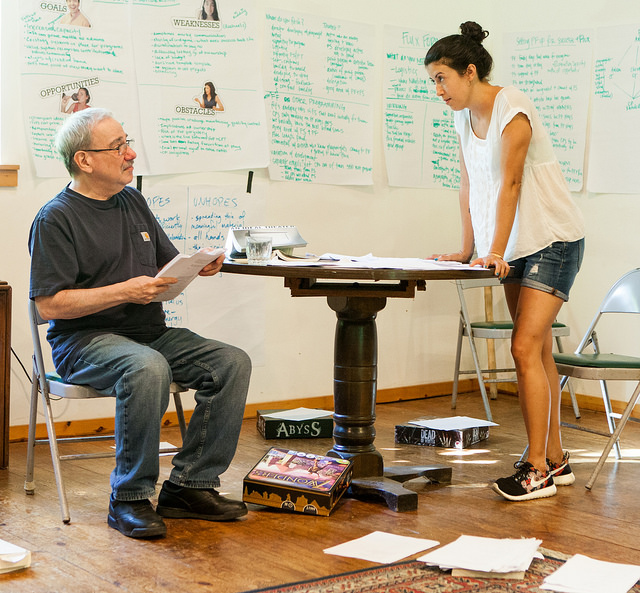 (Photo: Isaiah Tanenbaum. Pictured: Ken Glickfeld and Sol Crespo.)
We then staged the first four scenes of my play, Taina and Marvin. This play follows the deepening relationship between a retired political pundit and the young speechwriter who idolizes his earlier career.
Highlights included:
The thrill of getting to hear Sol and Ken read the parts I'd written with their voices in mind;
Lori countering a ferocious verbal attacks from Brian with a powerful vulnerability; and
A beautiful duet between Alisha and Stephanie, as Marvin's two daughters (spoiler alert) navigate their new and difficult relationship.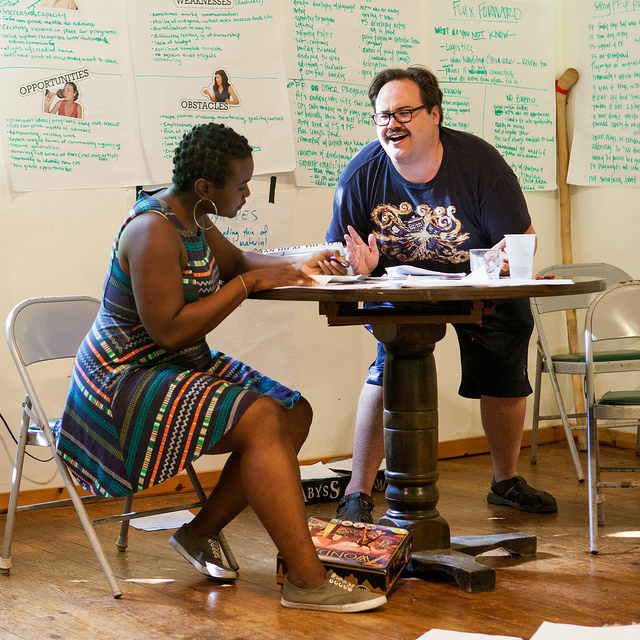 (Photo: Isaiah Tanenbaum. Pictured: Lori Parquet and Brian Silliman.)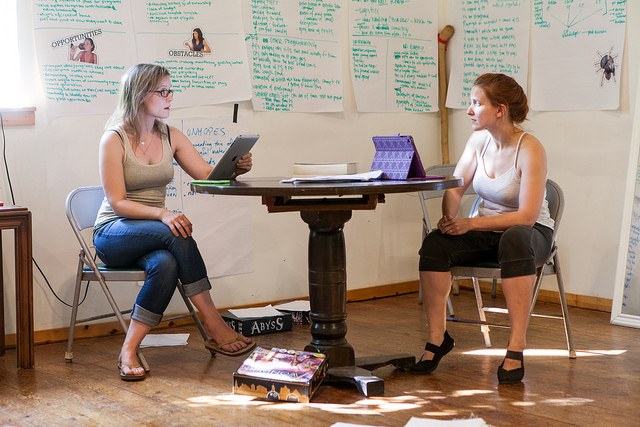 (Photo: Isaiah Tanenbaum. Pictured: Alisha Spielmann and Stephanie Willing.)
That night, we were treated to a bonus performance of a short play from Brian Silliman, performed by Brian, Alisha and Matthew Trumbull. I was once again parenting, so I yeild the stage once more to Will:
Silliman's story was a wonderful surprise to give us some impromptu planning for the evening. Since I'm assuming you can't write about hog orgies (editor's note: oh yes we can!), I can instead lift up how much he relished alliterative phrases in this piece and how Trumbull and Alisha bounced through those phrases with joy.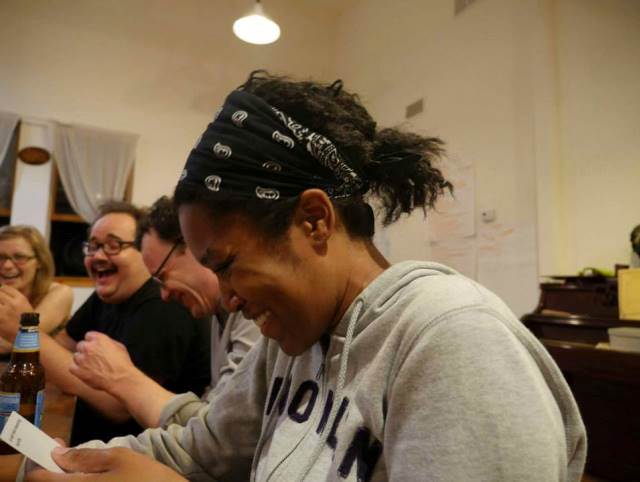 (Photo by Anna Rahn, not of the actual reading of Biran's play, but containing Alisha, Matthew, and Brian being joyful, along with a bonus Shaun.)