#SpeakUp: Nicole Pandolfo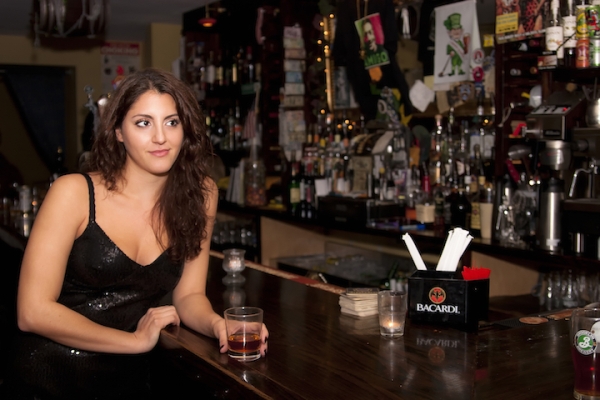 (This interview series features Shaun B. Fauntleroy in conversations with the artists of #SpeakUp. Learn more here, RSVP here, and tell the world you're coming here.)
Why did you get involved with #StandUp? Because I am tired of accepting violence on a multi-daily basis. Street harassment is anything from pressing a groin into your hip deliberately on a crowded subway to screaming threatening remarks to someone putting their hand up your skirt in a Times Square intersection to murder. The small acts of violence meant to remind you that you are perceived as nothing more than an object lead to larger acts of violence and I'm tired of being afraid and voiceless. If I have to be afraid, you have to hear about it.
What do you want people to take away from #StandUp? That the constant acts of violence women and others on the receiving end of the patriarchy endure day in and day out is real and it's time to collectively acknowledge reality and resolve the problem. No one likes being harassed. Catcalling is not a compliment. It is not flattering. It is mind-altering and not only does it terrify us when you do it to us from age 10-50, but imagine the other end of the spectrum when it stops. When you remind us we no longer even have the worth of an object to sneer upon? We go from ridicule to oblivion. It is destructive in every form. Please stop. The great novelist Heywood Gould says, "You can't convince an asshole he's an asshole." That's probably true, but we can still try anyway.
In the course of writing the piece, did anything surprise you? Because I wanted to explore the subject through the eyes of a street harasser, I found that I could possess feelings of empathy toward the aggressors who typically anger and disgust me. If it's all about power, imagine how powerless street harassers must feel to be able to conjure and project that fear onto others so easily.
What changes in our society do you think need to happen in order for street/gender-based harassment to disappear? I think people not typically on the receiving end of street harassment (for example, but not exclusively, hetero-normative males) need to join in the fight against street harassment. If you witness it, stand up for us. If you're doing it, knock it off. Don't let your friends/dad/co-worker/deli-meat supplier get away with it. We need our advocates in positions of power just like any marginalized group. Where are you? You're late.
Favorite three songs? Hackensack by Fountains of Wayne, Dancing in the Darkby Bruce Springsteen, Believe by Cher.
---
Nicole Pandolfo is thrilled to be included in this amazing project. Thank you to the other phenomenal artists in the cast and crew and especially Shaun B. Fauntleroy and the Flux Theatre Ensemble. Nicole has had plays developed through the Jerome Foundation, the Lark, and NJ Rep among others and was a finalist for the Edward Albee Foundation Fellowship. She most recently was selected as a member of the Actors Studio 2015/16 season in the Playwright/Director Unit. There will be a reading of A Bad Night, a documentary play about acquaintance rape, in NYC on October 5th: www.nicolepandolfo.com