#SpeakUp: The Street Harassment Plays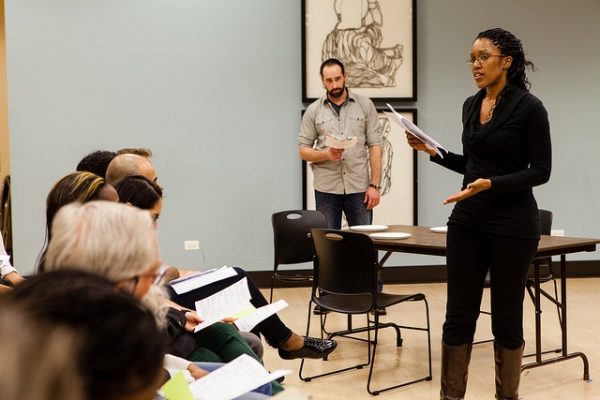 (Post by Shaun B. Fauntleroy. Photo by Isaiah Tanenbaum. Pictured: Shaun in Flux's Understand Our Ground.)
Earlier this spring, a man walked up to me on a subway platform, complimented me rather aggressively, and then punched me repeatedly when I didn't respond favorably. It happened during a rather hectic period in my life so I didn't have time to dwell much on it. I did, however, have a strong impulse to write my thoughts about the incident down. I shared those thoughts on social media, because that's what you do these days, and followed it up with a blog post. Doing so was cathartic, not only because I'd purged my thoughts on what happened, but I'd reclaimed my voice, the voice and agency that this unknown man had attempted to silence.
Over the next few months I was both heartbroken and inspired by two separate incidents. First, a friend e-mailed me to tell me that she had just been similarly attacked and was re-reading what I'd written as she processed her own feelings. Not long after that, a different man attacked another woman (whom I didn't know) on a subway platform after she rejected his advances. I was becoming enraged.
The second thing that occurred was that I had the privilege of witnessing New Black Fest's HandsUp: 6 Playwrights⎪6 Testaments , which featured six powerful and evocative monologues written by emerging black male playwrights that reflect on being an American black male in a culture of racial profiling (I believe they have plans to remount this, so if you get the chance to see it I highly recommend it. You can read excerpts here. ) HandsUp gave a personal voice to a national ache and I was reeling from what I'd heard/seen.
After my friend's e-mail I knew that I wanted to do something. Being a thespian, the theatre was the battleground I chose and with HandsUp fresh in my mind I had an urge to create something similar to New Black Fest's stunning piece: a handful of plays that reflect on the playwright's feelings of being the targets of street harassment and catcalling.  Almost instinctively, I contacted Gus Schulenburg from Flux Theatre Ensemble and said, "Gus, this just happened. Let's make some theatre." Gus shared the vision with the rest of the team and they, being all Fluxy and fabulous, said, "Yes, let's." Together we have created #SpeakUp: The Street Harassment Plays. I hope you'll join us.
#SpeakUp: The Street Harassment Plays
at Judson Memorial Church's Assembly Hall, 239 Thompson St, NYC
9/2/15, 7:30pm
On September 2nd, seven playwrights will transform their experiences with street harassment and violence into an evening of raw, funny, and moving monologues. Featured playwrights include Maria Alexandria Beech, Sol Crespo, Shaun B. Fauntleroy, Lauren Ferebee, Nicole Pandolfo, Nandita Shenoy, and Pia Wilson; the directors are Heather Cohn, Emily Hartford, Sol Crespo, and DeLisa White; actors include Nicole Betancourt, Hanna Cheek, Holly Chou, Beth Ann Hopkins, Bianca LaVerne Jones, Vanessa Kai, and Anna Rahn. The #SpeakUp producing team  includes: Sol Crespo, Shaun B. Fauntleroy, Emily Hartford, Dina Lucchesi, August Schulenburg, Alisha Spielmann, and Isaiah Tanenbaum.
#SpeakUp
will be held in the Assembly Hall at Judson Memorial Church, located at at 239 Thompson Street, directly East and South from the front of the Church on Washington Square South, with doors opening at 7pm for a 7:30pm go. As part of Flux's
Living Ticket program
, attending this event requires no financial transaction.
Check out #SpeakUp on
Facebook
, and stay tuned for more information!
---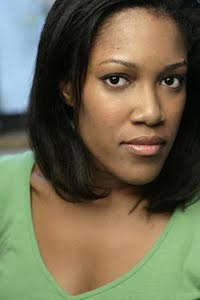 Shaun Bennet Fauntleroy is an actress, playwright, and producer. As an actress, she was most recently seen in Resonance Ensemble's world premiere of The Truth Quotient at Theatre Row, and Retro Productions' An Appeal to the Woman of the House. As a playwright, her work was most recently featured in NY Madness' "Radical Bias" (with guest Chisa Hutchinson), Flux Theatre Ensemble's "ForePlay" (appearing before Jane the Plain), and in The Brick Theatre's "Cleverbot Plays." Shaun is also a contributing writer for NY Theatre Review, and was one of WRITEOUTFRONT's 2014 playwrights. She lives in Brooklyn with her dog, Bentley. Proud member of The League of Professional Theatre Women (board member), Resonance Ensemble, NY Madness, AEA, DGA.