FluxForward Food:Soul, AM I DEAD?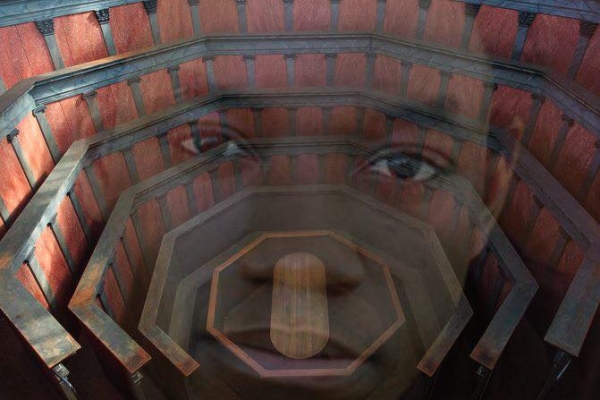 (Graphic design by Isaiah Tanenbaum. Post by August Schulenburg.)
We're thrilled to announce the second Food:Soul staged reading of a FluxForward play, Kevin R. Free's AM I DEAD? The Untrue Narrative of Anatomical Lewis, The Slave. On Monday, December 14 at A.R.T./NY, the doors will open at 7pm to potluck food and community (please feel free to bring a treat), and then the reading begins at 7:30pm. RSVP here, and then let the world know you're coming on Facebook here.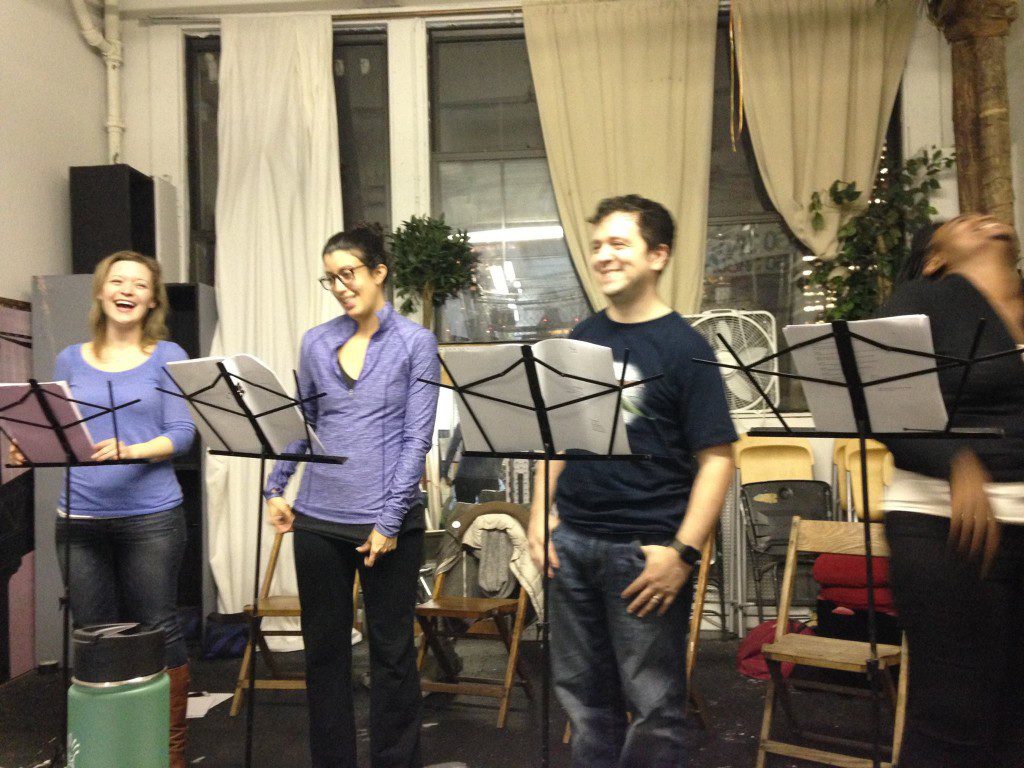 (A happy cast rehearsing for the Food:Soul. Photo by Heather Cohn.)
In the 1830s, the University of Virginia owned a slave called "Anatomical Lewis" who was tasked with the maintenance of its students' dissection chamber. Now, four strangers from different times find themselves trapped forever in the purgatory of Lewis' anatomical theatre–unless they can find a way to reassemble his body. As they put the pieces together, they realize they share a particular kind of damning secret. AM I DEAD? The Untrue Narrative of Anatomical Lewis, The Slave, is a caustically funny and dizzyingly theatrical play about whether or not the truth really can set us free.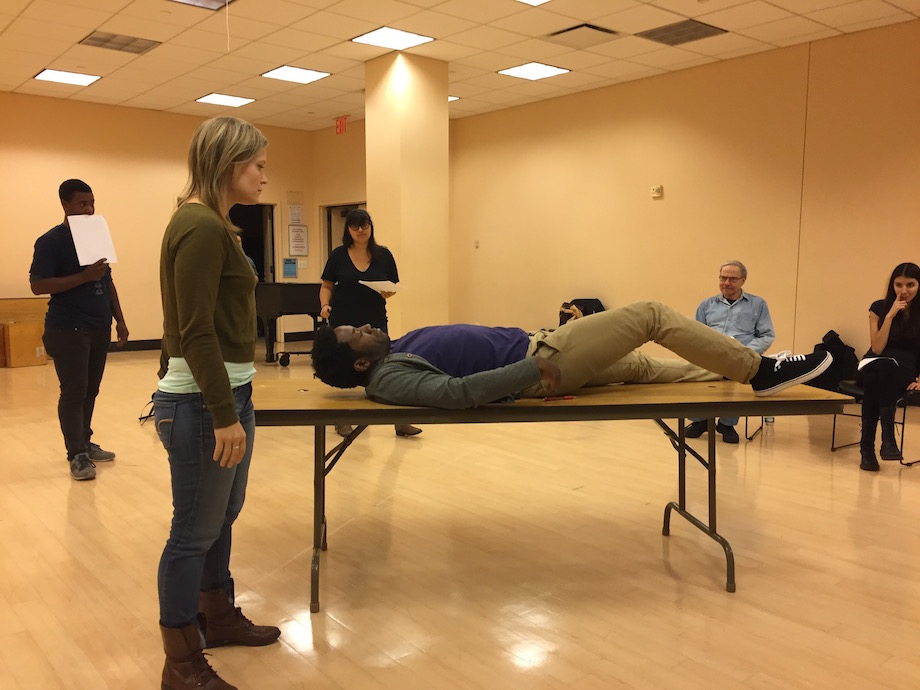 (The play being workshopped at Flux Sunday. Photo by August Schulenburg.)
FluxForward is an open-ended playwright residency program that provides four playwrights with significant developmental support, a commission, the strong possibility of production, and the hope of a creative home. Learn more here, and read about our last FluxForward reading of Adam Szymkowicz's Marian Smouldering here.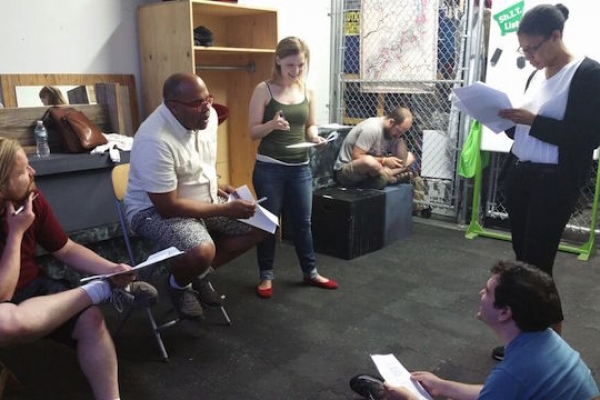 (First Flux Sunday workshop for AM I DEAD? Photo Kia Rogers.)
Scenes from AM I DEAD? have been workshopped at Flux Sundays and Flux's 2015 Retreat at Little Pond. We're thrilled to share the first public reading of the play with you!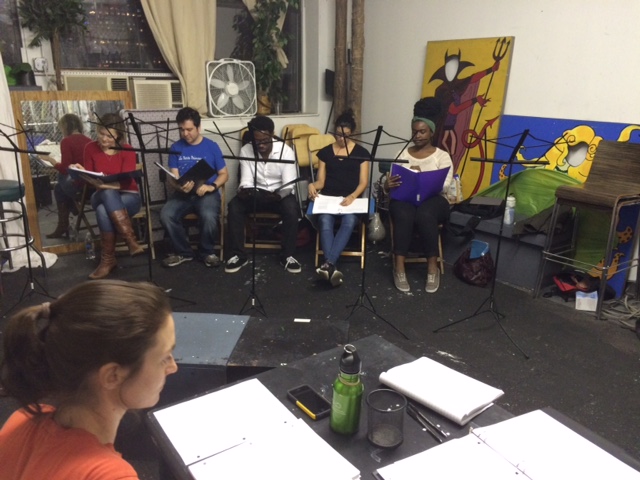 (Photo of Food:Soul cast and director by Kevin R. Free.)
Creative team for the FluxForward Food:Soul reading:
Written by Kevin R. Free
Directed by Heather Cohn
Featuring: Pete Boisvert, Sol Crespo, Lori E. Parquet, Alisha Spielmann, Isaiah Tanenbaum, Chinaza Uche.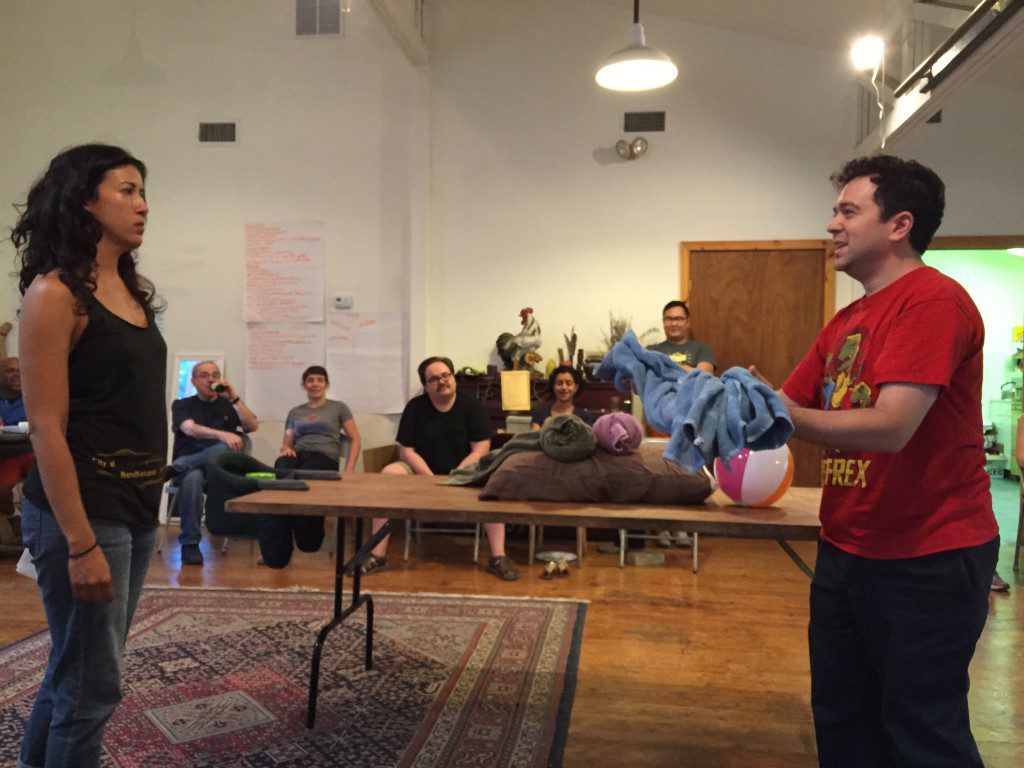 (Photo of the workshop at the Flux Retreat by August Schulenburg.)
Food:Soul, Flux's potluck play development series, breaks the mold of traditional staged readings by developing community through developing plays. Our extreme staged reading model gives the artists and audiences a taste of the excitement of a full production, and the potluck dinner that surrounds it frames the play as a free, communal event. Food:Soul also provides Flux a chance to share plays we're considering for full production with the Flux community. Learn more about past Food:Souls
here
.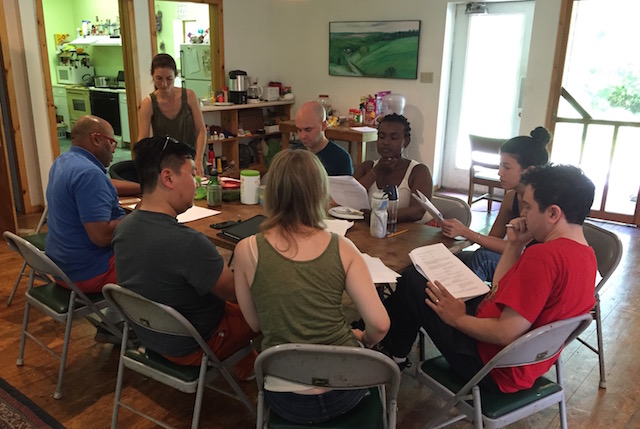 (Very first read-through of AM I DEAD? pages ever, at the 2015 Flux Retreat. Photo by August Schulenburg.)