WAM-NYC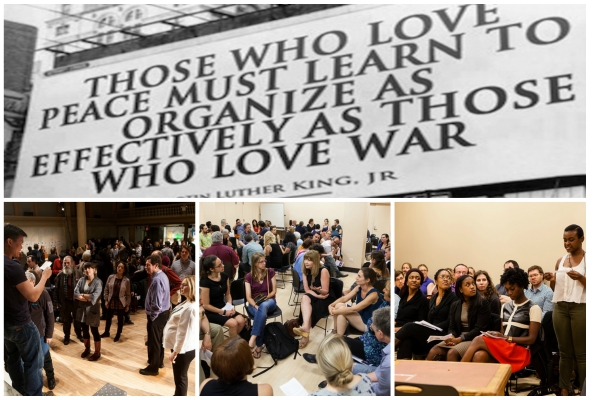 Post by August Schulenburg
After the most divisive election in our memories, the Flux Creative Partners found ourselves asking, what now? It can't be business as usual, not when so many in our communities feel more unsafe than ever. What can our little ensemble do in the face of such violence and uncertainty?
Well, one great idea came our way from Friend of Flux Liz Duffy Adams, playwright of Dog Act, Wet, and many more brilliant plays. Liz wrote with a simple but transformative idea:
What if theatre people met once a week for a single hour to make calls, write letters, and take practical political action together?
From this initial email, WAM-NY has begun to take shape. Here is Liz's vision for what it is and how it works:
WAM–NYC: Weekly Action Meetings

WAM is a weekly meeting of people from the theater community taking practical political action together. We are all getting constant information about calls to make (and letters to write and other actions), but it can be stressful doing it alone day after day. WAM is meant to support us in our political action, by offering a weekly space to come together with our phones and other devices and take those actions communally. It will also be a place to share information and encourage each other in the resistance.

Everyone is busy, so each meeting will be an efficiently structured hour. Anyone in the theater community is welcome to come every week, once a month, occasionally—whatever is useful to you, no commitment required.
Flux will be hosting the first WAMY-NYC meeting on Thursday, January 12, from 6:30 to 7:30pm. We'll alternate our weekly meetings during and immediately after the workday to make them accessible to folks with differing schedule, and we're looking for partners to host these events. Flux will be providing administrative support to bring Liz's vision to life.
As she wrote in her initial email:
"I attended an activism training session a couple of weeks ago, and one story stood out to me in particular: the difference between the NYC and San Francisco gay communities' responses when AIDS hit. SF was already organized; Harvey Milk had helped get a lot of people out of the closet and publicly active; they were looking for a cause and could leap into action. NYC was still deeply closeted and unorganized. There was a terrible difference in suffering…the more we organize now–meaning meeting in person as well as connecting virtually–the more we'll be prepared to meet the challenges coming down the pike."
Whether you've been doing this work for decades or are just becoming a politically active theatre person now, WAM-NY is for you. Though these weekly action meetings, we hope to provide community, accountability, inspiration, and support for people committing to sustained political action.
Want to join in? Email me and we'll send you more information and meeting details!
Please note: as a registered 501c3 not-for-profit organization, Flux cannot advocate for a particular political candidate or party. Our support of WAM-NY is in service of Flux's mission to build a creative home for artists and audiences, and hosting a space for our community to take political action is one way we can do that.