Workshop Reading of AM I DEAD?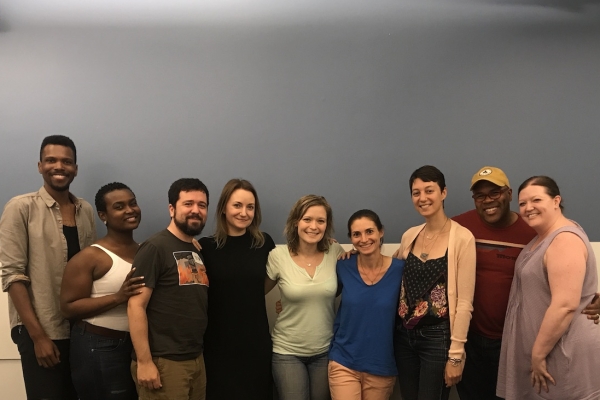 (Post by August Schulenburg. Pictured: Corey Allen, Lori E. Parquet, Isaiah Tanenbaum, Anna Rahn, Alisha Spielmann, Heather Cohn, Izzy Fields, Kevin R. Free, Jodi Witherell)
On Flux's birthday (we announced our name at a lunch party 10 years ago on July 28) we were thrilled to hold a workshop reading of Flux's next production, Kevin R. Free's AM I DEAD? We'e been developing this FluxForward play from Flux Retreats to Flux Sundays to our last Food:Soul, and we're thrilled to soon segue from the development process into production.
To help share our process, we asked some of the artists to respond to this simple prompt:"After this reading, what questions are you asking about your character/design role/the play itself?" Here's what we heard back:
Kevin R. Free, Playwright: "I am trying to figure out how to answer big questions about the play: Who created this purgatory? What exactly are the rules of the world? Is there a scenario in this world where the outcomes for each character are more positive? And on top of all of that – am I any good at this?"
Heather Cohn, Director: "So many huge and exciting questions circling around in my brain after the read-through! One that I hadn't thought about before Friday is the question of who created this anatomical theatre purgatory space? I'm also thinking a lot about how "Lewis" will move in/out of the playing space."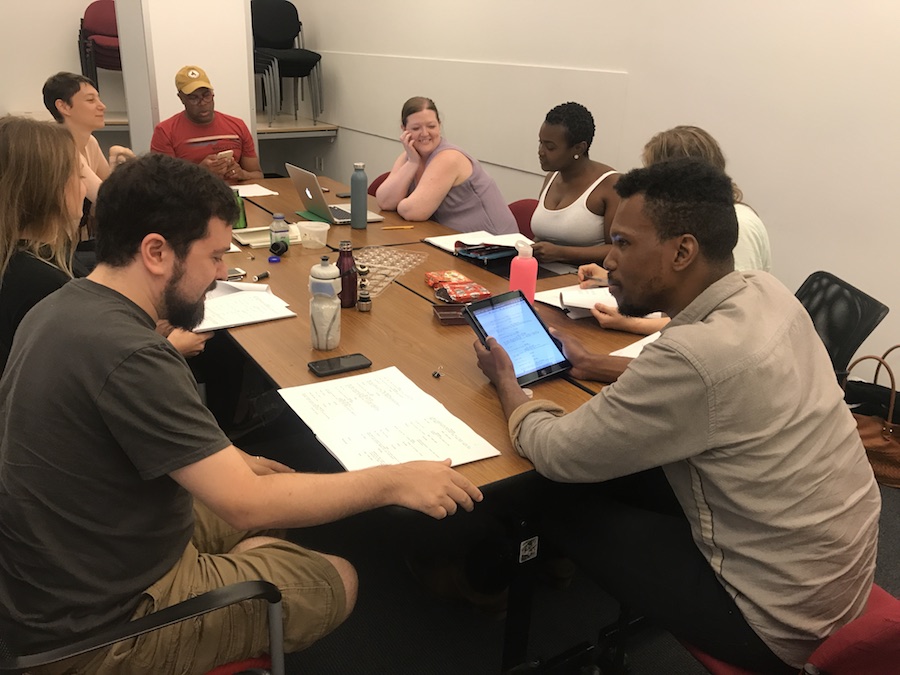 (Pictured: Anna Rahn, Izzy Fields, Isaiah Tanenbaum, Kevin R. Free, Jodi Witherell, Lori E. Parquet, Corey Allen, Alisha Spielmann)
Corey Allen, Osiris: "Post read, the thing I am most curious about is the intersectionality of trauma. Specifically, how the traumatic events each of my characters experience connect them to one another and the other characters that find themselves in the room the play is set in. There seems to be a meditation on memory, regret and trauma and the ways that trauma can paralyze the experiencers of it that really intrigues me. I'm also curious about the ways we express or repress our feelings about those traumas and the often comical lengths we go through to mask them so I'm excited to see how we dive in to explore all these ideas."
Anna Rahn, Tatiana: "I have so many questions about Tatiana I don't even know where to start. How much is mental illness, how much is appropriation and ignorance taken to the nth degree? I don't have the right words yet for what she's done and what she represents. Finding the necessary empathy to play her will be an interesting task."
Alisha Spielmann, Mrs. John Grey: "My initial thoughts post-read were focused on the questions of why people do what they do and how they justify those choices…What is it in society, in their livelihood, in the way they look at the world, the way they view themselves, that leads them to make the choices they make to ultimately lead them to the room this play takes place in? Another post thought read is the choice to purposefully hurt: where does it begin, how does it become a thought and then action, and what are reasonings behind the decisions one makes to hurt, both on a self-focused as well as outward focused level. What are they protecting by these choices?"