Flux Annual Retreat, Day One: Flood and Ghosts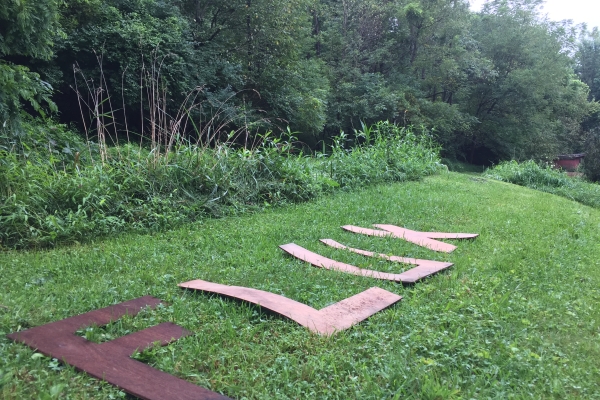 Post by August Schulenburg.
Coming to the Little Pond Arts Retreat in Nazareth, PA for our 13th Annual Flux Retreat, we were greeted first with a flood of ghosts before the spirits sent a flood of water to wash them away. When you come to a place every year for 13 tears, and only for a short time, but in that short time you fill every moment with a month's worth of memories, well…those ghosts  are going to have some things to say to you. (Not to mention some of us have been married in these hills).
And so here I am, walking the grounds, and I see Jason, climbing into the metal ruins of some old farming machine to startle us in the play about twin horses.
I see Chester, following us around as the immortal Joe Coffee, making his ghostly sales pitch.
Here's the circle where Chinaza's Lamish character first haunted our dreams.
And there's the circle where we asked Rachael to become a Creative Partner.
There is no inch of this place that is voiceless to us.
Yet we gather today to wrestle with some new beginnings. Some of our beloved Creative Partners are stepping away, others of us are leaning deeper into this mess, and all of us are dealing with changing circumstances: new jobs, new schools, marriages and children.
And so it was that Emily asked: "What would we do as a company if we started with a blank slate?" and the flood waters began raining down.
A flood warning in New York City means one thing. A flood warning at Little Pond, where your resting place lies near the bottom of where all the waters run, is quite another. And though our WiFi is sketchy here, all our phones began buzzing their flood warnings and we wondered if we should worry.
But this was a healing flood, washing away some of the old patterns and broken obligations that have made new thinking sometimes hard for us. As we went around our circle, first in affirmations and then in prioritizing our Creative Partner time together, there was a hunger to imagine new ways forward based on the people we are now, and not just the people we've been before. We asked if Flux should be about the people, or if there's a bigger idea here beyond any one person. We wondered how to fix the brittle and buffer our strength. We asked practical questions of what people and plays come next. We imagined a Flux Sunday returning, evolving, the kind of place where a parent like me could bring there child and not have to choose between the two necessary things of art and family.
We raised our voices over the pounding rain.
Then we played games and tried to sleep as the rain continued. The ghosts are still here, now listening as much as talking. They're asking the same question, I guess: how will we use this precious little time we have together? And together, we take a deep breath in and get ready to answer.