An Interview with RAGE PLAY Playwright Nandita Shenoy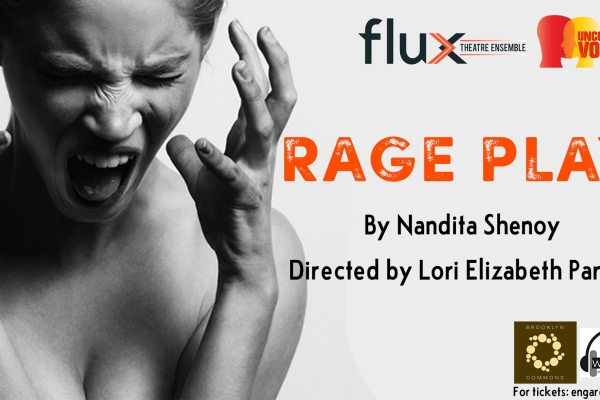 by Isaiah Tanenbaum
Author's note: RAGE PLAY, Nandita Shenoy's FluxForward commission, is about to enter a new phase in its development: a staged reading on May 6th, produced in conjunction with En Garde's Uncommon Voices program (get your tickets here!). I had a chance for a quick e-interview with Nandita about where her darkly funny play came from, and where it's going.
About RAGE PLAY
Three women find themselves standing over the man they've killed. Yet in their own theatrical version of Russian Doll, he keeps coming back. Again and again and again. Inspired by the #MeToo movement, Nandita Shenoy's outrageous black comedy explores the cost women face in fighting back against misogyny and patriarchy, and how they might be complicit in these systems. Through their purgatory, the women aim for liberation…and maybe even a little sweet revenge.
---
Tell us a little about the genesis of RAGE PLAY.
I started writing RAGE PLAY a few months after #MeToo galvanized in the fall of 2017.  I was so overwhelmed by the initial outpouring of stories and how almost every woman I knew had experienced some kind of sexual violence.  While everyone had not necessarily been physically violated, the vast majority had experienced some kind of harassment, intimidation, or bullying that was tied to their gender, and that caused me to reflect on the types of harassment I had endured in my own life.  As time went on, I heard many conversations that included "well at least he didn't ____" which really started to bother me.  Because I think that a lot of the sexual violence in our culture is the result of waiting for the really terrible thing to happen before doing something rather than stopping the mildly terrible.  And a lot of that stems from the power dynamic set up between genders in many industries.  And frankly, I was really really mad about all the undermining, belittling, and bullying behavior I was expected to tolerate in my own life.  So I wrote a play about it.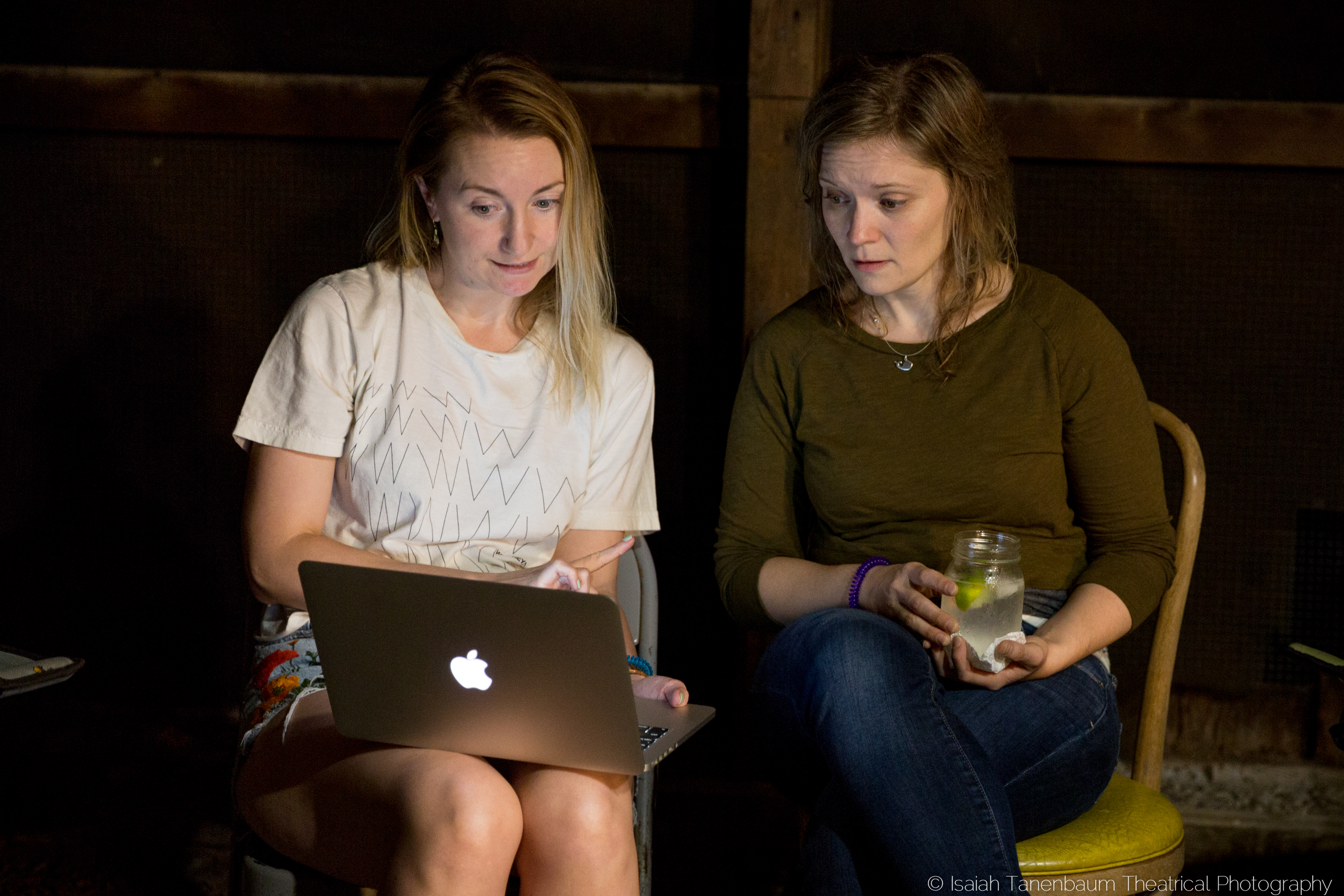 Anna Rahn and Alisha Spielmann reading the first pages of RAGE PLAY at the Flux Retreat in August 2018. Photo by Isaiah Tanenbaum.
RAGE PLAY has expanded and evolved a great deal since you brought the first few pages to the Flux Retreat last August, and also since the Flux reading in December. Can you talk about the journey the play has taken over the past few months?
Because the play was informed by my own anger, I hovered on the first 40 pages for a long time, and I succumbed to my own tendency to try to polish pages before finishing the play.  But the workshop in December provided such a rush of inspiration for me.  First it was wonderful to have time with fabulous actors to rehearse and ask questions of those 40 pages.  They helped me write another 20 in a week for the presentation.  And then the discussion after the play moved me so much that I knew I had to finish.  People really poured their hearts out about their own experiences in that discussion, and I felt that the play had tapped into a really important emotional vein for many people – not just their rage but also their vulnerability, their shame, their hurt.  So I finished the play, carried by their stories, in the next two weeks.  And Flux has been an amazing support by continuing to let me hear the play periodically as I try to clean and tweak.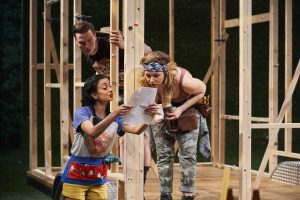 Nandita Shenoy (left) in Tiny Houses, which premiered at The Cleveland Playhouse in March. Photo by Roger Mastroianni.
This winter has also been very busy for you as an actress! Have you found it hard to make time for writing between all the performing you've been doing, or are you the kind of hyphenate playwright-actor where one discipline feeds the other?
It's always hard to juggle multiple creative projects since I always want to put my whole self into each one.  But on the flip side, creativity begets more creativity, and I do find that when I am happy in my artistic life, I am very creative.  When I'm rehearsing a play as an actor, I generally give myself a break and let myself focus on one thing.  But once the show is up and running, I find it easier to write.  I've also started a practice of writing something (even if it is simply a journal of my dreams) every morning for 20 minutes so that the first thing I do each day is creative.  I finished RAGE PLAY through this practice and have loved how this practice has made me feel as an artist.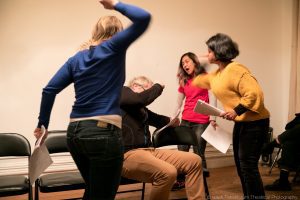 The cast of RAGE PLAY (Alisha Spielmann, CJ Wilson, Jennifer Tsay and Farah Balah) during Flux's Food:Soul reading in December 2018. Photo by Isaiah Tanenbaum.
What are you most curious about learning (and/or) excited to see in this upcoming reading?
Since I have not yet seen the second half of the play with an audience, I'm really curious to see how those scenes work in front of people.  I also look forward to the conversation after the reading.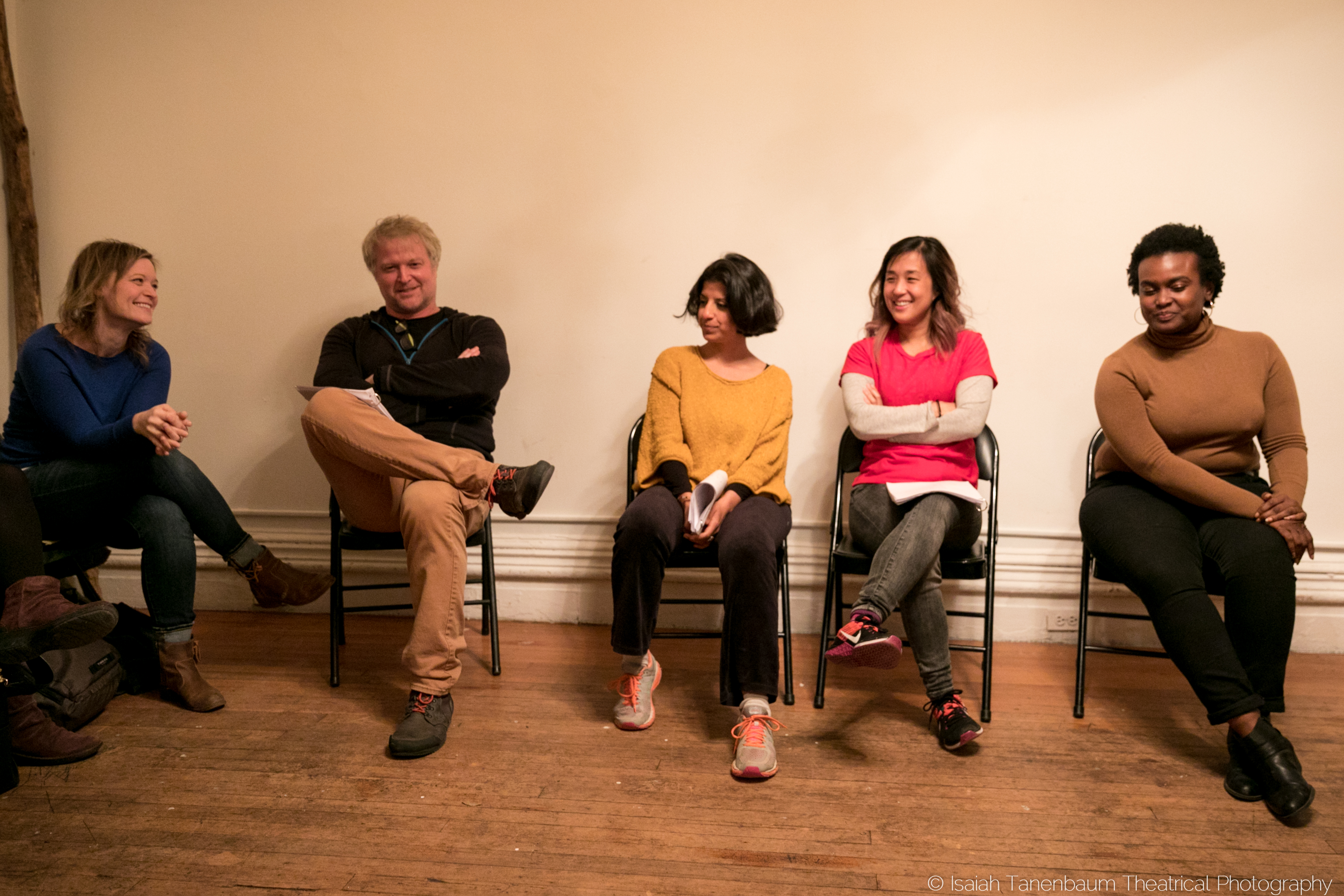 The cast joins director Lori Parquet after the Food:Soul performance. All five will return on May 6th for a full reading at Uncommon Voices, followed by facilitated discussion. Photo by Isaiah Tanenbaum.
What would you want audiences to take away from RAGE PLAY?
Gender violence does not spring up out of nowhere.  It is born of a line that keeps getting pushed further and further.  I think it is up to everyone – men, women, and others – to work to create environments in which people of all genders are treated with respect of their boundaries and autonomy.  Instead of asking what's "bad enough" to warrant action, let's take action to make a space "good for everyone."
---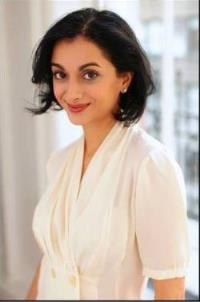 Nandita Shenoy  is a New York-based actor-playwright who enjoys hearing an audience laugh. After its world premier in Los Angeles, her play Washer/Dryer received an Off-Broadway production in which she also starred, produced by Ma-Yi Theater Company. More recently, her play Satisfaction completed a developmental run at the American Academy of Dramatic Arts. Her first full-length, Lyme Park: An Austonian Romance of an Indian Nature, was produced by theHegira in Washington, DC. Her one-acts, Marrying Nandini, By Popular Demand, Rules of Engagement, and A More Perfect Date,have been produced in New York City and regionally. Notable acting credits include World Premiers of Eric Pfeffinger's Some Other Kind of Person, Richard Dresser's Trouble Cometh, and Adam Szymkowicz's Mercy and his Marian, or the True Tale of Robin Hood (with Flux), as well as a season at the Alabama Shakespeare Festival. Nandita is the winner of the 2014 Father Hamblin Award in Playwriting for her commissioned one-act, Safe Haven, and a 2018 Mellon Creative Research Fellow at the University of Washington School of Drama in partnership with Ma-Yi Theater Company. She is a proud member of the Ma-Yi Writers Lab and the Dramatists Guild. Nandita holds a BA in English literature from Yale University. nanditashenoy.com