Flux at the Lights for Liberty NYC Vigil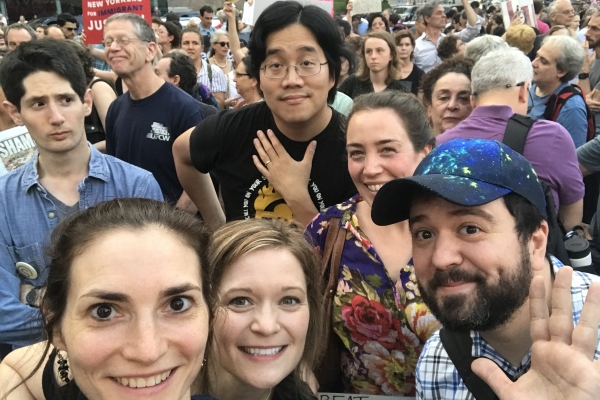 Photo by Heather Cohn. Post curated by Corinna Schulenburg.
Ever since Flux co-created the Breathe Free performances with New Sanctuary Coalition, we've been committed to showing up for them regardless of whether there's a specific artistic project involved. The need is dire and we must hold ourselves accountable to using our citizenship in solidarity with those under threat from ICE. yet this work is also joyful, because we do it with and for people we love.  Here are thoughts from three of the Creative Partners who joined a bunch of Friends of Flux at the vigil:
Alisha Spielmann:
"It felt important to be there to stand up for those who are trying to find a better life for themselves in America – who have the right to do that, as human beings. It's why I ended up here, because of my ancestors seeking a better life. I noticed during the vigil there was a little girl on the shoulders of her parent holding up a candle and it made me think of the little boys and girls her age and older and younger who are trapped in these camps, without their parents, without the necessities that one needs as a human. Just heartbreaking. We need to do better."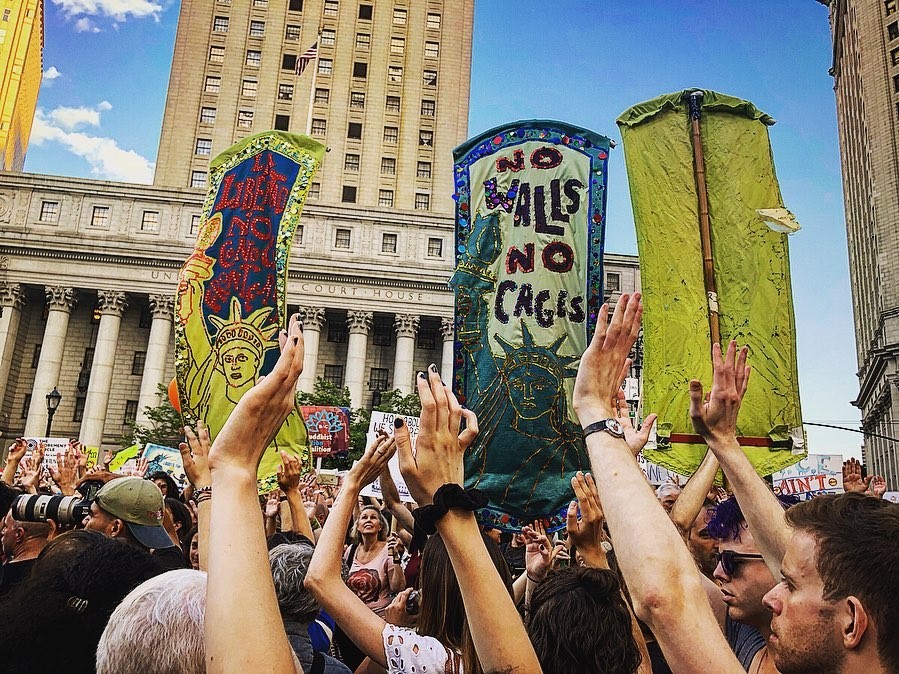 Photo by Alisha Spielmann.
Emily Hartford:
The day spurred some optimism in me—which is a little hard to do, these days. The event's communal feeling started early in the week—when a bunch of Creative Partners hit a snag in our meeting-scheduling, because had all separately been planning to go to Lights for Liberty. That powerful, communal feeling continued, and grew:
–When my spouse Ned planned to interrupt some valuable creative time so we could go together.
–When Friends of Flux—Christine, Justin, Jerry, Reva—joined our group.
–When Noam, a friend from a totally different community, texted out of the blue to ask if I was going, and joined us. And when he shared his recent New Sanctuary Accompaniment Training experience.
–When we got to the event, and Heather ran into college classmates, and we ended up next to friends from Fiasco Theatre.
–When the crowd of people stretched so far, over the entire square and onto the sidewalks across the surrounding streets. And we were in the middle of a sea of people—already too far away to see (or often hear) the speakers…but all there with purpose and energy.
–When the contingent of people to our right repeatedly took on the responsibility of drowning out—with chants full of compassion—the small #45 and ICE-supporting group at the edge of the crowd.
–When the crown learned that our event was one of nearly 800 happening all over the world. When I learned later that my mom had, at this same time, been standing at a Lights for Liberty event on her own little island.
–When Ravi reminded us that this is a call to action. That this should be a beginning and a recommitment.
–When we stood together in silent witness, holding thousands of lights up toward 26 Federal Plaza. When we roared.
Heather Cohn:
For me, a few things are standing out:
-when Ravi said this action was only be the beginning….that what he wanted was for everyone to set their alarms for 3AM the night before the raids were set to begin and check the Twitter feed, and get out of bed, come downtown in the middle of the night and surround 26 Federal Plaza 24-hours a day until the detention centers are closed and the children get relief. What would it take for us to all take on that level of collective action?
-like Emily, discovering the next day that my mom was also at one of the 800 events on Friday night.
-seeing the little blond girl on her dad's shoulders, up well past bedtime, holding her candle high. Does she understand? Probably she understands better than most adults the injustice of it all. Thinking of my own child, who was home in bed, though not asleep, who when I talked with her about why I wasn't home for bedtime and the atrocities our country is committing said "that's very mean"
It is very mean Mercena, you're right and if the human race survives I want
you to know we did all we could do. But am I doing that?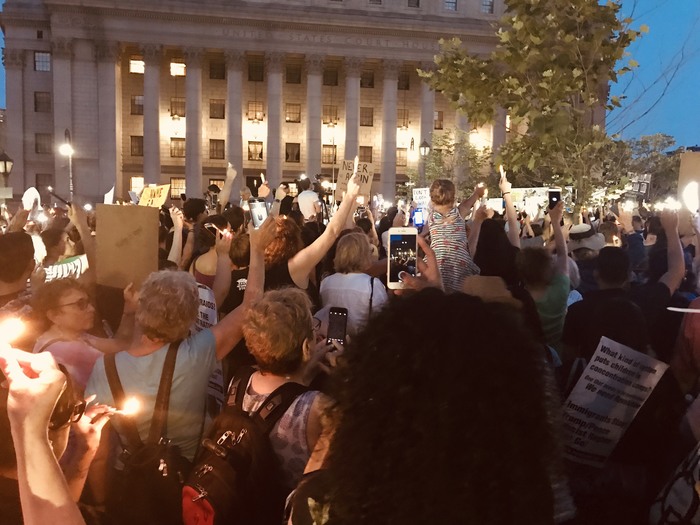 Please go to New Sanctuary Coalition's website and sign-up so that you can get involved, and stay tuned for our next solidarity meet-up!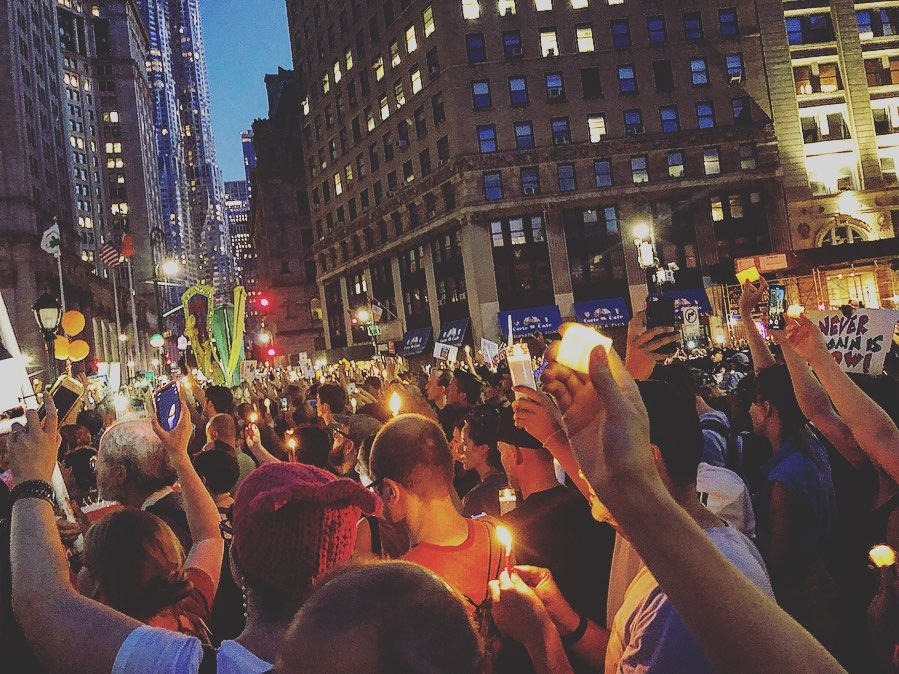 Photo by Alisha Spielmann.