Flux Core Work 2019, Day Two: Clap to Wake the Void Up
Photo by Isiah Tanenbaum. Pictured: Corinna Schulenburg and Anna Rahn.
Day Two of Flux's 2019 Core Work at Little Pond was our first full day, and it was overflowing. Jason Tseng led us in a "tiny dance" warmup that grew in mischievous gravity until we were all pin-balling (safely) around the Great Room. We were committed this year to finding more breath in our time together, and that began with these daily warm-ups.
Then Emily Hartford built on the Day One list-making for the next stage in our multi-day devising project.  She began with a prompt: "Create a gesture series with for the title: 'Personal ritual to start work,' " and invited us to use the lists as source material. Here's how Emily remembers this first round of work:
The first moments of seeing your co-creation creations—on Friday morning, when Anna Rahn, Isaiah Tanenbaum, Jason, Neo Cihi, Rachael Hip-Flores, Salma Zohdi, Will Lowry, and Corinna performed your solo pieces…Jason's grace, Anna's mystery, Neo's playfulness, Salma's intimacy, Corinna's blessing, Isaiah's focus, Will's oceanic dimensions, Rachael's awakening. ALSO. They were the first, joyful moments that I knew I had started something that could work…that I had given you some good ingredients.
Photos by Isaiah Tanenbaum. L to R: Corinna, Rachael, Neo.
Then Emily led us into the second round of co-creation, bring the solo work into a duet with the prompt, "before we leap together." And oh, did this lead to some gorgeous work!
All photos but the one of Isiah and Neo by Isaiah Tanenbaum. Pictured, top left to bottom right, Will and Jason, Rachael and Salma, Anna and Corinna, Neo and Isaiah.
Anna and I created something very meaningful to me, a duet of grief and witness. Borrowing from her work, we buried our darlings in the Little Pond between us.  It was their proper burying place. It was also the void. A poison fruit was stuck inside each of us and we couldn't get it out. We gave voice to each other's screams and freed each other of them. Then we "clapped to wake the void" (Anna's unforgettable words about the pond) and threw our fruit across the pond to each other, not knowing if they'd make the crossing.
The third round moved us into quartets, and to the material we'd already created, Emily asked us to use at least two of the following:
text from a found source
audience invitation
magic
site-specific setting
poetry
darkness
sound/music
Now there were only two groups. Anna and I paired with Neo and Isaiah. Neo led the others to bow to an inscrutable god in the Little Pond kitchen, and as they emerged outside, Isaiah and I found each person and whispered, "when we clap twice, let the animal you're given sing." We brought them to Anna waiting by the tree from my solo piece. She handed out a single tarot card with an animal on it to each person, including us (Neo was right; it was important we not set ourselves outside of the ritual). We blessed each other with the leaves of bent branches.We encircled the pond and, after clapping to wake the void up, let our animals sing.
Salma, Rachael, Will, and Jason created a scavenger hunt that was also a choral chant. We tried to keep our rhythm as we searched for the objects and energies that would fill Jason's bowl, which was a sacred space that held the life of a tree fighting against fungal invaders.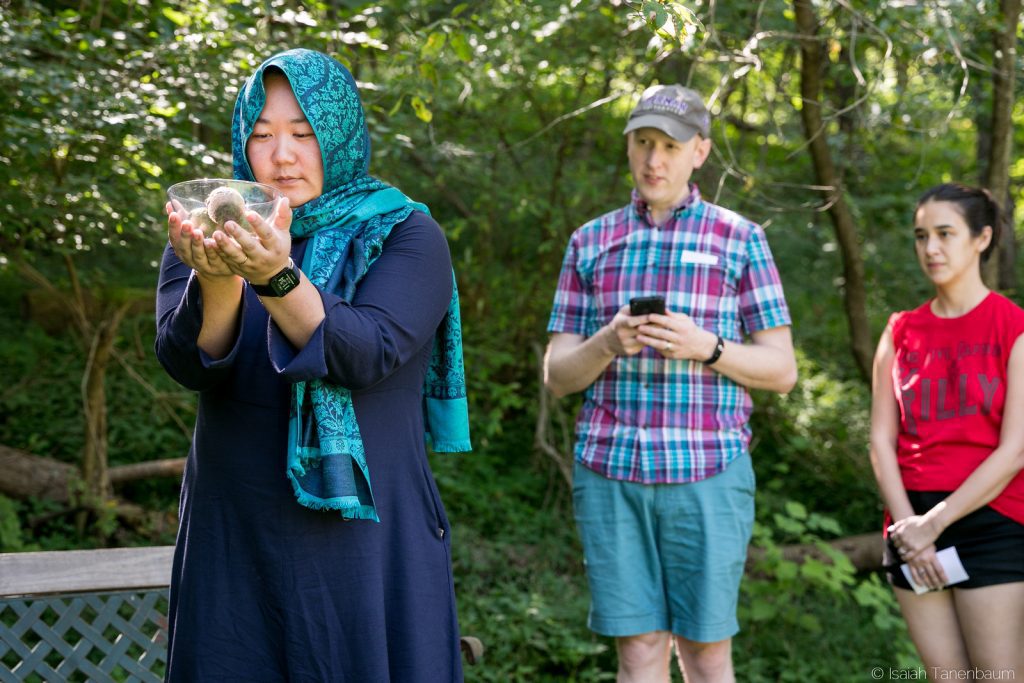 Photo by Isaiah Tanenbaum of Jason, Will, and Rachael.
We then discussed examples of leadership that has nourished or depleted us. The toxic nature of 'leadership' as it exists in a white supremacist, capitalist context became painfully clear as we shared one awful story after another. We ended looking toward the conversation we wanted to have that evening; not about surviving the exploitative models of leadership we have, but how to create new ones–or discard the language of leadership entirely.
Will's interpretative color response workshop was next. It began with Will arranging a whole bunch of color options on q table, with different hues, saturations, and textures. We were given a phrase on a slip of paper and asked to find the two colors that felt as though they resonated most with that phrase. Will then revealed that each phrase had a partner, and invited us to find the person we thought shared our phrase using the colors we'd chosen. It worked! And where it didn't, it was interesting.
We then discussed each person's colors and how they embodied their phrase. As an example, Neo and I chose "tragic loss," and we both chose dark blues and blacks. Will was dazzling and encouraging in his observations on our choices.
Photos above and below from Isaiah Tanenbaum.
Jason then led a mindful art of mending session where some folx brought clothes they needed mended and others (me) worked with fabric they brought. I was very grateful for Jason's patience as they walked me through the most basic of things. It was definitely cool to spend some retreat time in the worlds of design and craftsmanship.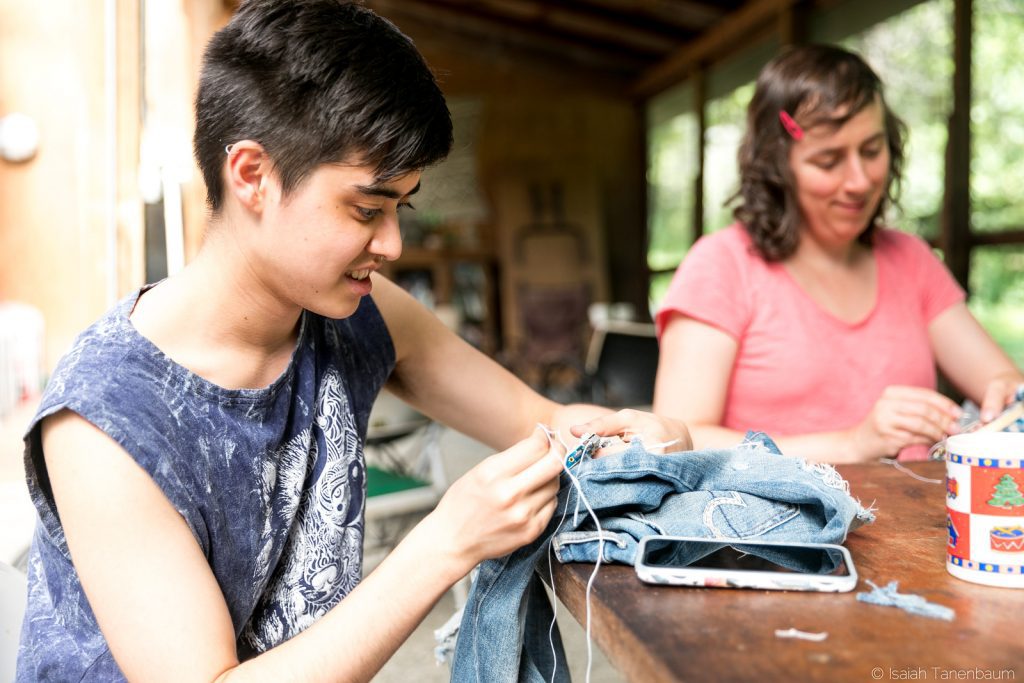 We then read the first act of Jason Tseng's new play Ghost Money. This epic narrative about family mythologies, and how they can obscure more complicated realities, was given a gripping read by the team.
As Rachael Hip-Flores remembered:
Reading scenes with Anna in Jason's badass Ghost Money...I genuinely don't remember the last time I actually got to work directly with Anna – maybe a Have Another? Maybe? Anyway, it made my heart so damn happy in like the middle of the scene as it was happening. Crazy.
We then continued our convo from earlier in the day, this time using the following evolution of Flux's core value of collaboration as a starting place:
Consent and Agency (evolves from Collaboration):
Flux works toward a non-hierarchical collaboration, practicing consensus and prioritizing consent in all our process. The value of consensus is set in a healthy tension with agency, where each collaborator feels fully empowered to take risks, try new things, and experiment. Trust and respect make the tensions between consent and agency taut like a guitar or violin string, and they go out of tune easily. But when they're in tune, they are beautiful and powerful.
The conversation brought some realness, including:
The word "leadership" itself, and all the white male supremacist assumptions built into it.
We don't have models for equitably honoring the different ways we nourish the ensemble (and are nourished by it).  Who gets valued more for what kinds of leadership? How does that impact how decisions are made under the cover of consensus? What happen when people move back because they're not being honored or nourished, and Flux gets wobbly in the absence of what it actually needs to survive?
How can collaboration work best for those who don't want to lead or be led?
Consent processes can often hide dissent in spite of our best intentions, which manifests instead as people moving back from Flux or leaving entirely
There was an important and as yet unresolved conversation about whether it's better to produce more plays that at least some of us are excited about, or fewer plays that all of us are excited about.
The Creative Partners costs felt by other collaborators when Flux produces plays that aren't ready and/or don't have full CP support. Every collaborator suffers when the work isn't ready or unsupported, not just CPs.
Isaiah led us in a tight healing circle, and after we broke, Kia shared with me a radical idea she had: what if we got ride of the Creative Partnership? And we were just the community of Flux?
But we didn't have time for such radical proposals, for it was time for games and tarot card readings. And yes, even more surprise play readings…
..for as Jason remembered:
I finished a play on Friday night. A play that burst out of me over a fortnight. A play that scared me to the bones to write (it's a two hander about rape and accountability… so… you know, light stuff). After getting to hear another play of mine read that afternoon, I felt self-consciously greedy about wanting to share this new play, but I desperately wanted to get some insights about the piece, especially from blind spots in my social location. Rachael graciously offered to read the play with me and go deep, eschewing the warm glow of the great room that buzzed with board games and laughter. It was such a gift, as a writer, to read the play together, almost at a whisper, to each other. It was like we were telling each other a secret. A painful, terrible, liberating secret.
So much it can happen in a day, in a night, in four days together.