Flux Core Work 2019, Day Four: Artie Sparkay, Woes Matter, and Busy Coffeedrop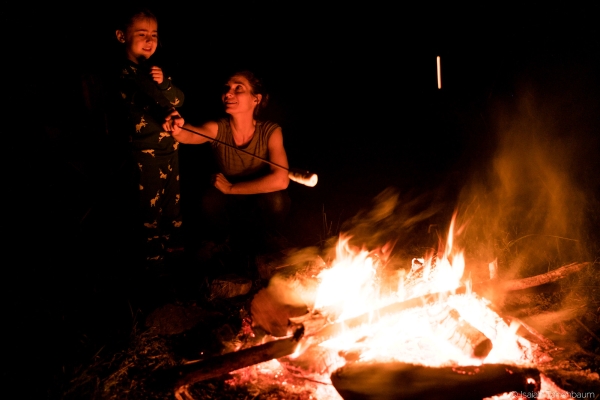 Day Four–our final Core Work day together, began with Corinna Schulenburg;'s meditation exercise, Keeping and Letting Go. This was a wonderful chance to slow down and reflect on the past few days, as Corinna led us through each milepost of Core Work so far—inviting us to look over those moments, to decide what to keep and carry with us, and what was no longer serving us and could be let go.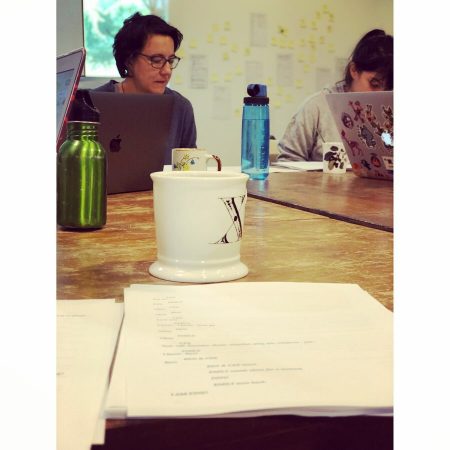 Then we read Kristen Palmer's play, The Stars Are Not for You: We moved the play reading to the morning, because too many people who had to leave that day were going to be so utterly heartbroken to miss the new Kristen play. We laughed and delighted in the young freshmen arriving at UVA for the first time. We churned at the hints of a harmful legacy, with all of that Thomas Jefferson and Edgar Allen Poe, and racism and potential sexual harassment, around. We felt the powerful surprise and terror of the second act… We also had the chance to respond to Kristen's questions about the play, and Will Lowry drew its structure for us—and marveled at Kristen's keen first act design choices.
Photo of Kristen and her play by Alisha Spielmann.
As Heather Cohn remembered about the reading:
The reading of Kristen's play and the rich discussion that followed, in particular watching Will's designer brain respond to Kristen's question about structure with a powerful visual.
Then we had another chance to talk with one of our Core Workers about a new project! Neo Cihi is exploring a mysterious phone booth in the Mojave desert that drew pilgrims seeking connection until the environmental impact of the seekers forced the National Park Service to take out the booth. There were many threads to explore in this rich idea. Isaiah may have given Neo their next jumping-off point, with the introduction of…another famous phone booth.
Heather Cohn then introduced us to a new model for exploring characters and other concepts called visual dramaturgy. She learned it from designer Irina Kruzhilina. We had piles of stuff to work with, and each of three groups received one of the values from our conversations this weekend: Rigor (/Release), Consent (/Agency), and Collective Care. We chose an object from the pile to work with and represent our concept. We destroyed it, and remade it. We decorated it. We identified its traits, its desires, its fears. We created full-size versions of our vibrant characters, and shared them with their glorious names: Artie Sparkay, the collective care broom; Woes Matter (nothing, woes matter with you?), the phoenix of consent and agency; and Busy Coffeedrop, the rigorous explosion of Curious George illustrations and beautiful release of yarn in the breeze of a fan…
All photos above by Isaiah Tanenbaum. 
As Sienna Gonzalez remembered:
"It was so fun to create our characters based on Flux values on Sunday. It brought me back to so much of what drew me to design. The combination of seeing Will get geeked up about the project in such a familiarly designer-y way and how Anna dove deep into the character analysis of our lovely Busy Coffeedrop made it such a fun collaborative process. Great activity that I would happily do again."
Corinna Schulenburg then led a super-action-item-filled schedule session! We scheduled SIX MONTHS of new Flux programming! IT IS GOING TO BE AMAZING. We are going to make art with people we love, in person, every two weeks! Stay tuned for more details.
We had originally planned to have a showing of whatever emerged from the multi-day co-creation work, but as the work evolved on day three, it seemed like that would be redundant. We were doing the vital sharing in the moments of creation. Over these few days, we had explored the beginning and middle of creation and collaboration… That afternoon, Will and I had a really lovely conversation about what it means to step away from a work of theatre, and how we might look at that through this lens we had made together. I wanted to give the team some way of walking through that ending in a joyful way. So, I asked each person to write down a moment that they had created or helped create, from this process, that was particularly meaningful to them. Then, I gave each moment to a different person—and everyone was tasked with creating a new, simple invitation to help honor their partner's moment.
And then, we gathered around the bonfire. It was Mercena's first, and it was very, very special.