Flux Core Work 2019 Summary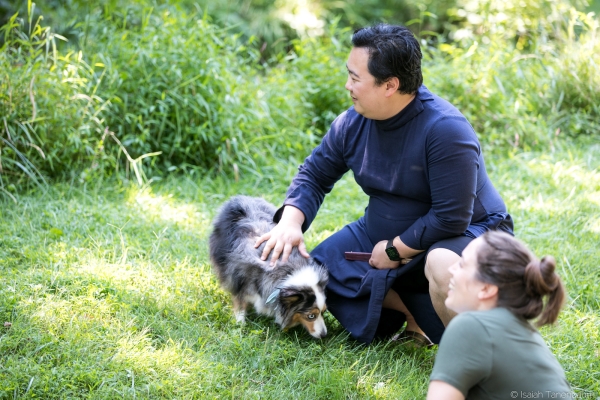 Post by Corinna Schulenburg, with a bunch of words from Emily Hartford.
Every year, Flux Theatre Ensemble holds our  week-long Annual Retreat at Little Pond in Nazareth, PA. This year was different.
Flux has been experiencing quite a bit of change over the past few years, and we've been doing a lot of thinking and talking about what Flux's next era of work and community could look like. And, after 13 years of producing work and growing and experiencing life changes and community changes and world changes, etc.—we're also in a place where we need to focus on building back up some capacity.
And so, we took the time that we'd usually devote to the Retreat to gather at Little Pond with a significantly smaller group of recent and longtime collaborators, to examine, articulate, and strengthen our core practices. We called this retreat that was not the Retreat Core Work, and we met together from 8/29-9/1.
Co-organizers: Emily Hartford, Corinna Schulenburg
Participants: Becky Byers, Neo Cihi, Heather Cohn, Sienna Gonzalez, Rachael Hip-Flores, Will Lowry, Kristen Palmer, Anna Rahn, Kia Rogers, Corinna Schulenburg,  Mercena Schulenburg, Alisha Spielmann, Isaiah Tanenbaum, Jason Tseng, Salma Zohdi, and Sylvio the Dog.
Our work was divided into three categories:
Discussions and practical work around exploring Flux's practices, and the way we articulate and embody our values;
Creative work (including a co-creation/devising project) that was in conversation with that first category—that got the questions of ensemble and art-making into our bodies and imaginations; and
Diving into everyone's art—including, of course, play readings, but also sewing and color theory and immersive games, and discussing super new nascent creations.
Here are short summaries of each day that lead to much longer dives chockfull of pretty pictures: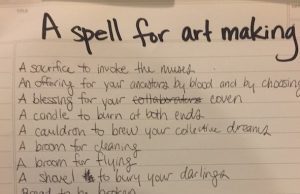 Flux Core Work 2019, Day One: A Spell for Art-Making: The Flux Creative Partners cleaned, shopped, and set up. Salma, Jason, and Neo arrived! We went for a walk and found a new trail path and a pair of monarch butterflies. Emily led us in a devising exercise with fantastical list-making. Kia made dinner with several sous chefs, a delicious orzo and salad combo. After dinner, we discussed rigor and release, aesthetics of liberation, and an evolution of Flux Sundays. Anna arrive with Sylvio, the cutest of dogs. There were games and then there was sleep.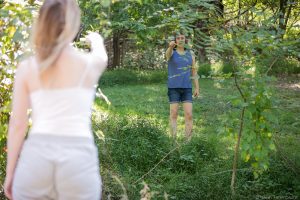 Flux Core Work 2019, Day Two: Clap to Wake the Void Up: Jason led us in a "tiny dance" warmup that was playful and energizing. For Day Two of co-creation, Emily had us start by making solo gestural pieces using any of the lists from the day before. The solo pieces became duets and began to incorporate other elements; then a third round of co-creation had quartets using the past work and a set of ingredients to create something new. The work was made both inside and outside, with the outside work making good use of our little but mighty pond. We then had an open conversation about leadership that we'd enacted or witnessed that empowered and/or harmed us. After lunch, Will led us in an interpretative color response exercise, followed by Jason's mindful art of mending. We read the first act of Jason's Ghost Money, and then enjoyed a delicious meal from Chef Neo and Sous Chef Kia. After dinner, we went deeper into our conversation of leadership through the lens of consent, agency, and ensemble structure. By the end of the day, we'd been joined by Will, Alisha, Sienna, Heather, and Mercena.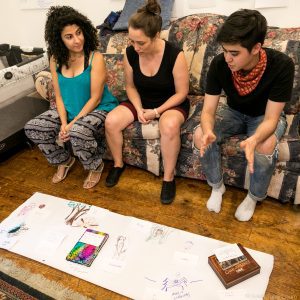 Flux Core Work 2019, Day Three: Welcome to Life.org: We started with theatre games led by Isaiah, followed by an exploration into Salma's vision for a new project on revolution, cycles of hope and cynicism, and the NYC subway. Then we jumped back into co-creation, and back to list-making—aiming to introduce some more muck and swampiness into our creative explorations. Then, those became the source material for the next phase. Three groups created three funny, uncomfortable, moving, surprising interactive pieces: Swamp and Disappointment, Welcome to Life.org, and Lost and Found. In the afternoon, Kristen led us on a Mytho-Poetic Scavenger Hunt, where we created and excavated mystery and meaning. Dinner was Salma's incredible Egyptian fava bean dish! In the evening, we had a beautiful conversation about relationships and collective care. And then, we ran away with the wolves for the reading of Corinna's Pack.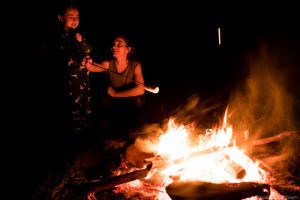 Flux Core Work 2019, Day Four: Artie Sparkay, Woes Matter, and Busy Coffeedrop: Corinna led us in a nourishing and reflective guided meditation, walking through our time at Little Pond thus far—choosing what to keep and what to let go. We read then discussed Kristen's moving and surprising play, The Stars Are Not for You. Then, we brainstormed with Neo, about a phone booth in the middle of the Mojave desert, connection and isolation, and the cost of pilgrimage. After lunch, Heather led us in a visual dramaturgy exploration of some of Flux's new value articulations—we manipulated and destroyed objects, we envisioned and joyfully built characters to embody those values. Then, Corinna helped us spring to action—setting dates for six months of Flux's new programming! We also created a horrible name for that programming. Emily invited folks to close out the co-creation project by creating ways to honor our collaborators' work. We all made beautiful little things for each other, while we had a dinner of delicious twice-baked potatoes, and veggies, by Corinna, Kia, and Alisha. And then: bonfire!
There is much more to share from what we discovered at Core work, but for now, we extend our deepest gratitude to everyone who participated.