A Year to the Day Photos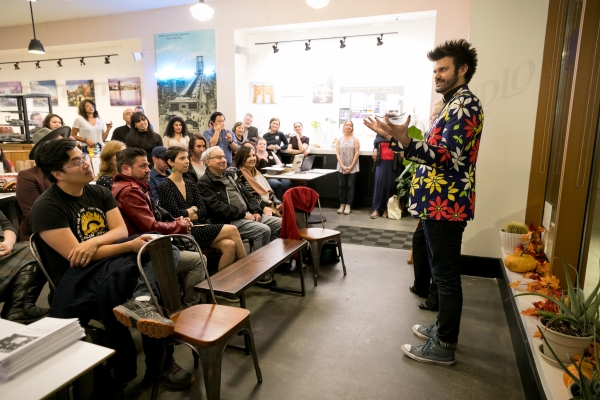 (Post by Corinna Schulenburg. Photos by Isaiah Tanenbaum.)
What a night!
We were so grateful to everyone who attended A Year to the Day. This year, Flux's annual fundraising event evolved to respond to the political pressures of the moment–and to celebrate a significant hinge-point in our ensemble's history. A year to the day before the 2020 general election, our community of artists and activists gathered to celebrate, activate, and organize.
It all started with a new annual award, created to honor visionary artist/activists, and to recognize the powerful work being done at the intersection of theatre and social justice. Flux honored our dear friend and source of continual inspiration, Micah Bucey (Judson Memorial Church; Judson Arts; New Sanctuary Coalition).
Micah chose to name his award after ground-breaking artist and activist, Larry Kramer (The Normal Heart, founder of GMCH and ACT UP). Micah was presented with the award by his mentor Morgan Jenness (The Public Theater, New York Theatre Workshop). Micah spoke movingly about his vision of artists serving as our "modern-day prophets," and shared how attendees could get involved with Judson Memorial Church, New Sanctuary Coalition, and Judson Arts.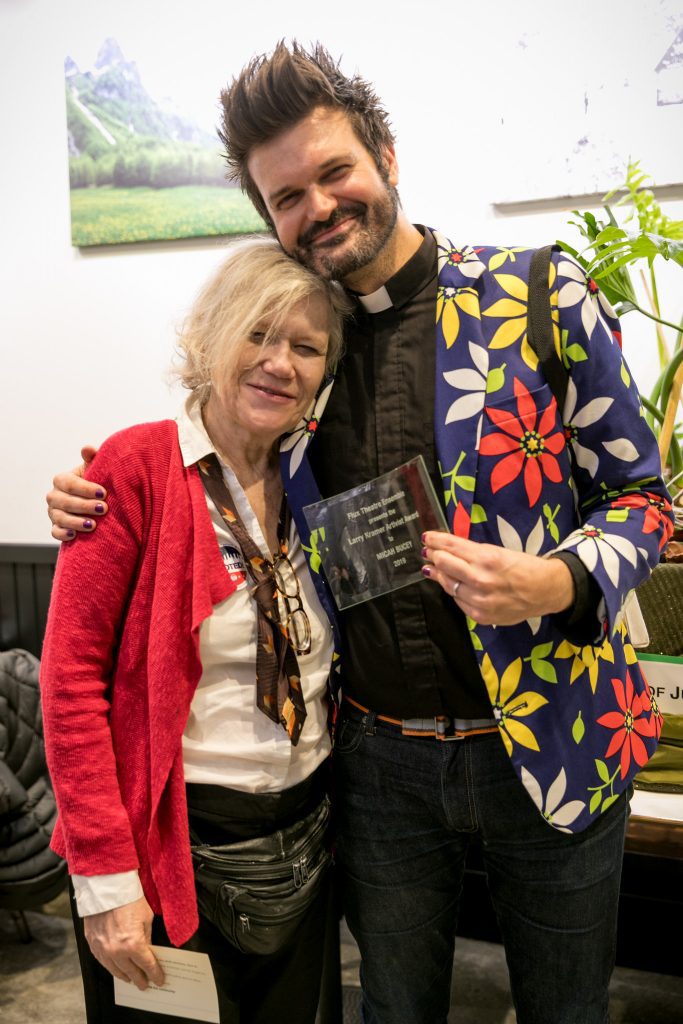 As Kia Rogers noted: "Honoring Micah and hearing him speak was inspirational. His dedication to community, theatre and the power of being open made my heart swell and brought tears to my eyes, like, I started crying, for realz, he is an amazing speaker!"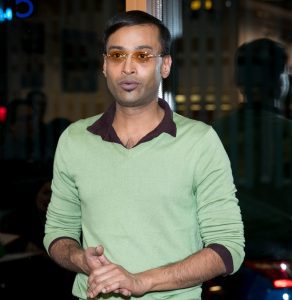 We were then grateful to learn more about our host location, GrandLo Café. A social enterprise of Grand St. Settlement, GrandLo provides youth who aren't in school and aren't working with meaningful job skills. It's more than a job training program. It's a community that supports young people, many who are facing difficult life circumstances and might not be able to join the workforce. Flux was thrilled to be in a place so aligned with our own values. Thank you for being a wonderful host, Ish!
Then, Kia and Emily Hartford shared the opportunities to engage with the space: raffle items, social justice partner organizations, and yes, a tree (maybe a fern?) of justice.
After a break for mingling, we returned to honor past Creative Partners who have moved back, with Alisha Spielmann honoring Becky Byers, Heather Cohn honoring Kelly O'Donnell, Will Lowry (via video) honoring Chinaza Uche, and Rachael Hip-Flores (via video) honoring Sol Crespo.
And then we announced our new Creative Partners, Corey Allen, Sienna Gonzalez, and Jason Tseng!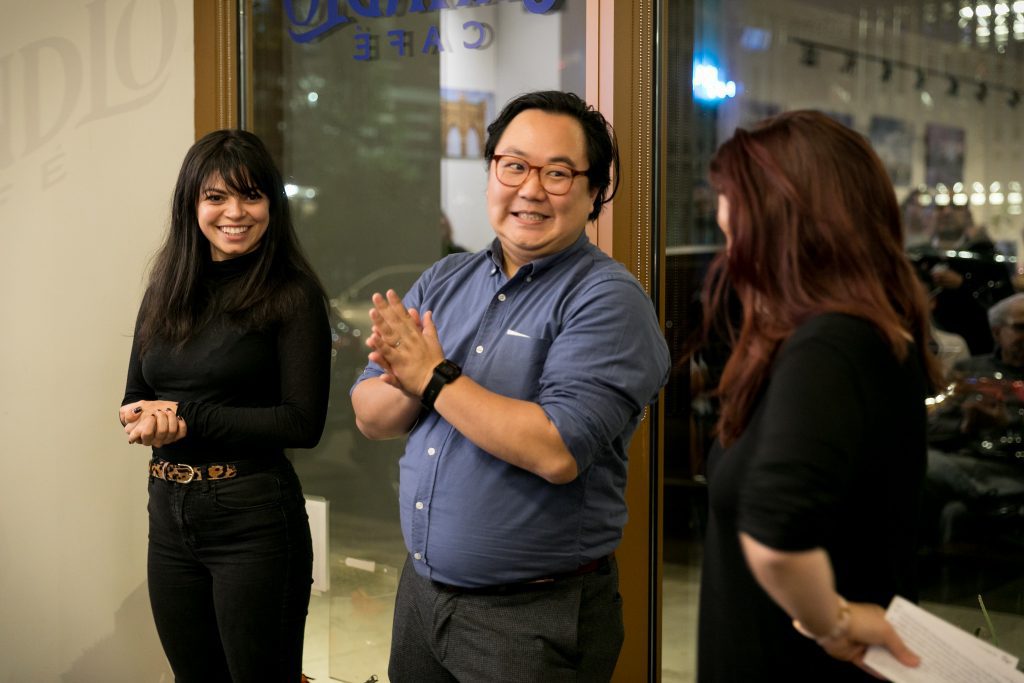 We then shared more about Core Work, our new play and community development program, with Emily, Jason, Sienna, and Dominique Ryder discussing the projects they're each working on.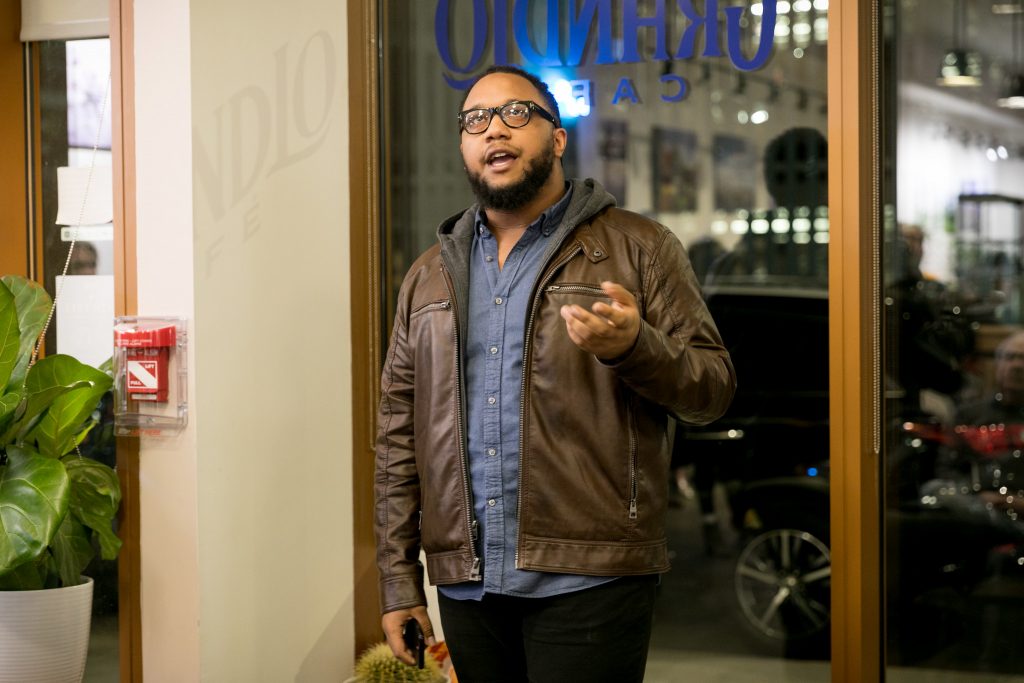 Then we got to hear from Patrick Houston of New York Communities for Change about the ways that we could sign up for some of their bold and impactful climate justice initiatives.
As Jodi Witherell lifted up, "it was also awesome to see the work friends are doing with our partner
organizations!"
Then there was more mingling, and by mingling, we mean….PHOTO BOOTH! Thanks to Sienna for snapping most of these great shots.
Emily said that "seeing everyone joyfully slay the photobooth" was one of her favorite memories of the night. And? She's not wrong.
We drew back together one more time, first learning for Jerry Polner about the exciting work being done by Get Organized BK,  and then Salma shared more about her own Core Work project.
We're so grateful to everyone who made the night such a success, and especially our fundraiser committee: Sienna Gonzalez, Emily Hartford, Morgan McGuire, Lauren McKinley, Jerry Polner, Corinna Schulenburg, Jodi Witherell, and Salma Zohdi.
Thank you, everyone! 2020, here we come…