Announcing New Creative Partners: Corey Allen, Sienna Gonzalez, and Jason Tseng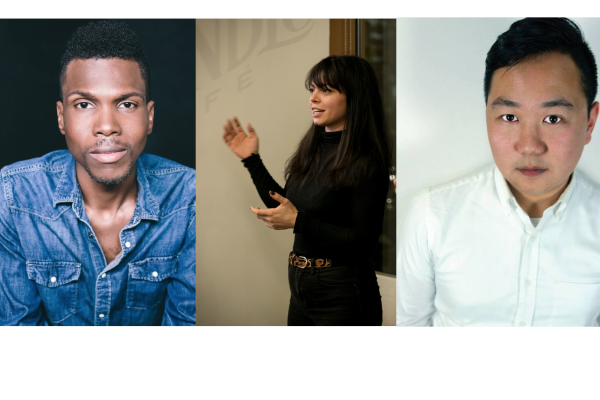 FOR IMMEDIATE RELEASE                                Contact: Emily Hartford, emily@fluxtheatre.org
Flux Theatre Ensemble announces new Creative Partners
Corey Allen, Sienna Gonzalez, and Jason Tseng join award-winning ensemble
Flux Theatre Ensemble is pleased to announce that Corey Allen, Sienna Gonzalez, and Jason Tseng have joined the ensemble as Creative Partners. In Flux's equitable organizational structure, all Creative Partners serve as artistic and executive directors through a non-hierarchical, consensus-based leadership model. This practice of collective leadership presents an alternative way to create and produce theatre outside of traditional hierarchical models. Flux's innovative approach to making theatre has been honored with a Caffé Cino Fellowship Award, a Fractured Atlas' Arts Entrepreneurship Award, and been featured in HowlRound. 
In addition to its new members, Flux's Creative Partnership includes Heather Cohn, Emily Hartford, Rachael Hip-Flores, Kia Rogers, Will Lowry, Lori Elizabeth Parquet, Corinna Schulenburg, Alisha Spielmann, and Isaiah Tanenbaum. Collectively, Flux and its Creative Partners have been nominated for over 20 New York Innovative Theatre Awards, winning six. 
"I owe so much of who I am as a playwright and theatre artist to Flux Theatre Ensemble, said Jason Tseng. "Over the past ten years, I've grown from an assistant costume designer on Flux's production of The Lesser Seductions of History to being a playwright when Flux produced my play, Rizing. I have long admired this ensemble's dedication to craft, community, and creativity. I am so honored to be invited to be an ensemble member of a theater company I have held in such high esteem for so long."
"I moved to New York nearly two decades ago with chump change in my pocket and a dream of joining the city's theatre scene," said Corey Allen. I didn't know then that most of my early years would be spent auditioning to work out of town, so I am thankful I found my way to Flux. From my first audition, it was clear its creative partners were driven by its core mission and committed to fostering an environment for deep collaboration. After nearly a decade of collaborations, I've come to know what truly sets the company apart is its dedication to art that challenges yet empowers its audiences and creatives. I am honored to call Flux a creative home and look forward to helping shape its new chapter of art making."
"I'm so honored to be trusted by the Flux family in joining as a creative partner," Sienna Gonzalez. "Although theatrical lighting design has been a major passion of mine, I've realized that the creative in me needs a little room to roam, and Flux not only allows that, but encourages it. Flux explores storytelling in such a refreshing way. I'm so happy to be part of the team, and I look forward to the many more things I can learn from this wonderful group of people. "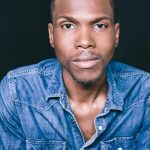 Corey Allen is a NYC-based actor, writer and teaching artist from San Diego, California. He holds an MFA in Acting from the University of Illinois, Urbana-Champaign and a BA in Drama from UC Irvine.  New York City credits include: Am I Dead?, The Sea Concerto (Flux Theatre Ensemble), Moony's Kid Don't Cry (DramaLeague). Regional Credits: Shakespeare Theatre: An Oresteia, Macbeth; Huntington Theatre Company: A Raisin in the Sun, Ma Rainey's Black Bottom; Pioneer Theatre Company: Two Dollar Bill, A Few Good Men; Great River Shakespeare Festival: Othello, Twelfth Night, A Midsummer Night's Dream; Utah Shakespeare Festival: Cyrano de Bergerac, The Two Gentlemen of Verona; Repertory Theatre of St. Louis:  Alabama Story, The Fall of Heaven; Orlando Shakespeare Theatre: Best of Enemies.  Film work includes: Halston, Lost & Found, Proximity. Television: Happy!, Mindhunter, Manh(a)ttan, Power. www.corey-allen.com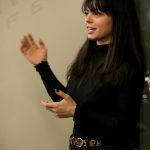 Sienna Gonzalez is a theatre artist who holds a BFA in Design & Production for Stage and Screen from Pace University. Most of her credits are in lighting design, with involvement in a few Flux productions (Marian, or the True Tale of Robin Hood, The Sea Concerto, and Operating Systems). She is also a stand up comic who is back in her hometown of Los Angeles. She's excited to help expand the west coast presence of Flux Theatre Ensemble. 
Jason Tseng is a queer, non-binary Chinese-American playwright based in New York City, originally hailing from the suburbs of Washington, D.C. Their plays have been presented and developed by Flux Theatre Ensemble, Judson Arts, Mission to dit(Mars), Theatre COTE, Inkubator Arts and Second Generation. They are a Creative Partner of Flux Theatre Ensemble, a member of The Civilians' 2019/2020 R&D Group, and a member of Mission to dit(Mars)'s Propulsion Lab, a group of Queens-based playwrights. Jason's full-length plays include Rizing (World Premiere, Flux Theatre Ensemble), Like Father, Same Same, Ghost Money, Fear and Wonder, and The Other Side. Find more at www.jasontseng.co. 
FLUX THEATRE ENSEMBLE produces transformative theatre that explores and awakens the capacity for change. As an ensemble-artist driven company, Flux believes that long-term collaboration and rigorous creative development can unite artists and audiences to build a creative home in New York. Hailed as one of "8 Young (and Mighty) New York Theater Companies" by Backstage, Flux Theatre Ensemble is a twenty-three time New York Innovative Theatre Award nominee, including wins for Operating Systems, Jane the Plain, Ajax in Iraq, and The Angel Eaters Trilogy. NYIT has also awarded Flux the prestigious Caffé Cino Fellowship Award for "consistently producing outstanding work." In 2016, Flux was named a Fractured Atlas' Arts Entrepreneurship Awards Honoree for its Living Ticket initiative. Flux is the proud recipient of two NYC Fringe Festival Awards (2007 Village Voice Audience Favorite Award for Riding the Bull; 2008 Outstanding Direction Award for Other Bodies), received a Citation for Excellence in Off-Off Broadway Theatre from the Independent Theater Bloggers Association, and is one of Indie Theatre Now's "People of the Decade."
www.fluxtheatre.org

#  # #