Casting the Role of CORI for Metra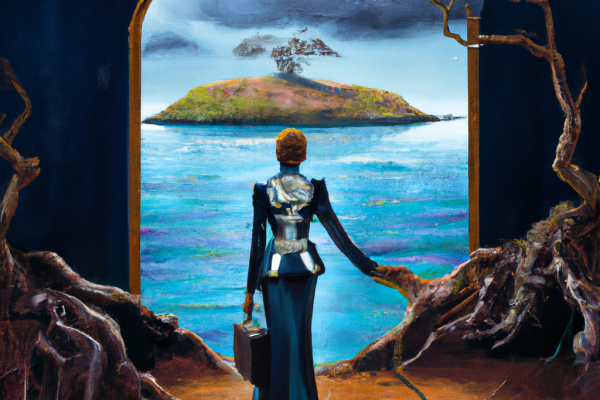 Images below created by Corinna Schulenburg and Corey Allen using DALL-E and Midjourney
to visually express the role of CORI.
Flux is casting the role of CORI for our upcoming production of Metra: A Climate Revolution Play with Songs. Please read more about the role and production below, and email Emily & Corinna at fluxcasting@gmail.com to express your interest in auditioning.
METRA: A CLIMATE REVOLUTION PLAY WITH SONGS
Flux Theatre Ensemble
Abrons Arts Center,  NYC.  Abrons Experimental Space.  50-60 seats.
AEA Showcase Code
Compensation: At least $3,000 (based on an hourly rate of $15/hr)
Producer: Flux Theatre Ensemble
Director: Emily Hartford
Writers: Emily & Ned Hartford
Composer: Ned Hartford
REH: 9/19/2022  mostly evenings & weekends, NYC metro area.
10/22 – 10/29: Q2Q, dress runs, previews
CLOSE:  11/19/2022
The role of CORI was developed through workshops and readings from 2020-22 by actor Lori Elizabeth Parquet.
SYNOPSIS: Metra: A Climate Revolution Play with Songs is a radical adaptation of a little-known myth: "Erysichthon," from Ovid's Metamorphoses. In the myth, a King destroys a sacred grove, and is then cursed by the goddess Ceres with unquenchable hunger. This new work seeks to lay bare the compulsion for dominance in the oppressive structures upholding climate change—and to imagine alternative sources of cooperative power. Metra centers on a group of revolutionaries attempting to bring down the power grid through ancient magic, collective action, and a new myth for a new world. Set in 2043,  the world still runs on fossil fuels and is ravaged by climate catastrophe. The rich folk choose not to notice the devastation around them, because they've got air-conditioned Bubble communities with all the trappings. Tyler, a powerful capitalist,  finds shelter in a bar on the Outside, after his vehicle breaks down under mysterious circumstances. The denizens of the bar are revolutionaries who magically place the powerful man into the myth of King Erysichthon and his daughter, Metra—confronting him with his complicity in a system of disastrous consumption and oppression. The revolutionaries offer him a choice: step out of the cycle of destruction, or face its consequences.