A Year to the Day
A lot can happen in a year: in a theatre, in a community, in a country.
A year to the day before the 2020 general election, join Flux Theatre Ensemble's community of artists and activists to celebrate, activate, and organize.
We'll roll out exciting new Flux projects we've been developing over the last year and how you can get involved. Amid the drinks and dancing, we'll host space for activist organizations to share how you can get engaged with their work. And with Flux's beloved community, we'll play some joyfully serious games to energize us for the year to come.
A lot can happen in a night, so won't you join us? A Year to the Day is hosted by GrandLo Café on November 5 from 7:00 to 10pm. Tickets are $25 in advance, and $30 day-of and at the door, so please reserve your tickets today and join us!
---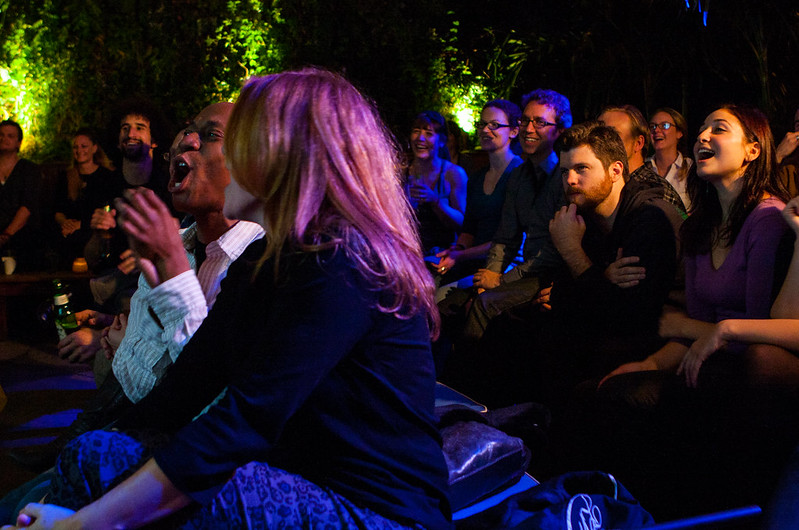 WHEN
Tuesday, November 5 (doors open 7pm, party over by 10pm)
WHERE
GrandLo Café at 168 Broome St., Lower East Side, NY 10002
---
$25 in advance
Tickets day-of and at box office: $30
Your ticket includes entry, food and 1 Raffle Ticket (get 2 more if you wear your "I VOTED" sticker). Drinks available for purchase at affordable prices.
Can't be at the benefit?
You can still support Flux by making a donation!
---
Micah Bucey to Receive the Larry Kramer Artivist Award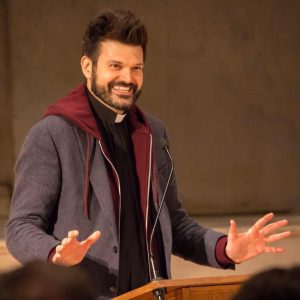 Flux Theatre Ensemble has launched a new annual award, created to honor visionary artist/activists, and to recognize the powerful work being done at the intersection of theatre and social justice. Flux will honor Micah Bucey (Judson Memorial Church; Judson Arts; New Sanctuary Coalition) as the inaugural awardee. Unique to this award: it will be named annually by its recipient to honor an ancestor, elder, peer, or younger who has had a significant influence in their life and work.
Micah has chosen to name his award after ground-breaking artist and activist, Larry Kramer (The Normal Heart, founder of GMCH and ACT UP). Micah will be presented with The Larry Kramer Artivist Award by his mentor Morgan Jenness (The Public Theater, New York Theatre Workshop). Upon presentation of the award, Flux will also lift up a community organization of Micah's choosing: Judson Memorial Church, which serves as a home for the New Sanctuary Coalition and Judson Arts.
"I am humbled and grateful to receive this award from a group of artists and activists whom I admire so deeply," said Micah Bucey. "The title I have chosen for this award springs from the fact that my own artivist passion has been nurtured by Morgan Jenness, whose passion was nurtured by Larry Kramer, and that all three of us have been nurtured by the passion of countless other activists and artists, a lineage that will hopefully continue to create the change we desperately need in this world. My most valued passion is for amplifying the voices of others, and the fact that Flux has chosen to amplify my own voice is an honor that I will carry with me for the rest of my life, as we all continue to seek and amplify new and silenced voices together."
---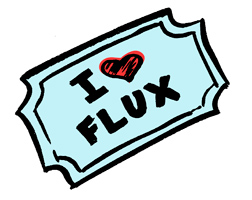 Once again it's time for The Annual Flux Theatre Raffle. The money raised from the raffle will go directly toward funding our upcoming season, including all of our programming.
The drawing will take place on November 5 at A Year to the Day but you DO NOT have to be there to win!
Learn more about the prizes here, and then take your chances here.
---
Partner organizations
As part of A Year to the Day's commitment to honoring the intersection of arts and activism, Flux is lifting up three social justice organizations with whom our community of artists are working. These three organizations offer multiple ways for people to contribute, so please learn more and get involved!

JUDSON MEMORIAL CHURCH is a church, performing arts space, and social justice center that is a little bit different and committed to making a difference. The church is a home for Judson Arts and the New Sanctuary Coalition. Lifted up by Micah Bucey, Larry Kramer Artitivist Awardee.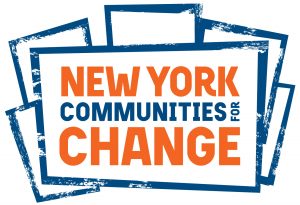 NEW YORK COMMUNITIES FOR CHANGE has been building grassroots political power with low income communities of color since 2010. NYCC members are agents of change, leading movements and campaigns from their neighborhoods to nationwide, fighting corporate power at its core. NYCC members struggle joyfully and confidently with our allies against racist structures and economic policies that continue to extract wealth from our labor. Flux is excited to welcome Patrick Houston from NYCC's Climate and Inequality Campaigns, who will share how folks can get involved with the Movement for a Green New Deal. Lifted up by Flux Creative Partner Emily Hartford.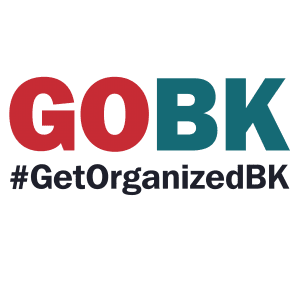 GET ORGANIZED BK is Brooklyn residents working together to defend democracy and human dignity, shine a line on corruption, and resist hate and injustice. Originally founded by Councilmember Brad Lander and Rabbi Rachel Timoner of Congregation Beth Elohim, GOBK is now an independent, volunteer-run organization that serves as common ground for Brooklynites to build our power together. We are working with resource-partners and allies to stand up to racism, homophobia, and misogyny. To preserve the social safety net. To defend voting rights. To strengthen our democracy. Sign up to join us in making a difference. getorganizedbk.org. Lifted up by Friend of Flux Jerry Polner.