Menders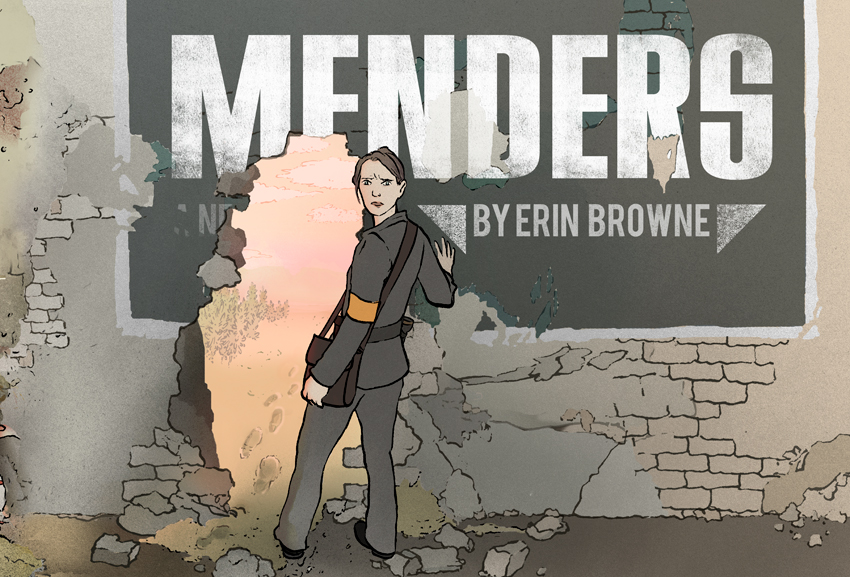 THE STORY: Corey and Aimes are new recruits mending the wall that guards their city from an unnamed threat. But as their teacher Drew tells them subversive tales of the world outside they begin to wonder at the real purpose of the wall, until an unexpected act of passion tears the menders apart. Inspired by Robert Frost's poem "Mending Wall", Menders is a hauntingly lyrical look at what we're walling out.
THE CAST
Read about the cast HERE.
THE CREATIVE TEAM
Read about the Playwright, Director, Designers, and the rest of the Creative Team.
THE BUZZ
Read reviews and see pictures of the production here.
Matt Archambault (Drew)
Matt has been seen on the Flux stage playing Fletcher in Ajax in Iraq, Jacob in Jacob's House, and Barry in The Lesser Seductions of History; as well as staged readings of Wet, Spectacular Browne, Miss Lilly Gets Boned, and Volleygirls, among other projects. New York: Gary in Dream Walker (Sweet Pea Productions), Trevor in Mourning (Columbia Rep). Regional: Gooper in Cat on a Hot Tin Roof & Freddy in Noises Off (Monomoy Theatre), Biff in Death of a Salesman (Wortham Theatre), Torvald in A Doll's House (Roxy Regional Theatre), Ned/Walker in Three Days of Rain (FallingWater Theatre), Navarre in Love's Labour's Lost (Virginia Shakespeare Festival). mattarchambault.com
Sol Marina Crespo (Corey)
Sol recently played Sickles in Flux's production of Ajax in Iraq. For her performance of Griseldi in The Missteps of a Salsa Dancer she was awarded the HOLA award for Outstanding Performance of a Featured Actress. Other credits: Glinda in Wizard of Oz, Hermione in Andromache (Full of Noises); Aloha Boricua, Las facultades, Game Over, The Beep, Medea's Last Rosary, The Red Rose (Pregones Theater), Anna in Closer; Carla in Kennedy's Children; Patria Mirabal in Las Hermanas Mirabal; Angelita in Plátanos and Collared Greens; La madrecita in Camino Real. Film credits: Olivia/Ophelia in El caballero; Albita in Tracked; Tanya in Overnight Shift; Jes in Surrender; Trina in Making Change. Catch her singing with Yerbabuena NYC: Boricua Roots Music. solmarina.com
Vivia Font (Lila)
Underneathmybed (Rattlestick Playwrights Theater, NYC), Mariela in the Desert, Map of Heaven (Denver Center), Six Degrees of Separation, All's Well that Ends Well (The Old Globe) La Tempestad (Ohio Theater, NYC). Recently fortunate to workshop new plays with many talented artists (among them Mando Alvarado, Juliette Carrillo, Octavio Solis, Karen Zacarias) at Perry Mansfield, Pacific Residents Theater, and South Coast Repertory, she is overjoyed to participate in the full fruition of Erin's beautiful piece with Flux so many years after the first inspirational discussion with Donya Washington. TV/Film: One Life to Live, Sarbanes Oxley. MFA: The Old Globe/USD, BFA:NYU Tisch. viviafont.us
Mike Mihm (Jeff)
Recently seen on the Flux stage in Ajax in Iraq. Other New York credits include In God's Hat (Off-Broadway) with Apothecary Theatre Company, Lady Drug Dealer and The Brokenhearteds with I mean! Productions, Saturday Night Saloon with Vampire Cowboys, Tax Deductible, Workshop Theater, Stages on the Sound, Retro Productions, and Red Fern. Regional credits include Camino Real at Provincetown Tennessee Williams Festival, Mister Roberts and A Christmas Carol at Cincinnati Playhouse. Film: Let It Be War, A Box For Rob, The Taking of Pelham 123, Cold Storage, The Dying Western, Killing The Joneses.
Ingrid Nordstrom (Tam)
Ingrid is an actor and dramaturg who is tremendously grateful to be working on stage with Flux again. Working with the creative community they foster is always a dream. She was last seen on the Flux stage as Anisa in The Lesser Seductions of History. Most recently she was seen in the New York Fringe Festival in Nose Dive Productions' Infectious Opportunity as well as their ever popular The Blood Brother's Presents. She is also pleased to call herself Flux's new Literary Director! She is very excited by the potential she sees in this department.
Raushanah Simmons (Ash)
Raushanah is a proud member of Actor's Equity Association and glad to be working with Flux Theatre Ensemble once again. Recent theater credits include, AJAX in Iraq (Flux) In the Red and Brown Water (Studio Theater, DC), The Lesser Seductions of History (Flux), Mother Courage (NYSF), ScreenPlay (Flea Theater), The Tempest (Public Theatre Shakespeare Lab). Film and television credits include, Law & Order: SVU (NBC), Sex in City (HBO), What Would You Do (ABC), See You in September, and numerous television commercials, including a spot for State Farm currently airing nationwide. raushanah.com
Isaiah Tanenbaum (Aimes)
Isaiah is a Flux Creative Partner and Marketing Director. This is his seventh Flux production (he's lost count of the one-offs and readings, but it's a lot). Up next: Mac in DEINDE. Favorite non-Flux roles include Foster (Mary Brigit Poppleton, NY Fringe Festival), Alan Strang (Equus, Sullivan County Rep), and Corin (As You Like It, Vassar Powerhouse). Film work has included Stateside, Zelimo, and Troma's Poultrygeist. Currently Isaiah can be found performing at the Jekyll & Hyde Club. A graduate of Amherst College, Isaiah lives in Brooklyn with his wife Jessa and their cat-who-thinks-she's-a-dog, Juno. isaiaht.info
Erin Browne (Playwright)
Erin has been working with Flux since 2007 and they have helped develop twelve of her plays. Trying was produced at the Bushwick Starr (Trying productions), a radio play version won the BBC World Service International Radio Play Contest, and was shortlisted for the Richard Imison Award. Narrator 1 was produced at Theater Row
(Iron Jaw Company). Return was a winner of the Hudson Valley Writers' Center Play Reading Series Contest. A Meth Play won the National Student Drama Fest's International Playscript Award. Erin's plays have been developed and produced by Saltbox Theatre, The Forge, At Hand Theatre Company, Hip Obscurity, Potluck Plays, Rattlestick Playwrights Theatre, The Flea, Tribeca Performing Arts Center, America in Play, Abingdon Theatre, Overturn Theatre Ensemble, Culturefix, The Slant Theater Project, Poliglot Theater, Spork Fest, Brooklyn Playwrights Collective, and Sticky.
Heather Cohn (Director)
Heather is a co-founder of Flux Theatre Ensemble and serves as the Producing Director. Previous directing credits for Flux include August Schulenburg's The Lesser Seductions of History (nominated for Best Director, NYIT Awards) and Other Bodies (FringeNYC Excellence Award for Outstanding Direction); staged readings of Jose Rivera's Sueño and Adam Szymkowicz's Pretty Theft, August Schulenburg's Channeling and Bekah Brunstetter's Miss Lilly Gets Boned. Outside of Flux: David Stallings' The Stranger to Kindness (nominated for Outstanding Direction, Planet Connections Awards); Blood (EstroGenius Festival); The Ballad of Lulu and Dad (Artistic New Directions); Paint (On the Square Productions); and Tulpa, or Anne & Me (Crossroads Theatre Project). Women's Project Producers' LAB (2008-2010).
Jodi M. Witherell (Production Stage Manager)
Jodi is pleased to be returning for her sixth show with Flux! Most recently, she was seen as PSM for Ajax in Iraq (Flux) and Reefer Madness (Gallery Players). Favorite credits include: Jacob's House, The Lesser Seductions of History, Angel Eaters: Part One of the Angel Eaters Trilogy and A Midsummer Night's Dream (Flux), Fresh Kills (WMC); The House of Blue Leaves, Torch Song Trilogy, The Full Monty, The Spitfire Grill and You're A…Charlie Brown (GP); Joseph and the…Dreamcoat, 1776 and Moon Over Buffalo (St. Bart's); The American Dream and Other Fractured Fairy Tales (Streetlight); Romeo and Juliet (American Globe); Queen LTC (Pembi Players); The Beginning of the And (Audax).
Will Lowry (Costume Designer)
Will is the newest Flux Creative Partner. He is a multidisciplinary designer with an MFA from UNC Greensboro, and he previously collaborated with Flux on Ajax in Iraq, Lesser Seductions of History and A Midsummer Night's Dream. Select work includes costumes for Le Grand Cirque: Adrenaline (Sydney Opera House), Trapezium (Playhouse on Park), La Vigilia (Boo-Arts NYC Fringe), and Spitfire Grill (Mill Mountain); scenery for Little Shop of Horrors (Palace Theater), Tuxedo Junction (Birmingham Children's Theatre), and The Woman in Black (California Theater Center); and lighting for Around the World in Eighty Days (Playhouse on Park), South Pacific (Waterside Theater), and Urinetown (Taylor Theater, UNCG). will-lowry.com
Kia Rogers (Lighting Designer)
Kia was the lighting designer for the Flux productions of Ajax in Iraq, Dog Act and Jacob's House. Off Broadway: Sistas The Musical at St. Luke's, Made In Heaven at The SoHo Playhouse, Passage through Light and Shadows at Theatre at St. Clement's. International credits:Associate Lighting Designer for Slutforart/98.6 in Gothenburg, Sweden. Other Indie credits: Universal Robots, All The Rage. Assistant credits include working with Thomas Dunn, Nicole Pearce, Justin Townsend and Matthew Richards. Kia was the resident lighting designer at Manhattan Theatre Source and lighting director for Estrogenius since 2007. She is a returning guest artist at UNCW since 2006. kiarogerslightingdesign.com
Asa Wember (Sound Designer)
WITH FLUX: Ajax in Iraq, The Lesser Seductions of History, The Angel Eater's Trilogy*, Other Bodies. CURRENT: Righteous Money (Wolf 359), The Urban Dictionary Plays (Ars Nova), Tigers Be Still (Theatre Squared, AR) RECENT: home/sick (The Assembly), This is Not Antigone (New George's), Ghosts (Extant Arts), The Zero Hour (13P). * New York Innovative Award winner for Best Sound Design.
Cory Rodriguez (Set Designer)
Based out of NYC, his work can be seen up and down the East Coast. He is the recipient of the Excellence in Scenic Design Award Region 1 from the Kennedy Center; nominee Best Scenic Design – Planet Connections Festivity NYC, scenic artist on Shakespeare at the Park 2011 NYC. His work was also seen at Lord and Taylor windows and Tiffany's this past holiday season. Upcoming shows in Boston and NYC. coryrodriguezdesigns.com
Trevor J. Martin (Video Design)
Artist at large. Lives and works in New York City while exploring contemporary performance and media. Trevor's video work has appeared in shows at HERE, Theatre for the New City, The Living Theatre and Dixon Place; he also produces video and theatre work for Sightline and is the Artistic Director of the new literary magazine, The Bad Version. Currently works at HERE as Marketing and Media Associate. Graduated from Harvard in 2010 with a BA in Visual and Environmental Studies.
August Schulenburg (Co-Production Manager)
August is a founding member of Flux and current Artistic Director. With Flux, he directed Ajax in Iraq, A Midsummer Nights Dream, the ForePlay Dream Chain, the Food:Soul Volleygirls. As an actor with Flux, he played Ezekiel in 8 Little Antichrists (NYITA nomination), Professor in Rue, Guthbert in the Food:Soul Lickspittles, Buttonholers, and Damned Pernicious Go-Betweens, and Dr X in the Food:Soul Hearts Like Fists. As a playwright, his work with Flux includes Riding the Bull, Rue, Other Bodies,The Lesser Seductions of History, Jacob's House and the upcoming DEINDE.
Kelly O'Donnell (Co-Production Manager)
Kelly is a founding member of Flux and the Communications Director. For Flux, she directed Dog Act, Jacob's House, Riding the Bull, Rue, 8 Little Antichrists and Life is a Dream as well as numerous Food:Soul, ForePlay and Have Another readings. As an actor for Flux, Kelly played the journalist, Tegan, in The Lesser Seductions of History. In Season Five, Kelly will perform in DEINDE and direct Adam Szymkowicz's Hearts Like Fists.
Anna Lamadrid (Assistant Director)
Anna Lamadrid is excited to be working with Heather and Flux. She was recently seen as the Tomater in The Myths We Need or How to Begin by Larry Kunofsky for Purple Rep. She originated the role of Carolina in Tanya Saracho's NY premiere of Enfrascada with Clubbed Thumb. She has participated in readings/workshops for The Lark, Clubbed Thumb, The Flea, INTAR, Flux Ensemble, NYU and Repertorio Espanol. Company member of Wreckio Ensemble. Training: Maggie Flanigan Studio. anna-lamadrid.com
Annie-Sage Whitehurst (Dramaturg/Understudy)
This is Annie-Sage's first production with Flux. Past regional credits include The Birth of Venus first reading (Betty), Tricky Wicked Bitch (title character Wiley), and Las Meninas (La Valliere) while at Smith College (Class of '11). Annie-Sage is currently assisting with Epic Theatre Ensemble's 2011-2012 season, building collaborative performances, and is continuing her collegiate research on performance theory, trauma and "camp".
Emily Owens, PR (Press Relations)
Emily Owens (PR) is a public relations agency specializing in independent theatre. Clients include BFG Collective, Horse Trade Theater Group, terraNOVA Collective, The Brick, Nosedive Productions, Theatre C and Flux Theatre Ensemble (Ajax in Iraq, Dog Act, Jacob's House, The Lesser Seductions of History, and Pretty Theft).