Creative Partners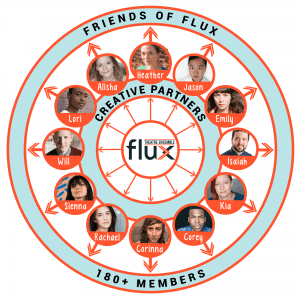 WHAT IS FLUX'S CREATIVE PARTNERSHIP?
Flux Theatre Ensemble is led by our Creative Partnership. As Creative Partners (CPs), we practice shared leadership through consensus-based decision-making, collectively held resources and labor, and artistic collaboration. There are no fixed executive or artistic director positions. Instead, CPs move in to and out of leadership roles depending on the project, with other CPs consenting to those temporary roles. In this way, the power of leadership is not fixed and exploitative, but rather relational and abundant—a resource we all contribute to and draw from. All major decisions are made through a voting process within the Creative Partnership. Learn more about the Creative Partnership below.
GO DEEPER
SEED: A PATHWAY TO CREATIVE PARTNERSHIP  ||    HOW DOES THE CREATIVE PARTNERSHIP WORK?
 WHAT ARE WE LOOKING FOR IN CREATIVE PARTNERS?   ||   WHAT IS THE HISTORY OF THE CREATIVE PARTNERSHIP?