What are we looking for in Creative Partners?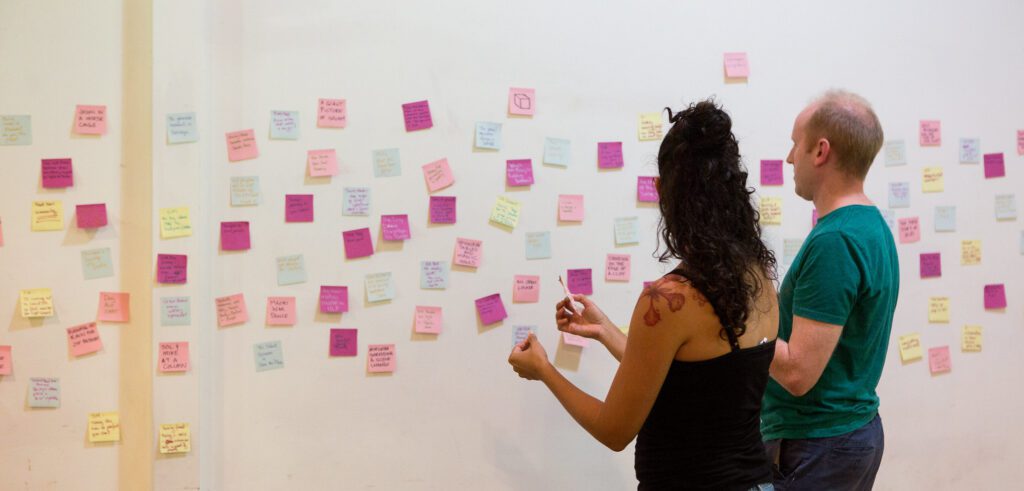 REMINDER: WHAT IS FLUX'S CREATIVE PARTNERSHIP?
Flux Theatre Ensemble is led by our Creative Partnership. As Creative Partners (CPs), we practice shared leadership through consensus-based decision-making, collectively held resources and labor, and artistic collaboration. There are no fixed executive or artistic director positions. Instead, CPs move in to and out of leadership roles depending on the project, with other CPs consenting to those temporary roles. In this way, the power of leadership is not fixed and exploitative, but rather relational and abundant—a resource we all contribute to and draw from. All major decisions are made through a voting process within the Creative Partnership.
WHAT ARE WE LOOKING FOR IN CREATIVE PARTNERS?
 Here are some of the questions that we ask before we vote:
Are they committed to Flux's mission of building a Creative Home? Do they show up at Flux events? Participate in Flux projects? Are they interested in long-term collaboration and consensus-based decision-making?
Are they aligned with our Core Values? Do they practice Collective Care? Does their presence bring us Joy? Will they be able to navigate our shared leadership model through Consent and Agency? Do they bring both Rigor and Release to their work? Will their work contribute to our Aesthetic of Liberation—to making each other whole and free? Liberation also means paying attention to representation—which communities are underrepresented in our Creative Partnership?
Do we believe in their work? Will we be excited to create opportunities for them? Will we help each other grow creatively?
Are we ready for them? Is Flux ready to grow? How will they impact the balance of resources and relationships? Do we have the capacity to truly care for new Creative Partners? 
Do we feel at home with them? A vibe-check is real: Is there trust present in the relationship? Is there love? A gut check of whether or not we do (or could) feel at home with them as CPs is important.
While new Creative Partners require consensus from all CPs, that consensus does not need to be uniformly enthusiastic. We value when a CP does not feel strongly one way or the other about a nominee, but sees that other CPs really want that person and so doesn't stand in the way. We also value when a CP does stand in the way and says, not that person, at least not right now. Often 'not right now' turns into 'yes' as we get to know that person better, but not always. We acknowledge that opposition may be based in interpersonal dynamics that need attention or past harm that needs to be addressed. It may also be rooted in irreconcilable differences, which is also valid. Opposition may also not be personal, but rather that CP's perspective on Flux's overall lack of readiness to support new CPs or that CP specifically.
Flux may not be ready to support new CPs for several reasons. It could be that we've just welcomed in a recent class of Creative Partners and aren't ready to bring on anyone new. It takes time to onboard new CPs, and each new CP meaningfully changes who we are, and both of those processes can't be rushed. Internal division may be another reason we don't bring on new CPs. If we're not right within, we can't grow. Another reason lies in the real or perceived balance of opportunities. While we try to move from a place of abundance, where each new CP creates opportunities for each other, we also recognize that our limited financial resources do place constraints on how many opportunities we can provide. Sometimes, it's simply a matter of capacity, and when we have too much on our collective plates, growing the Creative Partnership gets deprioritized. Even in the best of times, the process can move forward slowly.
GO DEEPER
SEED: A PATHWAY TO CREATIVE PARTNERSHIP  ||    HOW DOES THE CREATIVE PARTNERSHIP WORK?
WHO ARE THE CURRENT CREATIVE PARTNERS?  ||   WHAT IS THE HISTORY OF THE CREATIVE PARTNERSHIP?