Season of Experiments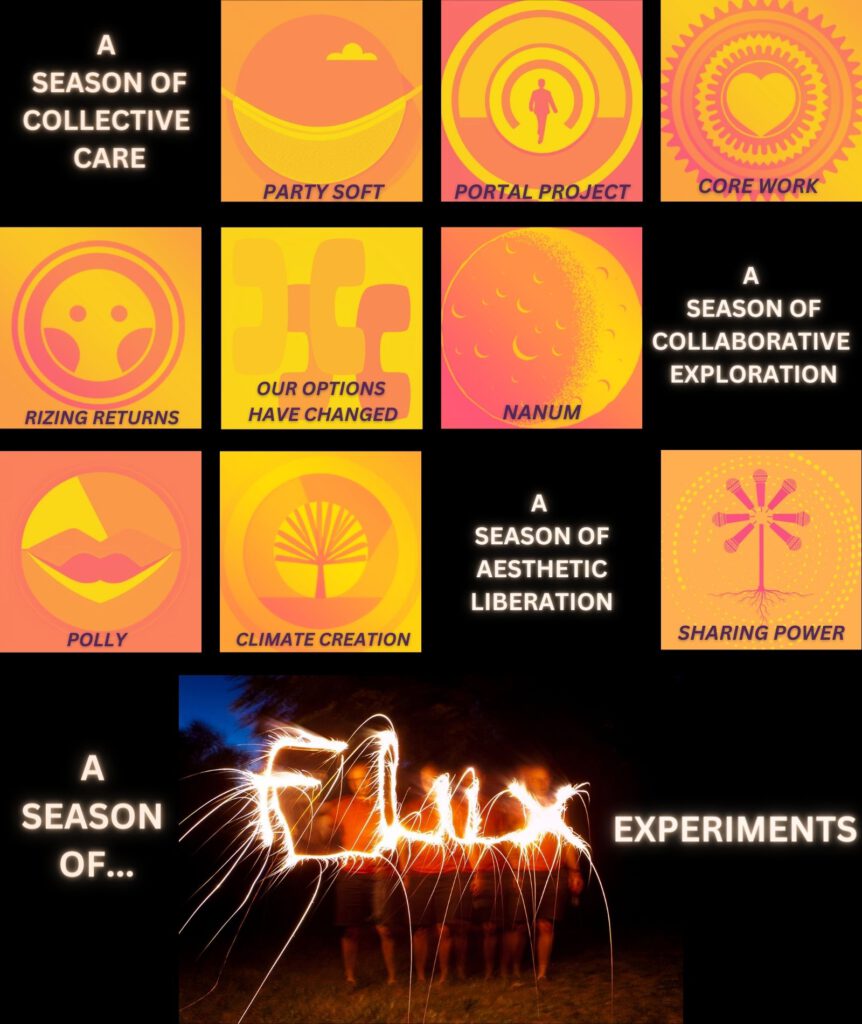 Welcome to Flux's 2023 Season of Experiments. Over the course of the next year, Flux will produce a series of events that will explore the transformative potential of hybrid storytelling. Plays that become podcasts, games that lead to immersive events, and teleplays that let you choose-your-own adventure are just a few of the experiments headed your way. Through it all, we'll continue the collective care practices and long-term creative development that have always defined our mission to build a creative home.
After a January planning Retreat, in February we launched the second installment of Party Soft: A Virtual Gathering of Ease & Care. Party Soft is a part of Flux's Rituals of Abundance and Renewal (ROAR), and in the late summer, we'll host the first in-person gathering in the series. Party Soft is co-created by Heather Cohn, Lori Elizabeth Parquet, Rebecca Ana Peña, Corinna Schulenburg, Isaiah Tanenbaum, and Salma Zohdi.
In May, we'll launch Sharing Power, a new hybrid podcast & performance series. Sharing Power will feature Lori Elizabeth Parquet, Corinna Schulenburg, and Jason Tseng in conversation with other artists and activists who are practicing distributed leadership and collective decision-making. Once the podcast conversations are live, a group of devisers will transform the transcripts into a visceral live performance to be shared in the fall of 2023.
Our Options Have Changed (OOHC) will return in June and December with immersive, in-person, one-act extensions of the phone-based interactive audio experience we launched in 2022. Participants will be new trainees at the offices of the enigmatic All For One (A41) wellness corporation. You can choose to follow the training, or break away to discover whatever secrets A41 might hold. Lead artists Corey Allen, Emily Hartford, and Will Lowry are also developing a game version of the OOHC world and additional modules to access through the hotline—which is still running now! OOHC voice actors like Rachael Hip-Flores and Isaiah Tanenbaum will return to their roles for the in-person event.
July brings our return to the Little Pond Arts Retreat in Nazareth, PA for our annual retreat. For one week, Flux Creative Partners and some of our collaborators will be planning, creating new work, and practicing collective care at our home-away-from-home. We'll share some of what we make at the joyful return of an old favorite, Have Another. This program stages scenes from plays we're developing in bars, where feedback comes in the form of toasts (#CoreValueJoy).
In the fall, another old favorite comes back, this time in a brand new medium. Jason Tseng's Rizing, which Flux produced in 2016, returns as a serial podcast, doing justice to the full scope of Jason's worldbuilding. Rizing is set many years after the zombie apocalypse in Shelter, the last living city on Earth. Infected family members, friends, and lovers have been rehabilitated thanks to a daily regimen of drugs and therapy, but the uninfected that have brought them back do not trust them. Now the drugs are starting to wear off, and Shelter's two-tiered society is poised on the verge of all-out war. Actors like Lori Elizabeth Parquet and Alisha Spielmann will reprise their roles in this newly expanded version of the story!
We'll also be workshopping Corey Allen's Polly, a dumbshow for smart people desperate to survive the fallout. Lights rise on Polly, a woman dressed to the 9s in 50's couture, poised to depart on a trip. When her baggage begins to speak, reality turns treacherous. Haunted by voices, Polly struggles to keep them at bay with pills and word games until a naked man with aphasia crawls from her luggage and forces an overdue confrontation. In a brutally absurd world where each move is surveilled, and every word is corrosive, Polly must journey within if she's to escape the maze and survive the impending fallout. This workshop will feature Alisha Spielmann as Polly.
Partner Rachael Hip-Flores will play Lauren Li in Nanum, a choose-your-own-adventure audio play on your telephone. Written by Corinna Schulenburg and directed by Heather Cohn, Nanum follows a lone astronaut searching for the key to alien relic on the South Pole of the moon. Depending on what the listener chooses, Lauren may find herself chasing ghosts, fighting off hallucinations, or discovering alien life may be far closer than we ever imagined.
Flux will also develop the Portal Project, a ritual performance where actors, and then the audience, engage in conversations with versions of themselves from an alternate universe where the COVID-19 pandemic never happened. Portal Project will serve grief work to help process the many losses of the pandemic and to better honor and value the good in these past few years.
We'll build on the momentum of Metra: A Climate Revolution Play with Songs, by developing multiple new works with climate action at their center. Will be announcing more specifics about these climate creations shortly!
Through it all, we'll continue to host Core Work is a 2+hour bi-weekly virtual gathering to develop plays, creative projects, and community. Co-led by Sienna Gonzalez and Corinna Schulenburg, Core Work is a creative home for participants where we share and develop whatever we're working on, including theatre. Core Work is also a lab for Flux to practice our Aesthetic of Liberation.
We hope you'll join us throughout our Season of Experiments and support us with a donation. Thank you!