Ajax in Iraq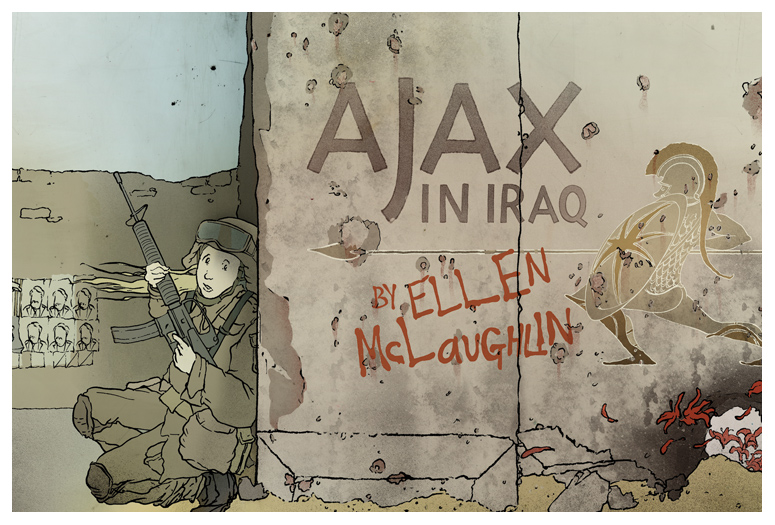 Ajax in Iraq
by Ellen McLaughlin
Directed by August Schulenburg
June 3 – 22, 2011
presented at CSV Cultural Center, Flamboyan Theater
Cast: Matthew Archambault, Tiffany Clementi,
Sol Crespo, Joshua Koopman, Mike Mihm, Stephen Conrad Moore, Lori E. Parquet, Anna Rahn, Christina Shipp, Raushanah Simmons, Chudney Sykes and Chinaza Uche
Creative Team: Will Lowy, Scenic Design;
Lara de Bruijn, Costume Design; Kia Rogers, Lighting Design; Asa Wember, Sound Design; Heidi Nelson, Dramaturgy; Heather Cohn, Production Manager; David Ian Lee, Assistant Director, Jodi Witherell, Stage Manager
The Story: Past and present collide in Ellen McLaughlin's mash-up of Sophocles' classic play Ajax and today's war in Iraq. The play follows the parallel narratives of the ancient Greek military hero Ajax and a female American soldier, both undone by the betrayal of a commanding officer. Originally developed over sixteen months in 2009 with the graduate acting students at A.R.T. and inspired by material collected from interviews with Iraq war veterans, Ajax in Iraq explores the timeless ways soldiers struggle to make sense of war.
The Flux Theatre Ensemble's fervent and valiant production of Ms. McLaughlin's sophisticated "Ajax in Iraq" makes its case in two ways.
Anita Gates, The New York Times
Flux consistently raises the bar when it comes to Indie Theatre and this piece has put that bar somewhere in the sky. An explosive 90 minutes with no intermission, Ajax in Iraq will live on in the minds and hearts of its audiences long after its all too short run.
Michael Roderick, BroadwayWorld
If you want to see a play that will have you thinking about its story for many days to come, this will definitely stir your conscience.
Haytham Elhawary, Theatre is Easy