AM I DEAD?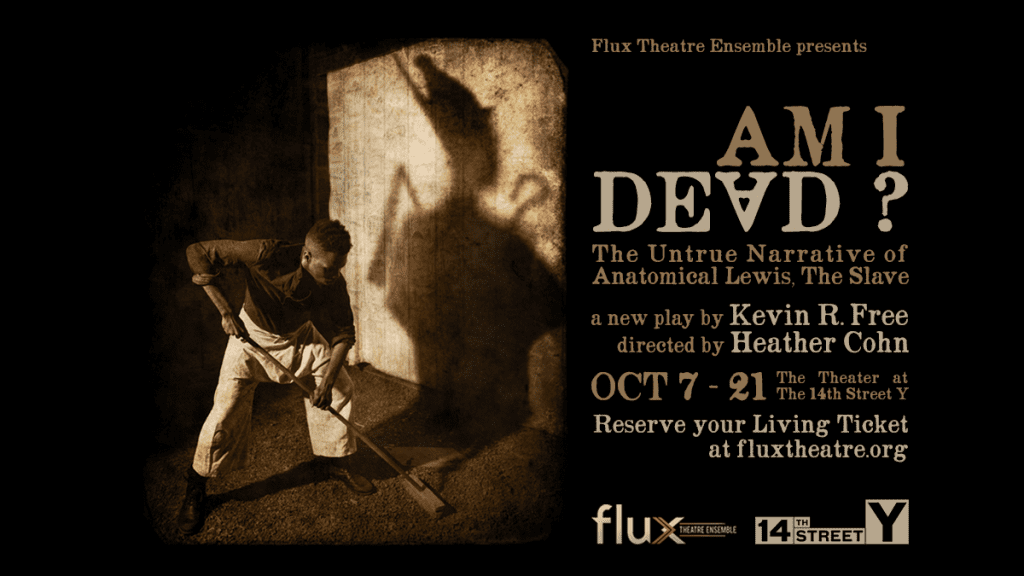 What's a Living Ticket? This production continues our Living Ticket initiative, which makes Flux's shows free for all to attend. Well, not exactly free: it costs a lot to create these productions, and we want to provide our team a living wage. So while you don't have to pay anything, we encourage you to support Flux with a donation when you reserve your Living Ticket. To learn what it would take for us to pay a living wage, check out our Open Book program, which shares our production budget and suggests levels of giving.
---
The Story
Kevin R. Free's AM I DEAD? The Untrue Narrative of Anatomical Lewis, The Slave is a re-imagining of the Isis-Osiris myth in which four strangers from different times are trapped in purgatory, tasked with rebuilding the lives of men they wronged in life. It confronts our country's long history of violence on black bodies, and examines blackness, and whiteness, in unflinching, theatrical, and caustically funny ways. AM I DEAD? is the second play to come out of Flux's FluxForward program after the Adam Szymkowicz's Marian earlier this year.
---
PEOPLE

Read about the cast and creative team HERE.
PICTURES

Check out production photos from Justin Hoch.
PRESS

Read review and more HERE.
The Cast
---
 The Creative Team