Benefit 2013
All the fans in the stands, yell Flux! Flux!
All the fans in the stands yell Family Feud!
Advance Sales close at 12 Noon on Thursday!
But we will be selling tickets at the door!
Get your pom-poms ready and your school spirits high! This Thursday, November 21, is the HIGH SCHOOL EDITION of Flux's annual Family Feud Benefit! There will be raffle prizes, a photo booth, and special brown bag lunches! It's a show! It's a party! It's a fundraiser for Flux!
Two teams of theatre professionals will compete against each other in a hilarious live game of a Family Feud, high school style! Come cheer with our host, Matt Archambault and the contestants (scroll down to check them out!).
If you come dressed as you were in high school, we'll give you a raffle ticket for free!
We hope to see you there! All of the proceeds from the benefit will go directly to supporting our spring production of JANE THE PLAIN by August Schulenburg, a story about a group of high school students at Plainview High!
(only $20 online, $25 at the door)
The Time: Thursday, November 21
Doors open at 7pm
Feud starts at 8pm
Drinking and Dancing until ?pm!
The Place: The Broadway Comedy Club
318 W 53rd St  New York, NY  (map)
Can't join us? That's ok! You can still support us by buying raffle tickets!
We have some amazing prizes this year like a live-set tour of HBO's Boardwalk Empire, two tickets to see Big Fish on Broadway, private sessions with casting directors, and so much more! Or maybe you can use your raffle tickets for a chance to be the tenth contestant on the night of the Feud!
Purchase raffle tickets HERE.
The Contestants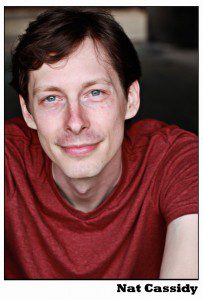 Nat Cassidy
A two-time Independent Theatre Award winner, a 2011 nytheatre.com "Person of the Year", Nat Cassidy is a multi-award-winning playwright/actor/musician whom critics have called "brilliant" and "remarkable." And, if you saw him in Flux's production of Honey Fist as Joey Diamond, you know why! His works include Any Day Now, The Reckoning of Kit & Little Boots (Winner, NY Innovative Theatre Award for Full-Length Script), The Eternal Husband, Songs of Love: A Theatrical Mixtape, I Am Providence ("The most delightful thing we have ever seen anyone pull off on a stage, anywhere, ever!" Tor; Winner, NYIT Solo Performance), and Old Familiar Faces ("So poetic, so full of insight and understanding … so much brilliance on stage," Usher Nonsense). Last year, Nat was commissioned by The Kennedy Center/Washington National Opera to write the libretto for a new opera with composer Scott Perkins, which The Washington Times called "brilliant" and "remarkable." Nat was named one of nytheatre's 2011 People of the Year for his contribution to the NY independent theatre scene. For music and more: www.natcassidy.com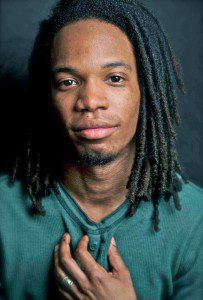 Keelay Gipson
Keelay Gipson is a multi-disciplinary artist including work as an actor, filmmaker, playwright and director. He has directed productions of Red Light Winter and See What I Wanna See as well as new plays and concert pieces including Sign "O" The Times at The Duplex Cabaret Theater and Blood at Manhattan Repertory Theater. He has assisted on projects such as The Last Days of Judas Iscariot by Stephen Adley Gurguis and White's Lies starring Betty Buckley. As a writer his work has been performed The Wild Project, at the HERE Arts Center, and as part of the Downtown Urban Theater Festival.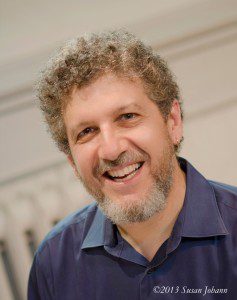 Todd London
Todd London is in his eighteenth season as artistic director of New Dramatists in New York, the nation's oldest laboratory for playwrights. A George Jean Nathan Award-winning essayist, this year saw the publication of his collected essays, The Importance of Staying Earnest (NoPassport Press) and An Ideal Theater: Founding Visions for a New American Art (Theatre Communications Group). He's also the author of Outrageous Fortune: The Life and Times of the New American Play (with Ben Pesner); The Artistic Home (TCG); and The World's Room, a novel. In 2009 Todd became the first recipient of TCG's Visionary Leadership Award for "an individual who has gone above and beyond the call of duty to advance the theatre field as a whole, nationally and/or internationally."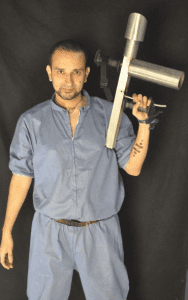 Montserrat Mendez
Montserrat's first full-length play, Thoroughly Stupid Things, premiered at Manhattan Theatre Source in 2008 and was later called "a comic masterwork" by Backstage and won the Excellence in Playwriting Award at the 2008 New York International Fringe Festival.
He followed that play with Billy Carver and the Children in Mind, also at Manhattan Theatre Source which prompted Martin Denton of nytheatre.com to call him "a young artist to keep a particular eye on."
On April 5th, 2010 he formed MozzleStead with his writing partner Armistead Johnson, and head of Television development Lanie Zipoy.
Mozz and Armi are currently working on the production draft of the film CHISOLM, the story of Shirley Chisholm, the first black congresswoman and her run for the presidential nomination in 1972. The project is a freaking dream come true.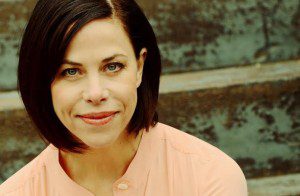 Jen Regan
Jen appeared in Second Stage's production of How I Learned to Drive with Friend of Flux Marnie Schulenburg, who you will remember from Hearts Like Fists, Pretty Theft, and Angel Eaters. Jen Regan's other credits include the Broadway production of Born Yesterday, Lady From Dubuque with Maggie Smith (Haymarket, London), Who's Afraid of Virginia Woolf? (Longacre), Buffalo Gal (Primary Stages) Pig Farm (Roundabout) as well as productions at The Guthrie, Berkeley Rep, The Old Globe, Hartford Stage, Pittsburgh Public, Denver Center, and Cleveland Playhouse. TV work includes two seasons on "The Heart, She Holler" (Adult Swim), "Elementary" (CBS), "Law & Order: SVU and CI" (NBC), "Gravity" (STARZ) and feature films "My Dead Boyfriend", "The Normals", "The Winning Season", "Ten Stories Tall", and the upcoming "The Humbling" with Al Pacino.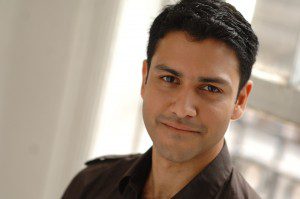 Sanjit De Silva
Bio coming soon!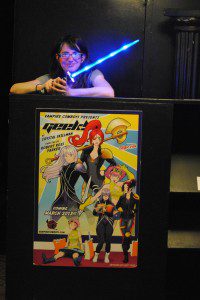 CRYSTAL SKILLMAN
The award winning author of GEEK, produced in spring 2013 by Obie Award Winning Vampire Cowboys, earning a NY Times and TONY Critics Pick. Other plays include: CUT (The Management in Spring 2011; NY Times Critic's Pick; Apollinaire Theatre, Boston); VIGIL or THE GUIDED CRADLE (ITG/Brick; 2010 New York Innovative Theatre Award for Outstanding Full-Length Script); and BIRTHDAY & NOBODY (Rising Phoenix Rep in NYC, director Daniel Talbott; U.K Premiere with Kibo Productions, CH with Side Project Theater). Upcoming productions include WILD which will have it's NYC premiere this spring (March 4- April 7th) 2014 at IRT with Sanguine Theatre Company. The play debuted in Chicago with Kid Brooklyn Productions in 2012, was presented Off Broadway at the Lucille Lortel in last year's MCC Theater's Playlabs, and was read in July 2013 at Southwark Playhouse in London. ANOTHER KIND OF LOVE, recently developed at IRT with Overturn Theater as well as Red Fern Theater, will be read as part of Boomerang Theater's First Flight this November 24th. Currently, Crystal is at work on new plays DRUNK ART LOVE (workshopped with [the claque] theater in Spring 2013); OPEN (Rattlestick/TheaterJam, upcoming First Look presentation at New Ohio Dec. 18th-20th with New Georges); and ZOE AND RAIN SAVE THE WORLD (workshopping w/Bats Theater Company). Crystal is a co-bookwriter with writer/composer Bobby Cronin on the musical THE CONCRETE JUNGLE, released this year in an international recording available on itunes (Workshop debuts in March 2014, NYC). She is a member of the MCC Theater Playwrights' Coalition, Amoralists Lab, Rising Phoenix, and a Women's Project Lab, Groundworks and Soho Rep Lab alumni. Her work is published by Samuel French, Applause, Smith and Kraus and available on indietheaternow.com. Crystal is represented by Amy Wagner and Ron Gwiazda at Abrams Artists Agency in NY, and James Beresford with Shepard Management in the UK.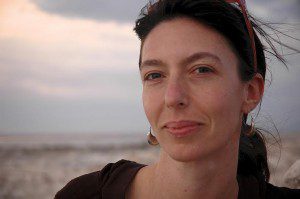 ANDREA THOME
Born to Chilean/Costa Rican parents in Wisconsin, Andrea navigates these multiple landscapes and languages in her plays. Her play Pinkolandia, opened in May 2013 at INTAR (NYC), in October at Salvage Vanguard Theater (Austin), and continues its rolling premiere at Two River Theatre (NJ) and Chicago's 16th Street Theater through the Lark's Launching New Plays Program. Other plays include: Undone, Worm Girl and currently The Necklace of the Dove. Andrea directs Lark's US-Mexico Playwright Exchange. Resident playwright at New Dramatists.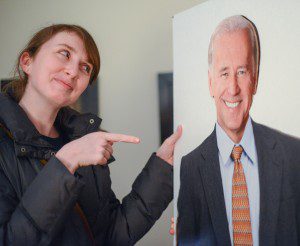 Jordana Williams
Jordana Williams is a devoted Friend of Flux and two-time director of Flux Foreplays.She primarily directs plays by Mac Rogers for Gideon Productions, including Frankenstein Upstairs, The Honeycomb Trilogy (Advance Man, Blast Radius, Sovereign), Viral, Hail Satan, and 3 seasons with the Vampire Cowboys' genre-bending Saturday Night Saloon. Other directing credits include The Particulars for The Bridge Theatre Company at FringeNYC and Kill Shakespeare! at NY Comic Con. She wrote the lyrics for Fleet Week, Air Guitar, and The First Annual St. Ignatius Chanukah Pageant (which she also directed). She was a 2012 NYTheatre.com Person of the Year. (note from Flux: If anyone knows Joe Biden personally, Jordana would love to meet him.)