Ajax in Iraq Nominated for 3 IT Awards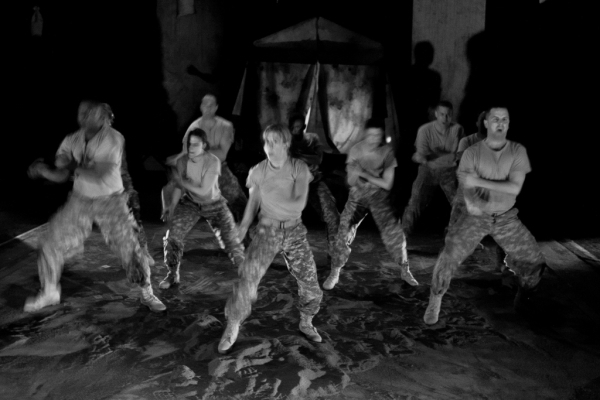 Photo by Isaiah Tanenbaum of Ajax in Iraq cast. Post by August Schulenburg.
Another year, another wonderful IT Awards Nomination Party! Flux was fortunate to be nominated for three awards, all for our production of Ajax in Iraq:
Christina Shipp for Outstanding Actress in a Lead Role
August Schulenburg for Outstanding Director
And…
Ajax in Iraq for Outstanding Production of a Remounted Play!
That last nomination is particularly sweet, as Flux has never been nominated for Outstanding Production. This is our fourth straight year of being nominated, and we're so grateful to everyone who voted.
I'm especially grateful to Ellen and the amazing cast and creative team of Ajax in Iraq. The play is a big, bold, complex, painful, beautiful work of theatre, and it absolutely stretched us all beyond our comfort zones.
It was also a big night for the BFG Collective, with Gideon Productions receiving three nominations for Advance Man, and Boomerang Theatre Company receiving two for The Real Thing. Perennial IT-nom homies like terraNOVA Collective, Astoria Performing Arts Center, Retro Productions  and the NY Neo-Futurists were once again happily represented, and I was psyched to see Caps Lock Theatre, MTWorks, F*t It Club and Conni's Avant Garde Restaurant receiving well-deserved love.
Am I disappointed that Menders and DEINDE weren't nominated? Oh, you bet (though psyched that DEINDE sound designer Martha Goode was nommed for her MTWorks show). But the beauty of the IT Awards is a certain degree of healthy randomness – so much depends on the inclinations of the three judges, with every show landing a different three. This is essential to what makes the awards so successful – a diversity of opinion is built into the process.
The result is that every year, I learn about companies I'd never heard of but are clearly doing great work, with the new-to-me Homunculus Mask Theater, Collision Productions, Hard Sparks and Modern-Day Griot Theatre Company all nabbing tons of noms. There is a joyous vitality in this community when familiar names bump against new discoveries every single year. To all the nominees, our congratulations!
And to the extraordinary people who make the New York Innovative Theatre Awards tick, thank you from the very bottom to the tipity-top of our grateful hearts.