Understand Our Ground Photos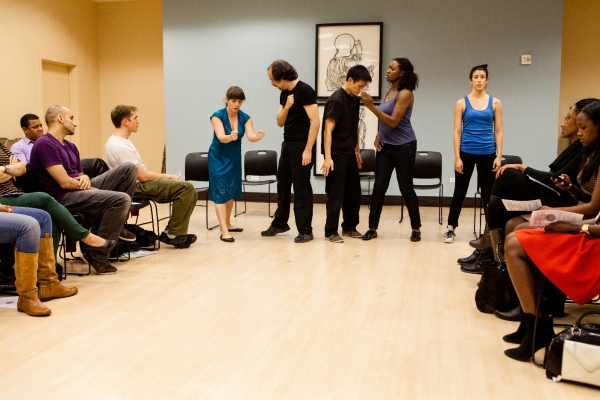 (Photos by Isaiah Tanenbaum. Post by August Schulenburg.)
What a night. From the Creative Partners of Flux and all of us on the Food:Soul committee, thank you to everyone who made Understand Our Ground possible. Over 110 people showed up for food, poetry, plays, dance and dialogue on some very difficult themes.
This project was a risk for Flux–in aesthetics, in intention, in organizational structure and in content–and whatever inevitable missteps occurred, it felt like both an undeniable success and the first big step towards a redefinition of what Flux can and should do. There's a lot to unpack from this night, so for the moment, we're just going to share some photos by Isaiah Tanenbaum. If you have thoughts you want us to consider as we discuss this event, please leave them in the comments or email me.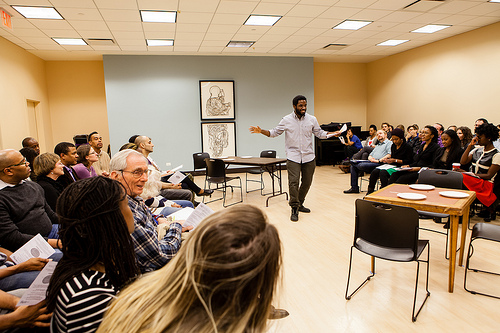 Chinaza kicked us off with a spirited intro, and then performed the first poem of the night…
What will they say about us in 100 years?
by Joseph Merlo III
performed by Chinaza Uche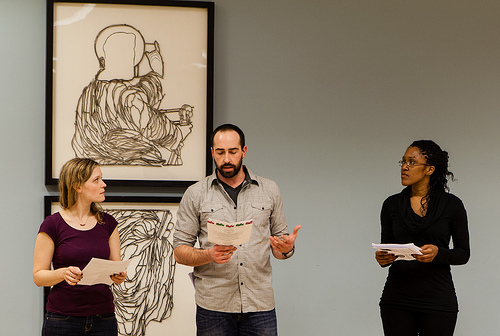 What My Boys Do
by Alex Johnson
directed by Chinaza Uche
featuring Shaun B. F., Mike Mihm and Alisha Spielmann
From left to right above, Alisha, Mike and Shaun performed Alex's gorgeous poetic portraits of his students, most of whom are young black men. It was moving to bring them into the room: "He reaches up into the darkness to pull himself into strength…"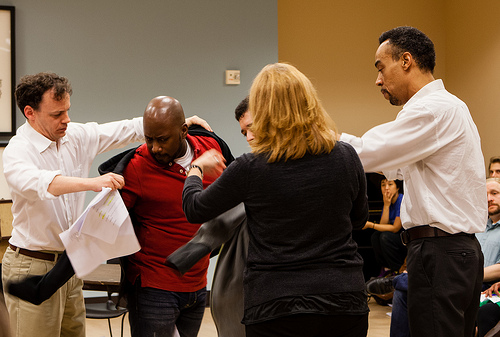 The Spooks
by Aja Houston
directed by Heather Cohn
featuring: S. Brian Jones,  Vernice Miller,  Tarantino Smith, Isaiah Tanenbaum, Matthew Trumbull, Kristen Vaughan
In Aja's haunting play–one of the initial inspirations for this event–two different families share similar fears to arms their sons against danger. In the image above, Matthew Trumbull places his son's armor–a hoodie–on Tarantino, as Kristen and Brian do the same for Isaiah.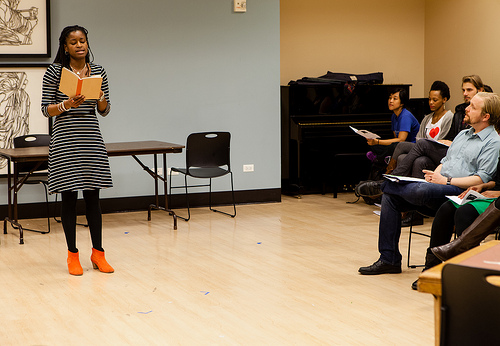 My nephew's favorite color is Batman
written and performed by Lauren Williams
Lauren Williams' stunning poem began whimsically and the crescendoed into one of the most powerful moments of the night.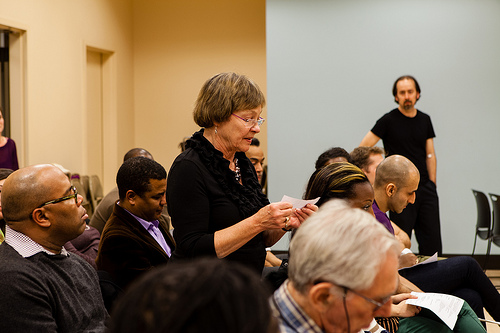 What we talk about when we talk about Trayvon…
curated by Heather Cohn and Aja Houston
inspired by responses from the online questionnaire 
This was perhaps the part we were most worried about. We collected some of the most surprising things our community heard, read and wrote online after the verdict in the Zimmerman trial–a wide diversity of opinions, with something to trouble each of us, where ever we fell on the spectrum of perspective. But, it ended up being one of the most powerful parts of the evening, perhaps because of that very dissonance of opinion. We taped little scripts, each with a single quote pulled from our questionnaire, underneath a random group of chairs, and the audience members that found something beneath their chair were asked to read a quote not their own.
In the picture above, Friend of Flux Sandra Morgan reads one of the quotes.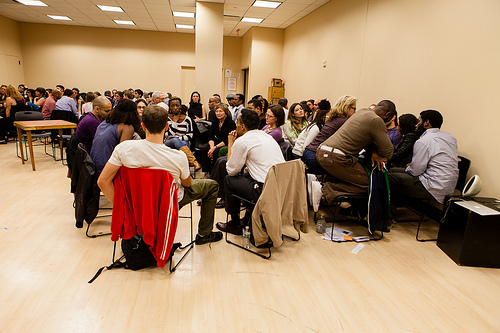 We then took a *Facilitated Conversation Break* for about 20 minutes, responding to the pieces and the themes of the pieces in small groups led by facilitators. From the sound of it, each group had very different conversations–I wish I could have been a part of every group! Special thanks to our facilitators–many of whom were on our committee–for stepping up to shape these often times difficult conversations.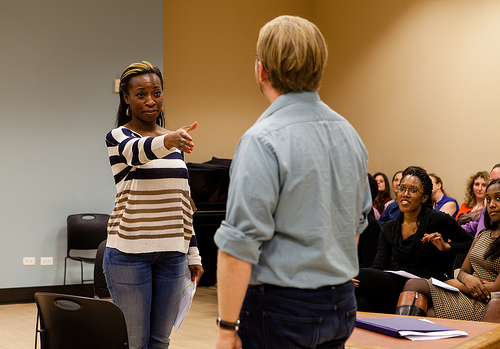 Sir
by Lori E. Parquet
directed by Shaun B.F.
featuring: David DelGrosso, Bianca LaVerne  Jones
And then Sir happened. Lori Parquet's brilliantly subtle and unsettling look at how racism and sexism plays out in our own theatre world had us all laughing, cringing and, for better or worse, remembering our own actions and experiences. Actors David and Bianca knocked this one out of the park!
Then, playwright Lori Parquet became an actor, reading two bracing poems from Aziza Barnes, this property is not for sale and soroku.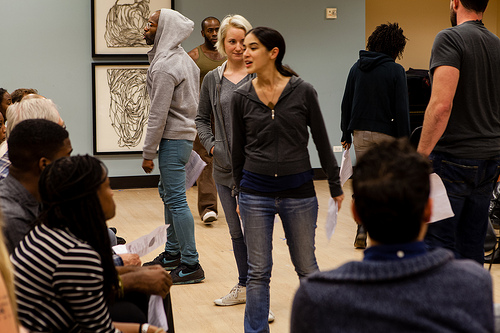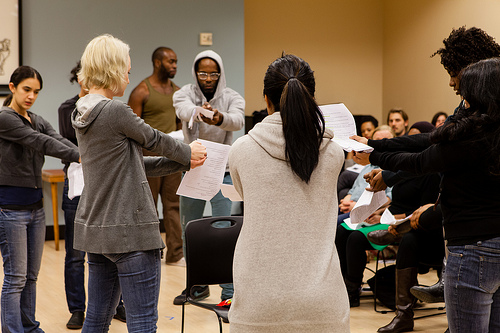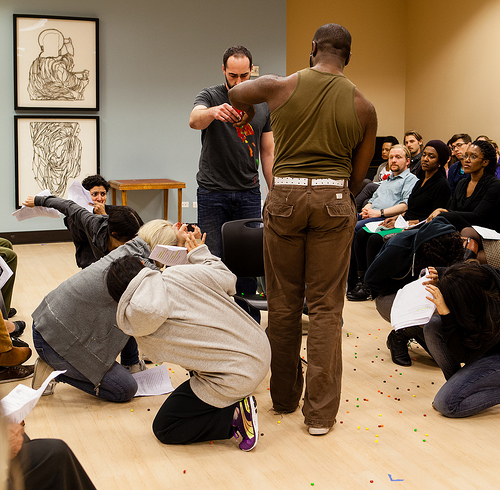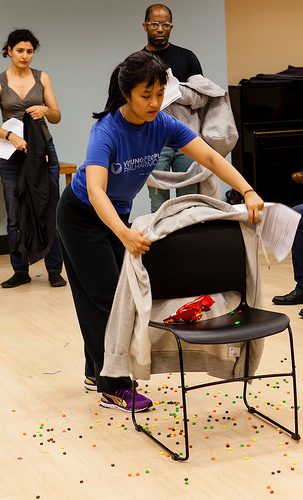 Stand Your Ground
directed by August Schulenburg
featuring and created by: Aizzah Fatima, Rachael Hip-Flores, Kayhan Irani, Kelly O'Donnell, Rocio Mendez, Mike Mihm, Stephen Conrad Moore, Anna Rahn, Jennifer Tsay, Anthony Wills Jr.
The four photos above are from our devised piece based on the Stand Your Ground law, story circles about power, the text of Zimmerman's call to the police and a rehearsal process that would have needed much more time if not for the fierce commitment of these actors. I am deeply grateful.
After another *Facilitated Conversation Break*, we heard from Keith Josef Adkins about the amazing work he's doing on these themes with the New Black Fest, and then…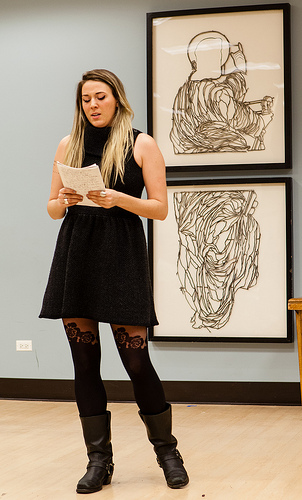 Alex Ustach performed her painful, heartfelt poem, striking moving vocal responses from the audience…"I dream of Trayvon's young body still lying on the ground, waiting for us to pour the blood back into his body. Waiting for justice to be more than a crooked word in tired mouths…"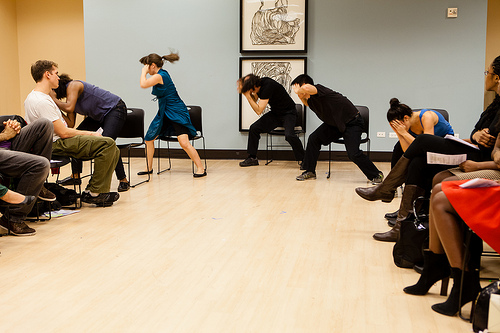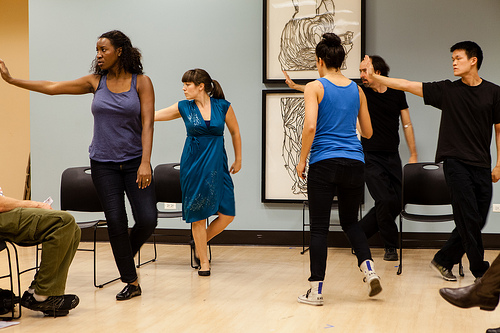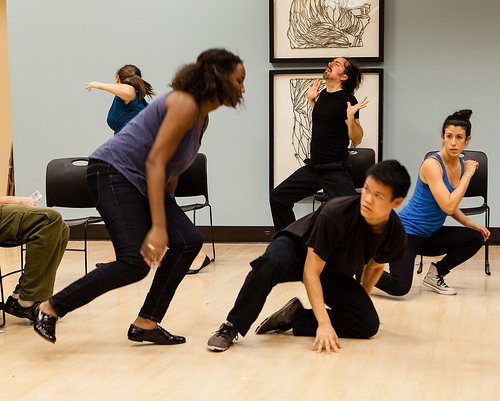 Hope, Struggle, Progress
choreographed & directed by Becky Byers
featuring:  Sol Crespo, Emily Hartford,  Aja Houston, Chester Poon, August Schulenburg
The above images (as well as the featured image) are all from Becky Byers' gorgeous movement piece, Hope, Struggle, Progress. In spite of playing the character most deeply trapped in racism, it was a joy to work on:). I was especially excited that we had the opportunity to share this piece a second time at Pipeline Theatre's Brave New Works. We closed with…
The fireflies wink at me through their cloak of darkness.
written and performed by Joseph Merlo III
…but for almost an hour after we finished our very long (and uncomfortably warm) evening, people lingered to continue these conversations. And now, Flux has to reconvene and figure out what the next steps of this work might be…