A Year to the Day: Flux's 2019 Fundraiser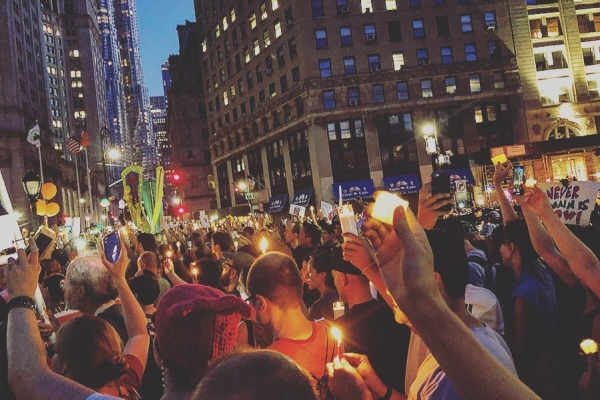 Photo by Alisha Spielmann of a New Sanctuary Coalition protest.
A lot can happen in a year: in a theatre, in a community, in a country. A year to the day before the 2020 general election, join Flux Theatre Ensemble's community of artists and activists to celebrate, activate, and organize. We'll roll out exciting new Flux projects we've been developing over the last year and how you can get involved. Amid the drinks and dancing, we'll host space for activist organizations to share how you can get engaged with their work. And with Flux's beloved community, we'll play some joyfully serious games to energize us for the year to come.
At lot can happen in a night, so won't you join us? A Year to the Day is hosted by GrandLo Café on November 5 from 7:00 to 10pm. Tickets are $25 in advance, and $30 day-of and at the door, so please reserve your tickets today and join us!