Food:Soul–BREATHE FREE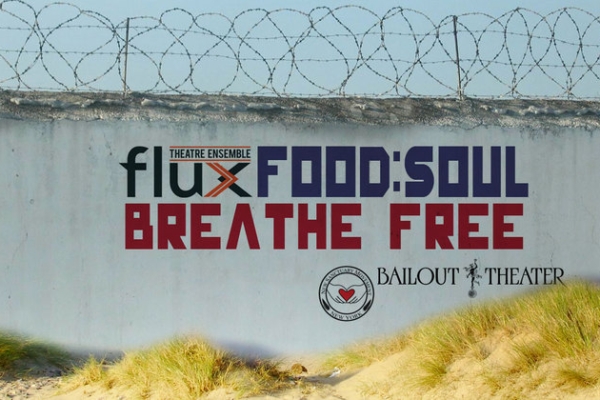 "Give me your tired, your poor,/ Your huddled masses yearning to breathe free…"
Emma Lazarus' famous poem, inscribed as a welcome to immigrants on the Statue of Liberty, is the inspiration for the title of our next Food:Soul. BREATHE FREE will use poetry, short plays, devised work and participatory theatre to empower dialogue about immigrant rights and the U.S. deportation crisis. Drawing on Judson Memorial Church's immigrant rights advocacy and Flux's participation in the New Sanctuary movement, BREATHE FREE will wrestle with questions of home, migration, borders and how America's spirit of welcome changes in a time of war. As always, Food:Soul features free food, free theatre and a joyful spirit of community, so please join us on March 4 as together we yearn to BREATHE FREE.
Flux's Food:Soul–BREATHE FREE is presented as part of Judson Memorial Church's Bailout Theater. Learn more about Judson's Bailout Theater here.  Learn more about the New Sanctuary movement here.
On Display In the Space
Timeline created by Jason Tseng
Order of Events
My Friend Receives a Voicemail. Tells Me a True Story.
written and performed by Lauren Ash Williams
A Gang of Witnesses
written by Jason Tseng, directed by August Schulenburg
featuring Nicole Betancourt, Emily Hartford, Chester Poon, & Jane Lincoln Taylor
San Diego Na
choreographed by Trevor Salter, sound design by Jorge Morales
featuring Stephanie Hsu, Kaitlin Ingram, Paloma Rabinov, & Chris Tse
Secure Communities: Information Circus
created by Christine Zagrobelny
written by Jason Tseng
translated by Sol Crespo
featuring Sarah Amandes, Nicole Betancourt, Ken Glickfeld, Emily Hartford, Adriana Jones, Chester Poon, Adriana Sananes, Jane Lincoln Taylor, Matthew Trumbull, Stephanie Willing
source material: Ginger Thompson and Sarah Cohen, "More Deportations Follow Minor Crimes, Records Show" (NY Times)
Commenters: Chris, JRMW, Mina, Privacy Guy, Harold Green, Samantha, Carole Albores
Rush Limbaugh, July 30, 2010, (The Rush Limbaugh Show)
The Council of the City of New York Office of Communications
Center for Constitutional Rights
Department of Homeland Security Immigration Statistics
Frontline, "Lost in Detention"
Claudia Torrens, "Comunidades Seguras: NY ya no es paraíso de inmigrantes", (Huffpost Voces)
@ty_ushka, @theCCR
Paper Prince (excerpt)
written by Ekwa Msangi
featuring Lori E. Parquet, Matthew Murumba, & Chinaza Uche
Winter in Harlem
written and performed by Vaimoana Niumeitolu
Remarks from Ravi Ragbir
Director, The Accompaniment Program at New Sanctuary
Mother of Exiles
devised using found text; directed and compiled by Emily Hartford
featuring Ivy Hong, Daryl Lathon, Carl Li, Collin McConnell, Antonio Miniño, Lori E. Parquet, & Stephanie Willing
Food:Soul unites the community-building of a potluck dinner with the play-development of a workshopped staged reading. Learn more about past Food:Soul's here.
The BREATHE FREE creative team is: Sol Crespo, Heather Cohn, Emily Hartford, Montserrat Mendez, Anna Rahn, August Schulenburg, Jason Tseng and Christine Zagrobelny.
BREATHE FREE will draw from the discoveries and processes of the Understand Our Ground Food:Soul, which you can learn more about here and here.  Please RSVP to BREATHE FREE here.