Flux Honors Micah Bucey with The Larry Kramer Artivist Award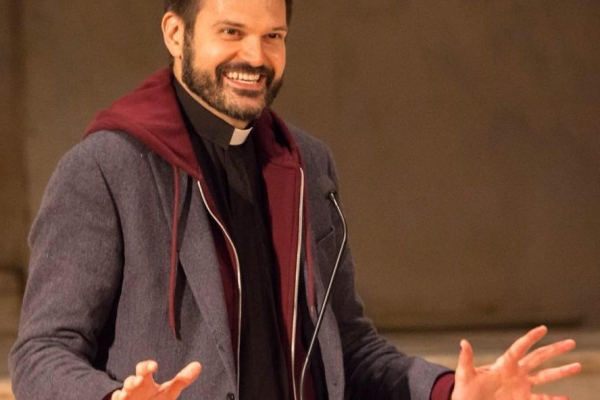 FOR IMMEDIATE RELEASE                                Contact: Emily Hartford, emily@fluxtheatre.org
Flux Theatre Ensemble launches Artist/Activist Award
Inaugural Honoree Micah Bucey to receive
The Larry Kramer Artivist Award at November 5th event
"A Year to the Day" — Flux's 2019 Fundraiser
TUESDAY, NOVEMBER 5th at 7PM
GrandLo Cafe | 168 Broome Street, New York, NY 10002
http://www.fluxtheatre.org/a-year-to-the-day/
Flux Theatre Ensemble has launched a new annual award, created to honor visionary artist/activists, and to recognize the powerful work being done at the intersection of theatre and social justice. Flux will honor Micah Bucey (Judson Memorial Church; Judson Arts; New Sanctuary Coalition) as the inaugural awardee at its 2019 fundraiser, "A Year to the Day," which is being held exactly one year before the 2020 presidential election. Unique to this award: it will be named annually by its recipient to honor an ancestor, elder, peer, or younger who has had a significant influence in their life and work. 
Micah has chosen to name his award after ground-breaking artist and activist, Larry Kramer (The Normal Heart, founder of GMCH and ACT UP). Micah will be presented with The Larry Kramer Artivist Award at Flux Theatre Ensemble's "A Year to the Day" fundraiser on November 5th, by his mentor Morgan Jenness (The Public Theater, New York Theatre Workshop). Upon presentation of the award, Flux will also lift up a community organization of Micah's choosing: Judson Memorial Church, which serves as a home for the New Sanctuary Coalition and Judson Arts.
"At Judson, Micah is a champion of the arts as a central pillar of justice and spirituality, and has made the space a home for innumerable artists and theatre companies, including Flux. He is also a leader in his support of our friends at the New Sanctuary Coalition," says Flux Creative Partner Corinna Schulenburg. "Micah brings a radical queerness to all his work that I find personally liberating and creatively inspiring."
"I am humbled and grateful to receive this award from a group of artists and activists whom I admire so deeply," said Micah Bucey. "The title I have chosen for this award springs from the fact that my own artivist passion has been nurtured by Morgan Jenness, whose passion was nurtured by Larry Kramer, and that all three of us have been nurtured by the passion of countless other activists and artists, a lineage that will hopefully continue to create the change we desperately need in this world. My most valued passion is for amplifying the voices of others, and the fact that Flux has chosen to amplify my own voice is an honor that I will carry with me for the rest of my life, as we all continue to seek and amplify new and silenced voices together."
Flux hopes this award will draw attention to the dual gifts of artist/activists, recognizing both exceptional artistry and community commitment. The recipients of this award will practice activism and artistry that strengthen each other–that create opportunities for complex, humanizing, and powerful conversation and action for a more just world. Micah is being honored for his work as a theatre artist (such as his musical-theatre-performance-art-pop-duo The Gay Agenda, which performs at Joe's Pub and other venues), as well as his work with Judson Arts, New Sanctuary Colaition, and Judson Memorial Church.
"Often, art with a justice lens is viewed as didactic, reductive, or two-dimensional–but we have found great potency when creating in conversation with justice," said Emily Hartford, Flux Creative Partner. "Flux is seeking what we call an 'aesthetic of liberation'–artistically rigorous and complex work that grapples with systems of oppression, and builds toward freedom for artists and for audience members through all artistic choices. We want to honor the artists we admire who work in this same spirit."
"A Year to the Day" is a new theme for and approach to Flux's annual fundraising event. A year to the day before the 2020 general election, Flux Theatre Ensemble's community of artists and activists will gather to celebrate, activate, and organize. Flux will roll out exciting new projects in development and share how to get engaged with their work. And with Flux's beloved community, we'll play some joyfully serious games to energize us for the year to come. Tickets are available here.
MICAH BUCEY is a graduate of Fordham University and Union Theological Seminary and a proudly queer United Church of Christ-ordained minister, The Reverend Micah Bucey currently serves Judson Memorial Church of New York City, a congregation committed to curiously seeking the intersections between expansive spirituality, radical social justice, and uncensored creative expression.
At Judson, Micah spearheads Judson Arts Wednesdays (JAW), a weekly art and food gathering that provides free meals for guests in need and developmental space for artists in need (with a focus on queer artists and artists of color), colliding all in a program that addresses both food justice and the art community's constant lack of resources and support. Over the course of its ten seasons, JAW has fed thousands and nurtured the creative output of hundreds.
Micah is also a member of InterFilm, the International Interchurch Film Organisation, for whom he has served multiple times on the Ecumenical Jury at the Berlin International Film Festival, where he has regularly sought to bring a queerly spiritual perspective to InterFilm's jury decisions.
In addition to his passion for nurturing the creativity in everyone, Micah is deeply committed to social justice, regularly advocating for migrant worker justice, police reform, justice for LGBTQIA communities, animal welfare, climate justice, and immigration reform, and he currently serves as the Multi-Faith Organizer for New Sanctuary Coalition, a grassroots immigrant rights organization that provides community, advocacy, and direct services for those navigating the United States' unnecessarily Byzantine immigration system. 
In his spare time, Micah regularly reviews films for Spirituality & Practice and composes songs with Nicholas Williams as The Gay Agenda and with Nate Weida as The Gay-Straight Alliance. He sees deep connection between his passion for spirituality, his passion for creativity, and his passion for justice, and he therefore seeks out and specifically champions the creative output of historically underrepresented groups, believing that historically marginalized voices have the most potently prophetic power to change the world through art, showing us where we've been, who we are, and what we can become.
JUDSON MEMORIAL CHURCH is a church, performing arts space, and social justice center that is a little bit different and committed to making a difference.
FLUX THEATRE ENSEMBLE produces transformative theatre that explores and awakens the capacity for change. As an ensemble-artist driven company, Flux believes that long-term collaboration and rigorous creative development can unite artists and audiences to build a creative home in New York. Hailed as one of "8 Young (and Mighty) New York Theater Companies" by Backstage, Flux Theatre Ensemble is a twenty-three time New York Innovative Theatre Award nominee, including wins for Jane the Plain, Ajax in Iraq, and The Angel Eaters Trilogy. NYIT has also awarded Flux the prestigious Caffé Cino Fellowship Award for "consistently producing outstanding work." In 2016, Flux was named a Fractured Atlas' Arts Entrepreneurship Awards Honoree for its Living Ticket initiative. Flux is the proud recipient of two NYC Fringe Festival Awards (2007 Village Voice Audience Favorite Award for Riding the Bull; 2008 Outstanding Direction Award for Other Bodies), received a Citation for Excellence in Off-Off Broadway Theatre from the Independent Theater Bloggers Association, and is one of Indie Theatre Now's "People of the Decade."
www.fluxtheatre.org

#  # #