Cast of DEINDE Announced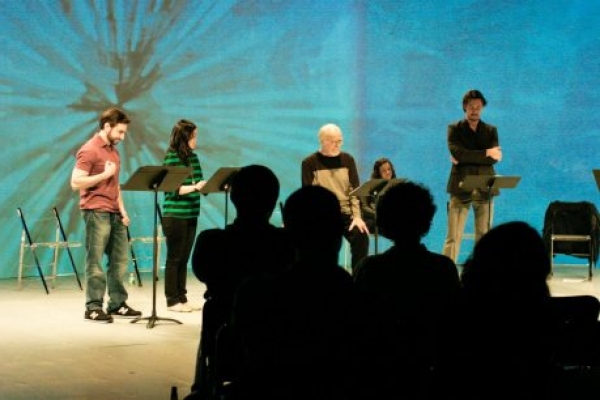 (The Decades Out reading of DEINDE. Pictured: Brian Pracht, Tina Chilip, Ed Schultz, Lex Friedman and Ryan Andes)
Flux's 5th Anniversary Season kicks off April 27 with DEINDE, directed by Heather Cohn and written by August Schulenburg, and we're thrilled to announce the cast! While Flux has always been blessed with strong casts, I'm particularly excited by this  mix of members, Friends of Flux, much-missed performers and fresh new faces.
Mindy – Sol Marina Crespo: After playing Corey in Menders and Sickles + in Ajax in Iraq, this is Sol's third straight show with Flux.  Besides being crazy talented, this Friend of Flux is also a joy to work with, and never stops finding new moments in the course of the run. I'm thrilled she's taking on Mindy, the fierce, funny artist who tries to protect the one she loves from the play's inevitable changes.
Malcolm – Ken Glickfeld*: Though this Friend of Flux has long been a driving force of Flux Sundays, and deeply involved in everything from Have Anothers to our Annual Retreats, it's been since 2008's Angels Eaters that Ken has  graced a full Flux production.  He was also integral to the development of the play and the role of the witty, stubborn Malcolm.
Jenni – Rachael Hip-Flores: We've been wanting to work with Rachael on a full production ever since we saw her in Erin Browne'sTrying. She rocked out multiple rolls in our New World Iliads ForePlay, and absolutely nailed her callback for our quantum-biologist prodigy, Jenni. She has just the right balance of  strength, playfulness,  intelligence and darkness the role needs.
Cooper – David Ian Lee*: David was the indispensable Asst. Director on Ajax in Iraq, and as a playwright and actor, has been deeply interwoven with the fabric of Flux Sundays and ForePlays. This is the first time we've been able to work with this ridiculously talented actor in a full production, however, and we feel confident he can bring the hunger and longing of Cooper to life.
Bobby – Matthew Murumba*: Matt is a regular of Have Anothers, ForePlays and our Annual Retreats, but it's been since A Midsummer Night's  Dream that we've had our wonderful Murumba on stage for a full production. Not only is he one of the more fun people walking on around on this green earth, he played Bobby beautifully in our Have Another scene.
Dara – Alyssa Simon*: Alyssa has been a new force at Flux Sundays, and in her callback she captured both the formidable intellect, protective anger and unbridled joy of Dara as she moves from hear to hope. We're thrilled to welcome her to the DEINDE team, and  I can't wait to share her work with you!
Mac – Isaiah Tanenbaum: The list of Isaiah's roles in Flux is no joke – Gutty, Clarin, Enoch, Lee, The Messenger and Aimes – though of course, in those roles he has often been quite funny. I'm excited to see him turn back on that streak of danger he displayed in Jacob's House as Mac, and continue our longstanding playwright/actor collaboration.
Nemerov – Matthew Trumbull*: Though we've greatly admired his work in productions like Viral and Dear Ruth, we've only been able to work with the Matthew Trumbull once, in a Have Another a year or two back.  We really connected to the human complexity he brought to his callback for Nemerov, the scientist who brings DEINDE into the world.
Nabanita – Nitya Vidyasagar*: One of the great joys of directing A Midsummer Night's Dream was working with Nitya as Puck, and she has since returned to Flux in our Food:Soul of Miss Lilly Gets Boned. I heard her voice in my head writing this role, and at the Decades Out workshop, she brought all the nuance and depth of feeling I'd been hoping for – we're thrilled to have her back in a full Flux production!
*member, Actors' Equity Association
The Story
In the not-too-distant future, the pressure to cure a global pandemic spurs the creation of DEINDE, a device that allows a team of brilliant quantum biologists to think directly into a  powerful computer. At first, they use this prosthetic for the mind under strict rules of engagement, but soon noble ideals and personal passions lead a few to break the rules. They discover that DEINDE's power is far greater than anyone first imagined, and their world spins out of control, raising questions of morality, consciousness, and what it means to be human in an age of rapid technological change.
Produced in association with The BFG Collective.
April 27 – May 12
The Secret Theatre
44-02 23rd Street
LIC, NY 11101
www.secrettheatre.com
Post written by August Schulenburg