DEINDE Production Meeting #1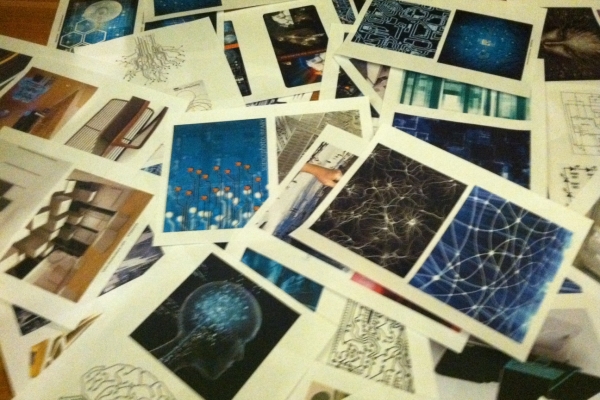 Pictures and posts by August Schulenburg
Our first production meeting for DEINDE was last Wednesday night late, at our apartment in Astoria over wine. And though we usually conduct our production meetings in more professional locales and without the aid of vino, the necessities of schedules made for a wonderfully productive and enjoyable start.
Pictured above is the extraordinary visual research conducted by set designer Will Lowry. He always does some deep dives for research – his Menders costuming research could have wall-papered my office – and I find the conversations that emerge from this research are invaluable to the other designers, as well as the director and playwright (AKA, me).
Before all that happened, I talked about the play (longer than I was supposed to), focusing on what I thought was important – specifically the relationships (love has to anchor the flights of science fantasy) and the big thematic question of what is valuable about human consciousness as it exists now? While the action of the play is concerned with the rapid evolution of the human mind, and its relationship to memory, emotion, art and identity; this evolution allows us to examine critically what is most important about what makes us human now. Is it the way we love? The way we remember or forget? How many of our flaws are essential to our strengths?
We also talked about how life might have changed by 2051, a question will explore more in depth on FluxBlog later, but some initial thought included:
The world is more urban, and progressive, collectivist values are more present
The climate is warmer
Tradition boundaries of gender/race less important…these things have blurred…
Corporations are more casual, more people work from home
Computers are even more accessible/personalized
We then looked at some design concepts from Will, and as happened with Ajax in Iraq design, we responded strongly to different elements within each of them. Will based his designs on images of server farms, circuit pathways, viral patterns and hexagon shapes.
We also made a vow that whatever the future looked like, we didn't want it to look like The Future. It shouldn't be cheesy or awkward – rather it should feel like design trends already at work have become more pronounced, and we had a fun brainstorming session of how ever smaller and more powerful PCs might be personalized in shape and style, the way clothing is now.
I should ask this now – if anyone has access to lots of cheap/free plexiglass – we want it!
We don't yet have a sound or costume designer, so our focus was primarily on big picture concept and set, with some conversation regarding lights and dramaturgy (Ingrid will be doing some research on The Singularity, for certain). It was a lively room, with everyone contributing, not only Will, Ingrid, Heather and myself; but also Lighting Designer/Production Manager Kia Rogers, Matt Archambault and Prop Designer/DARA Kelly O'Donnell.
While we probably could have used a longer break between DEINDE and Menders, I left the meeting buzzing with excitement for the process.