Flux Sunday, 2/19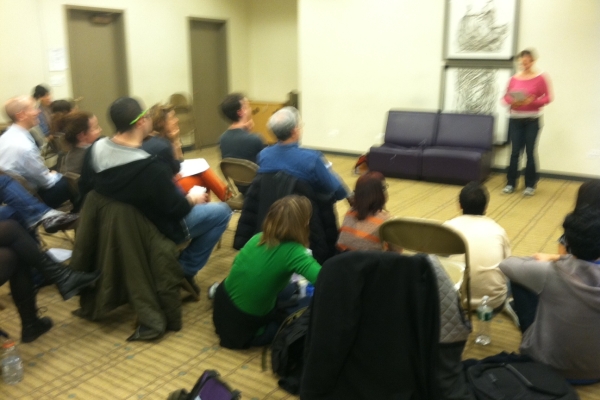 Post and pathetic iPhone photo by August Schulenburg
Playwrights: Katherine Burger (The Rainy Season), EM Lewis (Magellanica), Adam Szymkowicz (Untitled Museum Play), August Schulenburg (The Fields of Blue and Glow, The Iron Hours)
Directors: Pete Bosivert, Heather Cohn
Actors: Matthew Trumbull, Emilia Aghamirzai, Emily Hartford, Ken Glickfeld, Isaiah Tanenbaum, David Crommett, Marianne Miller, Matt Archambault, Marielle Duke, Sarah Amandes, Mariette Booth, Alyssa Simon, Lynn Berg, Gretchen Poulos, Alisha Spielmann, Anna Lamadrid, Cotton Wright, Lauren Ferebee, Abraham Makany
Well, this was definitely the right way to return to Flux Sunday, with a full and vibrant group of veterans and newcomers. The plays were also all strong this time round, and I left thrilled to be back doing Flux Sundays again. There were many highlights, but as always, I offer these few to prompt you to leave behind your own:
-The audience reaction to my unexpected stage kiss in The Rainy Season
-Anna and Emily rocking the dudes of The Fields of Blue and Glow
-Alyssa's palpable frustration at the games of The Iron Hours
-Marianne's parting sound of disgust at her mother in Adam's new play
-Ken's delightful Soviet in Magellenica, not to mention an adorable Norweigan from Matt Archambault meeting cute with fellow Antarctic scientist, Alisha
If you were there, what moments did you walk away with? And welcome to our new Flux Sundayers!