Flux Sunday, 2/26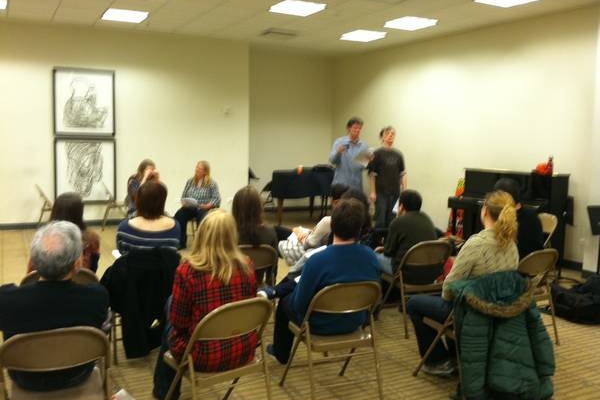 Post and pathetic iPhone photo by August Schulenburg
Playwrights: Fengar Gael (The Draper's Eye), Adam Szymkowicz (Untitled Museum Play), August Schulenburg (The Fields of Blue and Glow, The Iron Hours, Encryption)
Directors: Pete Bosivert, Heather Cohn, Marielle Duke
Actors: Matthew Trumbull, Ken Glickfeld, Isaiah Tanenbaum, David Crommett, Marianne Miller, Sarah Amandes, Alisha Spielmann, Anna Lamadrid, Lauren Ferebee, Jennifer Kipley, Kari Riely, Jane Taylor, Laura Jo Schuster, Gamze Ceylan, Tatiana Gomberg, Becky Comtois, Alexis Black, Christopher Yustin, Lauren Ferebee
Our second week back built on the new energy of last week's Flux Sunday, with lots of highlights, including:
-Marielle's playfully sharp staging of The Draper's Eye, capturing both the humor and intrigue of the play – I'm excited to see where this one goes!
-Kari bringing the funny-sad as Patricia in Adam's untitled play – it's not easy to turn on a dime from comedy of a certain size to a simple heartbreaking moment the way she did (but she did)
-Tatiana Gomberg, who has been on the Flux Sunday list for years but never been able to make it, joined in the action and was AWESOME! Hopefully it won't be a few more years until her next appearance…
-Alisha and Becky making Encryption pop with a natural yet noirish energy (and Isaiah's rougish Dad in the same)
If you were there – what walked with you when you walked away?