Vote for Human 2.0 or iSapiens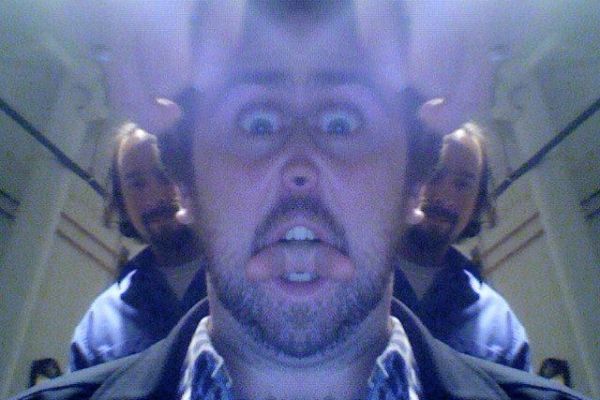 (Post by August Schulenburg. Creepily DEINDE-appropriate picture of me and Matt Archambault courtesy of Matt's computer.)
Our next ForePlay series (learn more about this themed staged reading series here) will focus on the themes of our next production, DEINDE. Here's the play's current blurb:
In the not-too-distant future, the pressure to cure a global pandemic spurs the creation of DEINDE, a device that allows a team of brilliant quantum biologists to think directly into a  powerful computer. At first, they use this prosthetic for the mind under strict rules of engagement, but soon noble ideals and personal passions lead a few to break the rules. They discover that DEINDE's power is far greater than anyone first imagined, and their world spins out of control, raising questions of morality, consciousness, and what it means to be human in an age of rapid technological change.
We decided at a recent SpeakEasy that our ForePlay for DEINDE would focus on the evolution of the human senses: not just the literal five sense, but our sense of justice, identity, etc. How will these senses evolve as the human mind and technology become ever more intertwined? We'll commission playwrights to write short plays inspired by these themes, with each playwright choosing a sense to evolve into the uncertain future.
To that end, we've come up with two titles for the overall series that we like: Human 2.0 and iSapiens. We want you to help us decide, so please leave your vote in the comments below. Here are the pitches/blurbs for both:
Human 2.0
Whether you're ready or not, your species is being upgraded. The new software will enable enhanced capability in several senses. The question is, will your hardware be able to handle it? Flux & associated artists look at the new features of Human 2.0 one by one, investigating how this next step in our evolution will affect our lives. Those operating on the obsolete Human 1.0 may attend each performance for a small fee.
iSapiens
Want the capacity to smell like a dog? Use radar like a bat? See all the colors of the electromagnetic spectrum? There's an app for that. Don't be left behind: customize your body and mind with iSapiens. Let Flux upgrade your sense of beauty and justice with our staged reading series, and don't forget to upload your new unlimited memory. Your newly evolved sense of love will fall hard for this ForePlay, as together we explore what it means to be human in an era of rapid technological change.
Leave your votes and thoughts in the comments below!