ForePlay: Human 2.0 – Rehearsal Report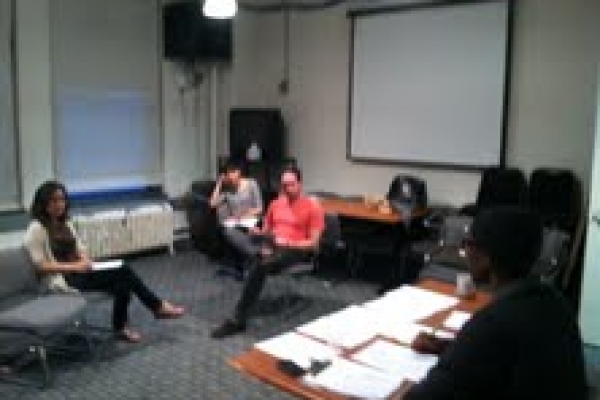 Post and sad iPhone photo by August Schulenburg
In addition to beginning rehearsals for DEINDE this weekend, we also held rehearsals for the first installment of ForePlay:Human 2.0, going up tonight (please come!) Due to several last minute actor cancellations (sad), Isaiah and I stepped into some roles (happy).
While wrangling 30+ artist schedules is always daunting, that daunt slips quickly away once you get into the room. Here are a few reasons that you should see ForePlay Human 2.0 tonight:
Michael Davis is back on Flux turf! The last time Michael Fluxed it up was in the Food:Soul of Miss Lilly Gets Boned, and it was an absolute joy to be back in the rehearsal room with him again.
Johnna Adams has invented a language for her play that allows the idea of que sera, sera (or what will be, will be), to have a future inevitable tense that means something like that but more so – untranslatable but beautiful – and she may (once again) have laid the groundwork for a full-length play.
If you had any doubt that Anna Lamadrid was a force of freaking nature, get ready to see her play a linguist, carny, therapist, memory-stealer, hot friend and more.
Erin Browne's chilling play asks a question about revenge, justice, and the wheels of law that will unsettle you in all the right ways.
Mike Mihm gets to be funny! And he's really funny! In Larry Kunofsky's really, really funny play!
Jen Kipley brings a sweetness to Johnna Adams' Calliope in Untranslatables that may dent that forcefield around your heart.
Did you ever wonder what doing a line of pure theatre would feel like? David Crommett and Fengar Gael will give you the business in her joyful rush of a play.