ForePlay: Human 2.0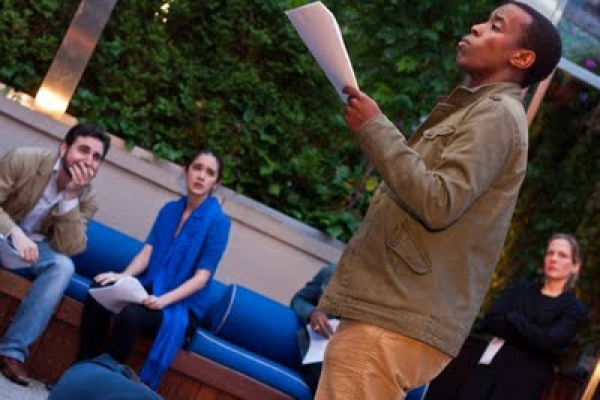 (Photo: Isaiah Tanenbaum. Pictured: Brian Pracht, Rachael Hip-Flores, Matthew Murumba, Kari Swenson Riely in New World Iliads #1) By August Schulenburg, photo by Isaiah Tanenbaum
Our exploratory play reading series ForePlay, where playwrights riff on the themes of our mainstage production, is back!
That's right, we have a winner in a squeaker between iSapiens and Human 2.0. Our next ForePlay series will be called…oh, wait, I put it in the subject line, right. Congratulations to Human 2.0, and thanks to everyone who voted. And now, for the details:
Human 2.0
Whether you're ready or not, your species is being upgraded. The new software will enable enhanced capability in several senses. The question is, will your hardware be able to handle it? Flux & associated artists look at the new features of Human 2.0 one by one, investigating how this next step in our evolution will affect our lives. Those operating on the obsolete Human 1.0 may attend each performance for a small fee.
ForePlay is an exploratory staged reading series where playwrights riff on the themes of our main production, in this case, DEINDE. Over three nights, 12 playwrights will write short plays imagining what various human sense will look like in the future. What if we had the capacity to smell like a dog? Use radar like a bat? See all the colors of the electromagnetic spectrum? How will we upgrade our sense of beauty and justice? What will happen when we truly have unlimited memory? All of these short plays will explore what it means to be human in an era of rapid technological change.
Playwrights will choose from the following senses and evolve them in this play:
Memory, Hearing, Touch, Smell, Justice, Intuition, Time, Humor, Truth, Love, Sight, Taste, Movement, Empathy, Diversity, Space, Reality, Imagination, Entitlement, Music, Synthesized Expression, Rhythm, Loss, Responsibility, Self, Nation, Borders, Teaching & Learning, Identity and Isolation.
Dates are TBD, but the three nights are likely to fall on or around three Mondays: 3/26, 4/2 and 4/9.
Playwrights, actors and directors will be announced soon, so stay tuned! Past ForePlays have included: New World Iliads, Divine Reckonings, Poetic Larceny, Imagination Compact and The Dream Project (the first occurring before recorded blog history).