ForePlay: Human 2.0 Wrap-up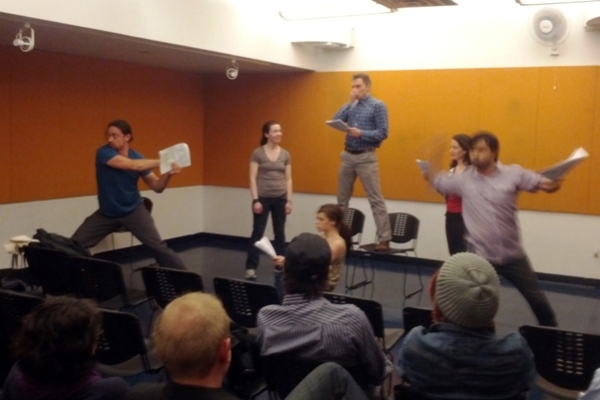 Photo: Pete Boisvert. Pictured: Ryan Andes, Carissa Cordes, Annie-Sage Whitehurst, Julian Stetkevych, Debargo Sanyal
Our ForePlay: Human 2.0 series ended last night, and though we had a much smaller audience turnout than the first two, the work was strong and the energy in the room felt buoyant.
The themes of Justice continued in Kristen Palmer's What We Have and Aja Houston's Salvation, with rebels seeking genetic self-determination from well-intentioned but oppressive state control (in both, the family served as the source of authenticity and strength). Even the antic, intoxicating lunacy of Jeff Lewonczyk's Shit The Future Says dealt with this tension between the communal good and individual freedom.
A second theme ran through the plays of all three nights – the uncertain allegiance of an evolving body. On 3/26, the characters of both Fengar Gael's The Great Extension and Larry Kunofsky's I Don't care, or, Empathy, or, The Lack Thereof dealt with bodies behaving in ways beyond their control.
On 4/2 David Ian Lee's A Little Bit of Mass featured a woman both betrayed and spectacularly rewarded by a tumor in tune with the deep rhythms of the universe. Nat Cassidy's Generation imagined a frightening future where women begin giving birth to the disturbing next step in human evolution.
On 4/9, Sol Crespo's golem of Ryan Gosling follows this same theme in Hey Girl, when a scientist's desire takes a on a funny, twisted life of its own. Isaiah Tanenbaum's Social Media echoed this same preoccupation, with projections of our online lives blurring the boundaries between the real and the virtual.
The playwrights, directors and actors all did marvelous work, but perhaps because of the low turnout for the final performance, I'm thinking hard about what our next ForePlay should be (or cease to be?) to capture the excitement and energy it once possessed. After all,  theatre programming needs to evolve., too.
If you attended any or all of the ForePlays, what were some of your favorite moments?