Human 2.0 – Aja Houston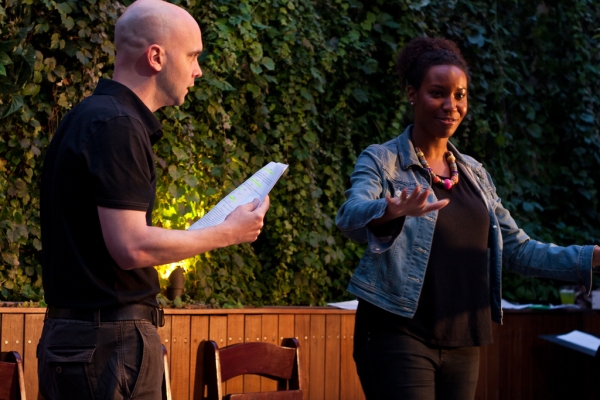 Photo by Isaiah Tanenbaum. Pictured: Chris Wight, Aja Houston in New World Iliads – Iraq.

This interview series will focus on the artists of DEINDE and ForePlay Human 2.0, asking them to riff on the themes and question of the plays.
Aja Houston is as talented as a playwright as she is as an actress, and Flux has been fortunate enough to work with her both capacities in our ForePlay series. She is writing a play about the evolution of LOVE for our 4/9 ForePlay series – I can't wait to see what she comes up with!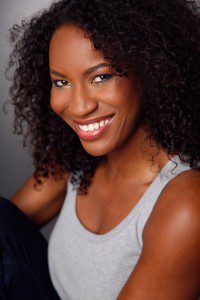 In 2051, theatre will be…
…chuck full of fiercely intelligent, diverse, genius, women artists whose canon of work is held as important to theatre as anything written by Arthur Miller, Harold Pinter, or bloody William Shakespeare!
If you could evolve one of your own senses, which would it be, and why? Sight. I'm as blind as a bat without my contacts or glasses. If I had super sight maybe I wouldn't run into everything.
For the human race to evolve, it will need to…
…learn the importance of love. Sounds corny but true. Love of oneself, your community, and others no matter what their religion, race or creed could do wonders. Love breeds hope. In this crazy world we need a but more of that.
Will the future be more like Star Trek, Star Wars, Battlestar Galactica, or the Jetsons?
Ideally I would love to it be more like the wholesome, happy Jetsons. However the cynical part of me thinks it will be more like Star Wars with a lot of dark side action going on. But I will definitely be a Jedi making sure I help to bring the light. However I do hope there's a bit of Battlestar Galactica cheesiness.
If you had the opportunity to think and feel directly into a computer, would you take it?
No. That would freak me out. The Matrix, Terminator, those movies are a warning. Computers should not feel because if they do they will "feel" like extermintating you. I will keep my feelings and thoughts where they belong, in my heart and on paper.
---
Aja Houston is an actress and playwright that hails from Las Vegas. Aja has a BA in Theatre Arts from George C. Wolfe's alma mater, Pitzer College. Like George, Aja wants to reshape the theatrical dialogue for people of color. Aja's mission is to tell stories that include more strong, defiantly multi-faceted, quirky women of color. Superwomen? has received readings at Primary Stages and NYU Tisch School of the Arts and now she is developing her new play Acirfa at Primary Stages. Labyrinth of Enduring Freedom was apart of a previous Flux Foreplay series. She's so excited to be invited back.